Whenever you have the money to save, don't just save it on your savings account in the bank. I'm not sayings banks are not good for your money, but what if I can tell you that If you save N20,000 in the bank and another $50 on cryptocurrency trading or investment account, you could definitely make more money on cryptocurrency trading than what you have saved on your bank savings account. It's easy for those who want to learn and are patient to let their money work for them.
A popular cryptocurrency trader and analyst have predicted the price of bitcoin will hit $100,000 in the near future, after seemingly accurately calling the bottom of the recent correction that kept BTC below the $50,000 mark.
In a series of tweets, the pseudonymous analyst gong by Kaleo on social media told his over 76,000 followers that the market correction was over and told them to "buy more now" as bitcoin, altcoins, and equities would start moving higher.
Kaleo has predicted the price of bitcoin will double to surpass $100,000 in the next few months. On Twitter, the analyst posted a chart suggesting the move higher could propel BTC into the six-figure territory by April.
It's no longer news that the Central Bank of Nigeria popularly called CBN has placed a ban on cryptocurrency in Nigeria. With this ban in place, it is no more possible for Nigerians to buy Bitcoin from their usual exchanges with their debit cards or directly from their Nigerian bank accounts.
The ban has forced many Nigerians to hold their cryptocurrencies, and those who want to buy are currently finding it difficult to buy. Some exchangers in Nigeria like Luno, YellowCard, Patricia among others, have currently disabled withdrawals, while some have found a way to move on with P2P. This sudden move by the CBN put the Nigerian crypto community in a state of frustration.
A lot of people have now resorted to buying Bitcoin the old fashion way, offline purchase. Unfortunately, many of these people have been scammed of their hard-earned money simply because they had to deal with some unscrupulous few who set out to defraud those who want to buy Bitcoin. It's like being stuck between the devil and the red sea!
So the question on every Nigerian crypto lover's mind is – "How do I buy bitcoin safely without getting my bank account blocked or getting scammed?" Well, the answer to your question is – "P2P exchange!"
Today, I will be showing you how to buy, sell crypto's and withdraw directly to your bank account via the Peer-To-Peer (P2P) trading market.
Binance P2P Crypto Exchange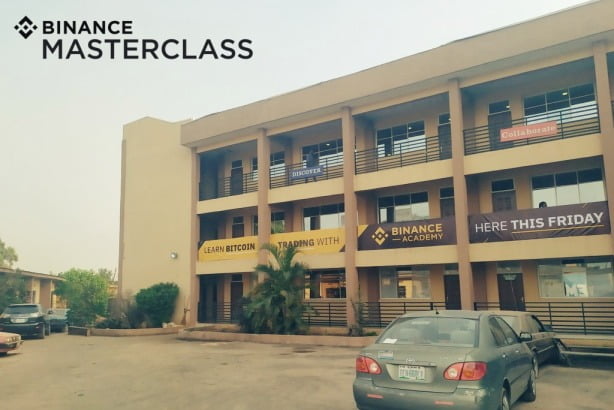 With Binance P2P trading, you can buy, sell cryptocurrencies and withdraw to your bank account. Binance P2P is a peer-to-peer trading market where you can safely trade crypto in exchange for your local currency. Binance P2P's escrow service safeguards every transaction, giving traders peace of mind.
How it Works
Once the buyer places an order, the seller's cryptocurrency will automatically be transferred from the seller's wallet to the temporary deposit with Binance P2P's escrow service. The cryptocurrencies will be held in the deposit guarantee until the transaction is successfully completed by both parties.
To get started, register an account on Binance here
Perform all the necessary identity verification and then proceeds.
Step 1: Place your order
Place an order to buy or sell cryptocurrency. The crypto will be held by Binance P2P temporarily until the operation is successfully completed.
Step 2: Start a conversation
Start a conversation with the seller or buyer. When you are trading with a counterpart that you do not know, we recommend that you use the chat to communicate with him/her. The chat history will be essential if there is a dispute with your counterpart and you make an appeal.
Step 3: Make the payment or release the cryptocurrencies
If you are a buyer, make the payment and notify the seller that you completed the payment. Click the "Confirm" button to notify the seller that you made the payment. If you are a seller, wait for the buyer's payment confirmation before releasing the crypto.
How to Withdraw in Naira on Binance to your Bank Account
Go to the home page, click "P2P Trading". On the P2P page, click the (1) "Sell" tab and then select (2) "NGN" as the crypto asset you want to sell. Select an ad and click (3) "Sell".
After selecting a suitable offer, it's time to place your withdrawal order. Enter the amount you want to withdraw to your bank account, then tap "Sell NGN"
Wait for payment from the buyer. Please note that your NGN balance is frozen for the duration of the transaction, on the same principle as transactions with cryptocurrencies (BTC, USDT, etc.)
 After the buyer completes the payment and marks the order as paid, the "Confirm transfer" button will become active. Please be sure to check your Bank Account and make sure the buyer has made payment. If the payment is received, confirm the transfer and complete the transaction.
Remitano P2P Crypto Exchange
Remitano P2P crypto exchange is a private marketplace where crypto buyers meet crypto sellers. With Remitano P2P, you can sell and buy Bitcoin in Nigeria from anyone without fear of being scammed or fear of your bank account being frozen. This is because Remitano acts as an escrow between the seller and buyer to ensure a smooth transaction process.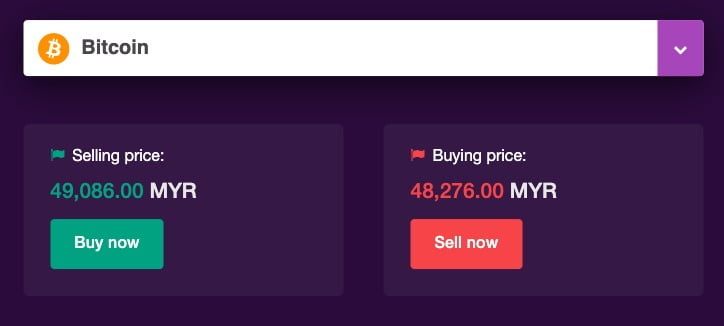 Remitano P2P is currently the leading P2P platform in Nigeria, South Africa, and several other countries. After being in existence for quite a number of years, Remitano has continuously evolved over the years to provide the perfect marketplace for both crypto buyers and sellers thereby creating a high level of trust in the crypto community.
Remitano is so confident in their ability to deliver that they guarantee all transactions are completed within 15 minutes of initiation. In the event that a transaction is not completed, compensation of 50% of the transaction fee will be refunded to the user.
In addition to this awesome service, Remitano offers the simplest and easy-to-use user interface that anyone with or without computer knowledge can interact with. Remitano also has a responsive and friendly customer service available 24/7 to provide help to buyers and sellers whenever needed.
It takes only a few steps to buy Bitcoin and other cryptocurrencies on Remitano. All you need to do is to choose a buyer you would like to buy Bitcoin from, send the Naira equivalent to the seller's bank account. Once receipt of payment is confirmed, Remitano releases the Bitcoin into your Bitcoin Wallet.
Step-by-step process on how to use Remitano P2P to buy Bitcoin
To get started, register an account on Remitano here
Note: You need to perform all the necessary identity verification before trading.
To buy Bitcoin please follow these steps:
Step 1: From the homepage, scroll down, Find 1 seller from "List of sellers" (You want to buy Bitcoin?), and press "Buy"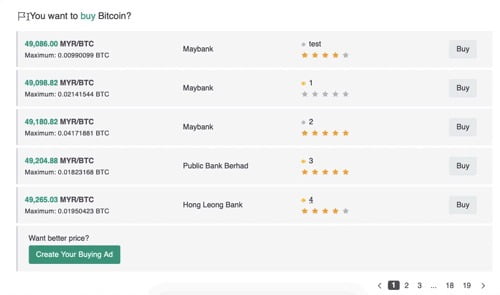 Step 2: Enter the amount of coin you want to buy and press "Buy BTC" to open the transaction.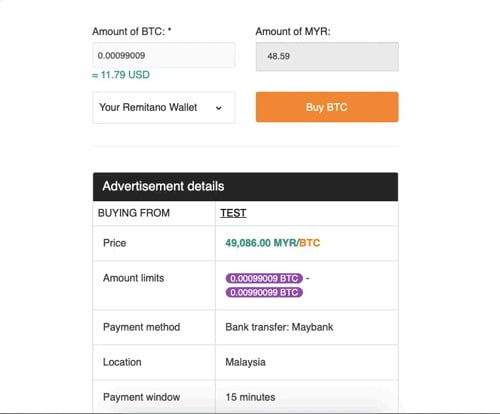 Note: "Amount limits" is the minimum and maximum limit that the seller (ad creator) wants to trade. You can only trade within this limit.
Payment method: Seller's transaction bank.
Your Remitano wallet: when selecting this section, the BTC after purchase will be credited to your Remitano Wallet.
Your personal BTC wallet: when selecting this section, BTC will be sent to the address you provided.
Step 3: Copy the payment details of the seller from the trade page. Access your internet banking and pay the seller through INSTANT TRANSFER. You must make payment within the specified time period.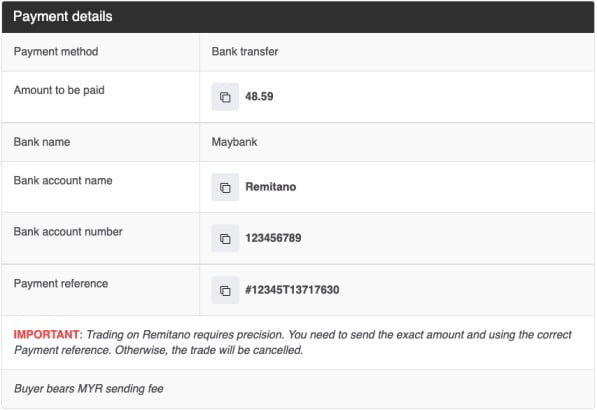 Step 4: Press the [I have paid seller] after successful payment and wait for the seller to confirm. You will lose money if you don't press it.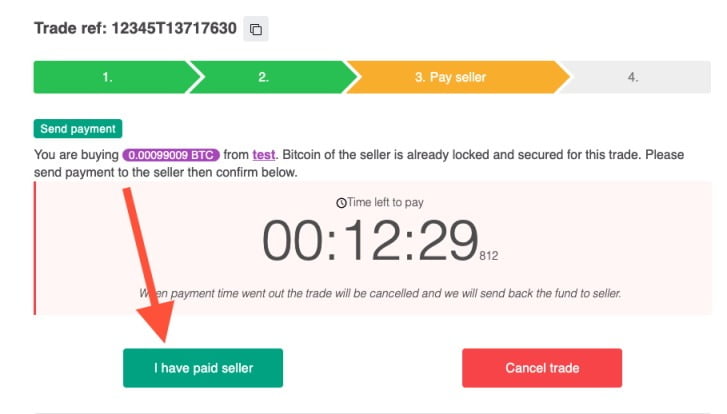 Note: Never Cancel the trade if you already paid. Because the trade cannot be reverted after completion.
Let's hear from you in the comment section if you are already a P2P Crypto trader.