MTN Nigeria is widely known for offering its users affordable data rates, and the telecom company has now gone above and beyond to provide Tuesday Awuf via MyMTN App.
When purchasing the data, this data offer is only accessible through the MyMTN App and is available to all customers every Tuesday of the week.
MyMTN App is an Official Mobile app of MTN, you can use it to manage a few services directly from your mobile device. You can manage your phone accounts, keep track of your user activities, control your data usage, and subscribe to products and services from your mobile device using the MyMTN app.
Tuesday Awuf via MyMTN App
There are two different data offer available, which are as follows: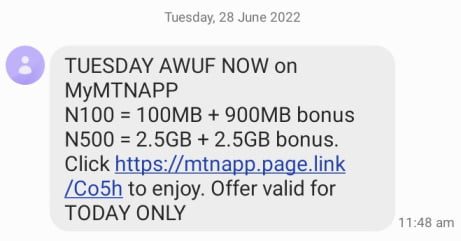 You can get 100MB data + 900MB data bonus = 1GB for just N100 – valid for 24hrs
You can also get 2.5GB data + 2.5GB data bonus = 5GB for just N500 – valid for 2 days
MTN Tuesday Awuf is a normal data plan, which can work on all devices that have access to the internet and once the plan is activated on Tuesday, its data can be used on all days, be it weekends, weekdays, or days, or night.
How to Subscribe to this Data Offer via MyMTN App
Remember that I told you that the offer is available only on MyMTN app, so you must have the app installed on your device.
Open MyMTN App on your phone or download it from the Google Play Store or App Store for iOS devices.
Log in to the app with your MTN Number.
Navigate to the "Quick links" section, then tap on the "Offer" button.
On the "App exclusive deals" section, select any of the 2 "Gaga Data Tuesday," data offers.
Then, use your finger to rub (scratch) through the gray color on your phone screen gently to see the offer under it.
Tap the "Buy Now" button and follow the on-screen instruction.
Make sure you OFF the Auto Renewal button
Make sure you have the required amount of airtime to successfully activate the plan.
Recommended: Glo Night Plans – Enjoy 1GB of N100 for 5 Days
Offer available every Tuesday of the week to all MTN customers. You can activate the data offer of 1GB for N100 with 1-day validity or 5GB for N500 with 2 days validity if you have important things to deal with on the internet within the time.
If you have like 2 MTN SIM cards, this means you can 2GB of data for N200 or 10GB data for N1000 every week by activating it on one SIM card in the morning and the other one in the evening of every Tuesday. Isn't it a fantastic offer? Enjoy it while it lasts.
If you like what I'm doing on this blog and you are still not subscribed, then you aren't doing me any favor. So please click here to follow Shelaf's daily latest posts and don't forget to share this post with your friends and families, it will help a lot.