Making money from YouTube used to be as simple as uploading great content, garnering millions of views, and earning a share of advertising revenue, but the greatest tool to ginger your work is the best video editing software.
Do you know that a nine-year-old boy, Ryan Kaji has made more than €24 million in a year? He made it from "unboxing" and reviewing toys and games on YouTube to hold the title of highest-paid YouTuber for the third year running.
If you want to make your own YouTube videos, edit them, and share them with more people and are looking for some of the best video editing software for YouTube beginners, I think you are in the right place.
In this post, you will see a list of the best video editing software for YouTube beginners. What's more, we have put together tools with incredible assets and simple interfaces in this collection. So, you don't need to buy any courses or be a tech-savvy person to get started.
YouTube Video Trends
At present, YouTube has 2.562 billion active users who watch 250 million hours of videos per day. The best part about YouTube, unlike TV, is that you can choose what kind of content to absorb. More and more brands are adding video content to their marketing strategies. If you are not an expert and don't know where to start, professional, high-quality video editing software can keep your content strategy ahead of the curve.
Do you know that people spend more time watching videos than reading text or photos? Over 85% of the US internet audience watches videos online every day. Videos are one of the simplest types of content to consume
With the right video editing tools, you can offer good quality, even if you don't have a lot of experience in that area yet. Check out our recommendations below for the best YouTube video editor software.
25 Best Video Editing Software for YouTube Beginners
1. Movavi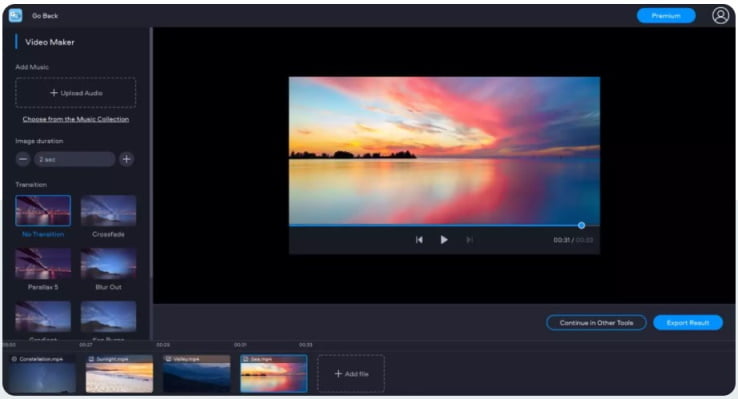 Our journey through the best video editing software for YouTube beginners begins with the standout choice: Movavi. This software holds the top spot for several compelling reasons, making it a solid pick for newcomers venturing into video editing. Even better, Movavi is available for free, ensuring accessibility for those taking their initial steps in the YouTube realm.
Movavi boasts an array of powerful tools that empower you to transform your video creations into refined gems. A standout feature is its capability to merge, cut, and arrange video clips effortlessly. Adding a musical touch to your videos is a breeze with this software, elevating the auditory experience for your audience.
In the realm of creativity, Movavi doesn't disappoint. Its toolkit offers a range of artistic options. You can instantly apply filters to give your videos a unique visual tone, fine-tune lighting by adjusting contrast, and incorporate dynamic slides to enhance the storytelling of your content.
What's truly remarkable for beginners is the user-friendly interface of Movavi. It's thoughtfully designed to cater to those with minimal video editing know-how, ensuring that the learning curve is gentle and approachable. Whether you're just starting or looking to enhance your skills, Movavi's intuitive setup equips you with the tools and techniques to craft videos that look nothing short of professional.
For those who are intrigued to learn more, the website provides a wealth of information. It's a valuable hub where you can explore Movavi's features, access tutorials, and uncover the myriad ways it can elevate your video editing pursuits. This comprehensive resource ensures that your journey with Movavi is not only user-friendly but also immensely enriching.
In essence, Movavi clinches the top position as an exceptional video editing software for YouTube beginners. Its no-cost availability, robust editing features, music integration, creative possibilities, and user-friendly interface collectively make it a prime choice. Whether you're a novice navigating the world of video editing or a content creator seeking a versatile platform to amplify your YouTube content, Movavi has got you covered. To delve deeper, don't hesitate to explore the linked website, and embark on your voyage of crafting captivating and polished videos.
---
Recommended: 10 Great Alternatives to SaveFromNet for Downloading Online Videos for Free
---
2. Invideo
InVideo is an excellent YouTube video editor software designed for anyone looking to make awesome videos in just a few minutes. It's a quick, easy, and affordable online tool that you can use for free.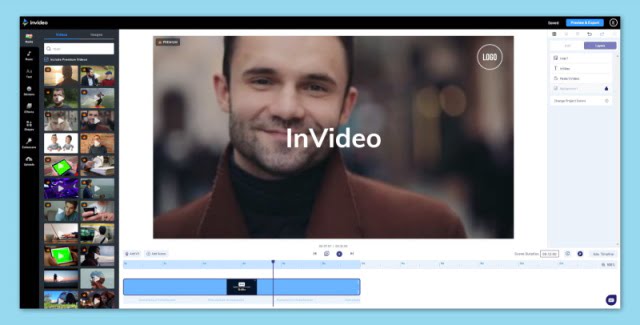 The company offers a free plan with access to all the editing features. On the free plan, you can create and export up to 60 videos every month with the help of the exceptional features available. InVideo comes with an extensive library of over 2,000 easy-to-use templates. You can customize, and organize all color plates to suit your business requirements.
Users can also add a voiceover or simply use the tool's built-in text-to-speech technology to create incredible videos. Click here to start creating your YouTube videos.
3. Wave.Video
Wave.video is a fantastic video editing tool that's a real gem for those just starting out on YouTube. It's designed with beginners in mind, offering a super intuitive experience. You've got two ways to dive in and create videos: pick from the ready-to-go templates the app provides, or bring in your own footage and play around with the various elements that come with the program.
What really sets Wave.Video apart is its huge collection of resources. Imagine having access to over 200 million stock videos, images, and audio clips to enhance your videos. You can simply include a treasure trove of visual and audio goods in your content, saving you a ton of time on media research.
The wonderful part is that you can modify those templates to match your style. Personalize your videos to match your brand or your creative vibe – it's like having your own editing playground. Plus, you can toss in captions to make your videos more engaging for a wider audience.
Once you're done crafting your videos, Wave.Video makes it a breeze to pop them onto your blog or website. No fuss, no tech hurdles, just seamless integration to get your content out there.
And guess what? Wave.Video isn't done yet. It serves up detailed video analytics that gives you the lowdown on how your videos are performing. This information is pure gold; it helps you understand what your viewers love, fine-tune your content strategy, and polish your videos to pro-level quality.
4. iMyFone Movie
For YouTube beginners seeking a fast and hassle-free way to create videos, iMyFone Movie is a standout choice, especially for crafting presentations using photos.
With iMyFone Movie, the process is incredibly streamlined. This is very useful for creating presentations that use images. To add the photographs to your presentation, you just upload them and arrange them in the proper order. Then, the application takes the reins, automatically transforming your images into a cohesive video. This quick transformation is a real-time-saver, especially for those who are new to video editing.
One of the noteworthy features of iMyFone Movie is its ability to create videos from image slides. When trying to create an interesting movie format out of a collection of photographs, this may completely shift the game. You have creative control over the presentation's visual flow by specifying the sequence in which your photographs will be shown.
The software gives you a preview of the completed video after you've put up the pictures. This function is really helpful since it enables you to see the finished product before committing to the final export.
Access the offered link to learn more if you're keen to learn more. This link takes you to more information about iMyFone Movie, offering you the chance to explore its features, functionalities, and how it can cater to your specific video creation needs.
5. Camtasia Video Editor
Among the array of video editing options suitable for YouTube beginners, Camtasia Video Editor has secured a notable position, gaining traction in recent years due to its extensive toolkit and user-friendly experience.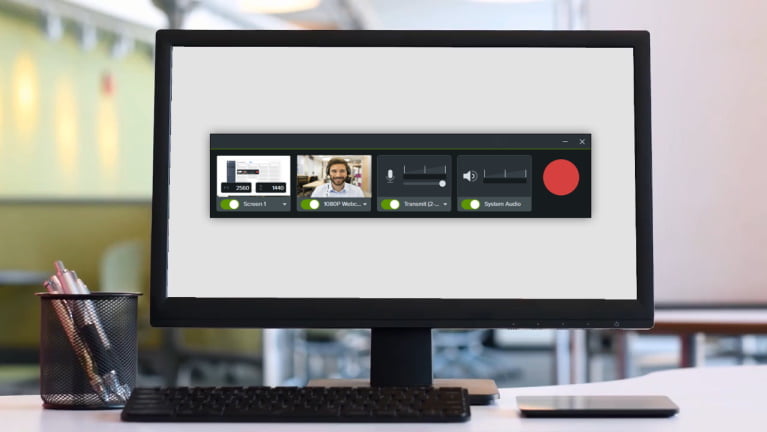 Camtasia stands out for its rich selection of editing tools, which has significantly contributed to its rising popularity. The software equips you with a comprehensive array of features to refine your videos, providing you with the means to craft polished content that resonates with your audience.
Notably, Camtasia doesn't just excel in features; it's also incredibly lightweight, ensuring smooth performance across a wide range of PC types. This aspect is particularly valuable, as it guarantees that the editing process remains hassle-free, regardless of your computer's specifications.
Moreover, Camtasia goes beyond standard editing capabilities. It doubles as a screen recording tool, allowing you to effortlessly capture what's happening on your PC screen. This functionality is a real boon for creators who want to produce tutorial videos, walkthroughs, or any content that involves showcasing software or processes on their computers. Additionally, the software facilitates webcam image capture, enhancing your options for creating dynamic and engaging content.
When your aim is to build a robust YouTube channel, Camtasia provides a strong ally. By combining its versatile editing tools, lightweight performance, screen recording capabilities, and webcam integration, it emerges as a powerful solution for crafting videos that captivate your audience.
For those interested in exploring further, the provided link directs you to the opportunity to download the software. This simple step sets you on the path to experiencing Camtasia's features firsthand and unleashing their potential for enhancing your YouTube content.
6. Any Video Converter
It is very likely that you have heard of Any Video Converter, considering that it is a little older and well-known. It can be used for more basic edits, but it turns out to be even better if you need software to convert your videos.
It has support for dozens of different file formats and can even help you transfer videos directly to YouTube. You can check out more about Any Video Converter via this link.
7. Video Converter Wondershare
Another useful option is Video Converter Wondershare. Its name indicates the video conversion feature right away, but it has a lot more to offer. The software also has several editing tools and is very easy to learn.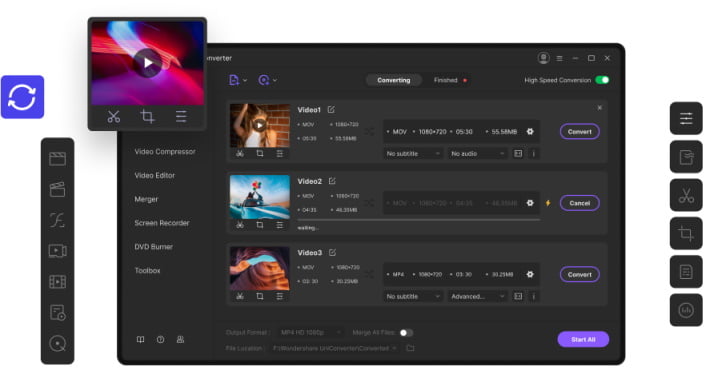 It has a simple interface, supports multiple video formats, and is fast even on older computers. You can check it out here.
8. ApowerEdit
It is also an excellent option. It is very simple and works perfectly for those who do not know much about editing. It is easy to use.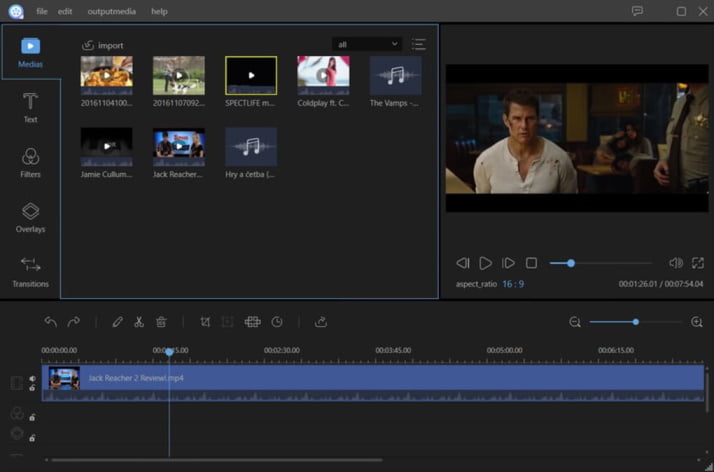 In addition, it has great editing features and offers dozens of filters and effects for you to enhance your videos. You can download it here.
9. Video Watermark
Another piece of software worth having when working on YouTube videos is Video Watermark. It basically offers the option of putting a personalized watermark on your videos, ensuring that others cannot download and post your video elsewhere without due credit.
In addition, it offers some basic editing tools, which can help you in many situations. You can download it via the Play Store here.
10. Adobe Premiere Pro CC
Adobe's Premiere Pro CC is one of the most robust programs on the market when it comes to video editing. It is not recommended for beginners, to use a professional interface that is not very intuitive. With it, you can make adjustments to audio, video, and cuts, and even work with effects in conjunction with Adobe After Effects.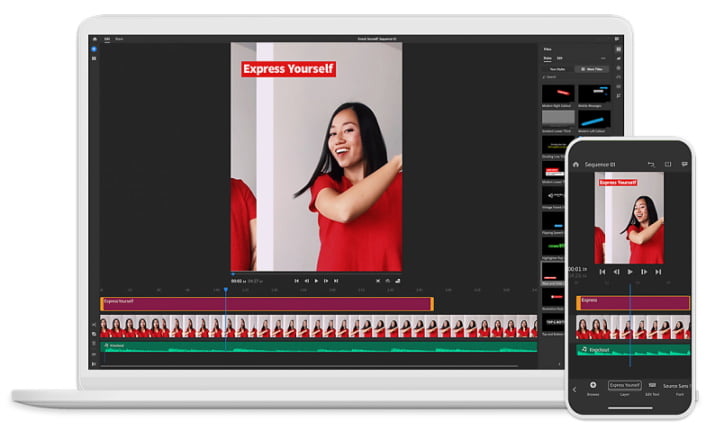 Adobe Premiere Pro CC is not free software, but it is worth it for more advanced users in the field. Visit the official website here!
---
Read: 12 Best Apps for Creating Reel Videos for Instagram, Facebook, and TikTok
---
11. Adobe Premiere Clip
Looking for a way to make professional edits directly from your smartphone? Adobe Premiere Clip brings to your device most of the tools present in its desktop version, allowing the production of excellent, high-quality videos.
Other than that, it can be synchronized with Adobe Creative Cloud, allowing access to your projects through other devices. Download it now for iOS and Android here!
12. Apple iMovie
iMovie is the native video editing program for Apple devices, such as iOS smartphones or Mac OS computers. It usually comes installed on the devices, providing a practical and easy-to-use interface.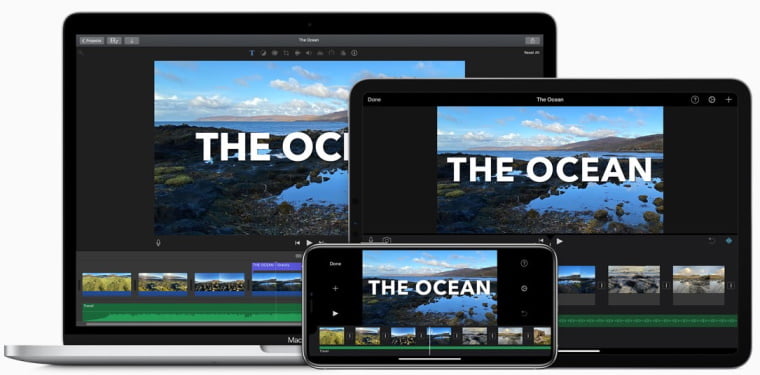 IMovie allows its users to make cuts, transition effects, audio adjustments, and more, making it one of the best video editors for YouTube. Access the official page here!
13. Magix Movie Edit Pro
It is one of the most complete on our list and has very professional features, but it is good to warn you that it ends up being paid software.
Still, it's worth a try, as it has hundreds of different effects, transitions, and filters, so you can make your videos even more interesting. Click here to learn more about the program.
14. Cyberlink PowerDirector

CyberLink's PowerDirector is a robust and complete video editor. It has an intuitive interface, even though it can be compared at the tool level with Adobe Premiere Pro CC. For example, this makes it more accessible for less experienced users. It was one of the pioneers to support 4K video, and today it is also fully compatible with 360° VR video. Check out the website here.
15. Shotcut
Shotcut is another piece of software that can be downloaded for free, but it looks much more professional than the other free options on our list. It has great editing tools and dozens of effects for you to include in your videos, so there will always be a good variety.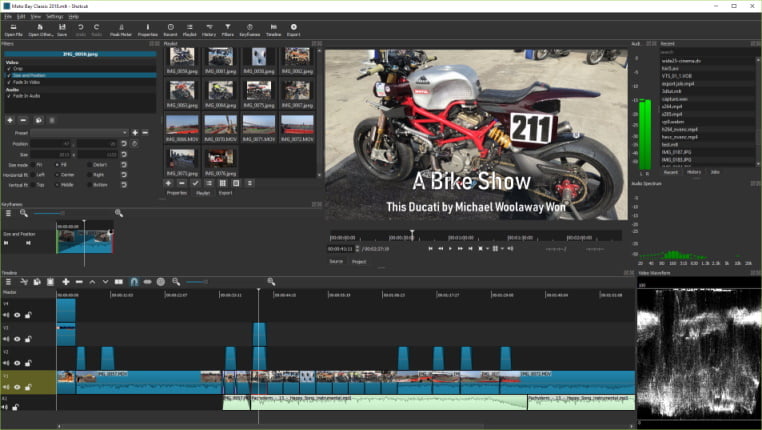 The biggest problem is that it can be a bit confusing at first, but it is common with editing programs, and you get used to it over time. You can download the program through this link.
16. Corel VideoStudio
Corel VideoStudio is one of the most popular video editing programs, especially because it offers very advanced features when editing your videos.
It can deliver very professional results, but the cool thing is that it offers a more basic edition if you are not willing to spend a lot of money in the beginning.
17. Lightworks
We can also recommend Lightworks, which is an interesting alternative for anyone looking for software with a lot of editing capabilities.
The cool thing about this program is that it has a free version and a premium version, so you can try it for free without paying, but there will always be the full version available if you feel you need something more professional. The software can be downloaded at this link.
18. Final Cut Pro X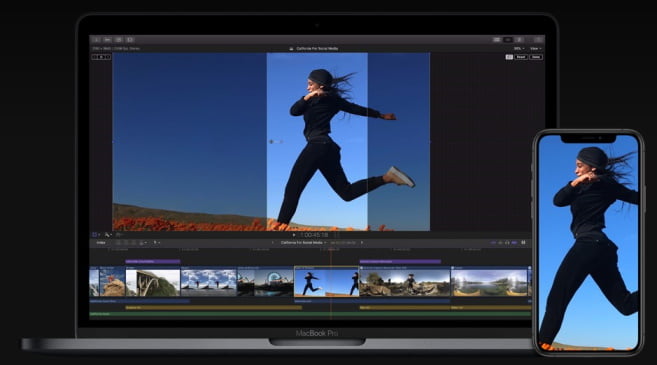 Final Cut Pro X is the most complete and robust version compared to iMovie and is also software made available by Apple. It brings more sophisticated tools for video editing, even supporting 360º VR and HDR.
With Final Cut Pro X, it is possible to create professional works, and it is considered a little simpler compared to Adobe Premiere Pro CC. Download the free trial version from its official website here.
19. Avid Media Composer | First
Renowned cinematic masterpieces like Deadpool, Black Panther, and Star Wars: The Last Jedi bear the indelible mark of an Avid Media Composer. Historically a staple in the professional film editing sphere, this software's prominence remained restricted to the realm of high-cost, high-stakes projects. That was until the introduction of its First version, a game-changing release that extended its accessibility to a broader audience.
The allure of Avid Media Composer | First rests in its cinematic legacy, offering users a taste of the industry-standard prowess that has crafted international blockbusters. Stripped of some advanced functionalities, this free iteration opens the gates to budding creators. While it may not wield the complete arsenal of its professional counterpart, Avid Media Composer | First is a stepping stone toward harnessing the art of film editing. The prospect of tapping into the tool's DNA, even in a reduced capacity, is an opportunity that holds promise for aspiring video makers. To journey further into its offerings, navigate to the official page and unlock a glimpse of cinematic magic.
---
Also Read: Download Panda Video Compressor v1.1.48 APK + MOD (Premium Unlocked)
---
20. Vegas Movie Studio 15
Unveiling the latest iteration of the Vegas lineage, Movie Studio 15 is more than a video editor; it's a creative canvas that marries dynamic versatility with a highly customizable interface. This software doesn't merely edit videos; it serves as a hub for your multimedia aspirations, providing the tools to shape your video narratives while delving into the realm of music creation.
The standout feature of Vegas Movie Studio 15 is its adaptability, a trait evident in its customizable interface. This flexibility empowers you to configure your workspace to align with your creative instincts, ensuring a seamless journey from vision to realization. Beyond video editing, the software's musical capabilities shine, offering a creative haven for those who wish to compose soundtracks directly within the platform.
Whether you're maneuvering through visual timelines or harmonizing soundscapes, Vegas Movie Studio 15 places the reins of creativity firmly in your hands. It's more than a video editor; it's a multifaceted toolkit that celebrates your creative journey from start to finish.
21. HitFilm Express
HitFilm Express stands as a robust and dynamic video editing and visual effects software, catering seamlessly to both beginners and seasoned editors. Its feature-packed toolkit spans beyond mere editing, encompassing professional-grade visual effects and compositing capabilities. This empowers users to craft videos that transcend the ordinary, delving into realms of creativity and visual storytelling.
Within its intuitive interface lies a treasure trove of editing tools, suitable for both entry-level users and those seeking advanced options. What truly sets HitFilm Express apart is its intricate visual effects toolkit, which enables you to infuse your videos with cinematic magic. From explosions to intricate motion graphics, HitFilm Express opens the door to exploring effects that elevate your videos to new heights. Complemented by a plethora of tutorials, this software ensures that creative possibilities are boundless, making it a perfect companion for those who wish to journey beyond the basics.
22. DaVinci Resolve
DaVinci Resolve reigns as a revered name in the realm of video editing, renowned for its mastery of professional-grade color correction and audio post-production. This software presents an all-encompassing suite of tools, encompassing editing, color grading, visual effects, and audio manipulation. Despite its profound capabilities, DaVinci Resolve remains remarkably accessible, beckoning beginners to harness its prowess and create videos that exude finesse.
At the heart of DaVinci Resolve's appeal lies its intricate color correction prowess. Elevate your visuals to cinematic standards by adjusting hues, tones, and contrasts with remarkable precision. The software's seamless integration of audio editing facilitates the creation of sonically captivating videos. Beyond its technical marvels, DaVinci Resolve is a testament to user-friendliness, ensuring that even newcomers can navigate its offerings with confidence.
23. Kdenlive
Kdenlive emerges as a potent force in the realm of video editing, harnessing the power of open-source technology. This software, valued for its robustness and affordability, is a favored choice, particularly among Linux users, though its accessibility extends to Windows and macOS platforms as well. Kdenlive's array of features encompasses multi-track editing, transitions, effects, and beyond, rivaling its proprietary counterparts with finesse.
More than just software, Kdenlive embodies a thriving community-driven ethos. This ongoing development cycle ensures continuous enhancements and an unwavering support network. Its accessibility is matched by its versatility, making it a favored choice for both beginners and advanced editors. With Kdenlive, the potential to craft videos that resonate is boundless, all while embracing the spirit of open-source collaboration.
24. Filmora
Filmora, an offering from Wondershare, brings forth a user-centric approach to video editing. Tailored with beginners in mind, this software is designed to facilitate the seamless creation of professional-looking videos, devoid of steep learning curves. Its hallmark is a simple interface that marries drag-and-drop functionality with creative prowess, making it an excellent choice for those entering the world of video editing.
At its core, Filmora offers a treasure trove of creative features. Whether you seek to underscore your visuals with built-in music, infuse text effects that captivate, or transition seamlessly between scenes, Filmora empowers you to craft videos that truly reflect your vision. This blend of simplicity and creative control makes it an ideal stepping stone for beginners aiming to explore the art of video editing.
25. Lightworks
Lightworks stands tall as a versatile video editing software, embraced by both seasoned professionals and aspiring creators alike. Its widespread adoption speaks to its prowess in both professional and amateur contexts. Offering a spectrum of powerful editing tools, Lightworks empowers users to bring their videos to life with real-time effects, multi-track editing, and meticulous precision trimming.
The key to Lightworks' allure lies in its non-linear editing capabilities. This distinctive approach allows you to craft videos with intricate timelines, seamlessly weaving together visuals and audio elements for a harmonious narrative. Its professional-grade toolkit, bolstered by an accessible interface, ensures that whether you're crafting content for YouTube or pursuing ambitious film projects, Lightworks paves the way for videos that radiate sophistication and creativity.
Conclusion
In the dynamic world of YouTube content creation, selecting the right video editing software can truly make or break your journey. Our carefully curated list of the "25 Best Video Editing Software for YouTube Beginners" serves as a compass, guiding you through an array of options tailored to your unique needs.
From the user-friendly simplicity of Movavi to the creative prowess of InVideo, the comprehensive toolkit of Adobe Premiere Pro CC to the accessibility of Lightworks—each software on this list holds the potential to transform your ideas into captivating videos that engage, inform, and entertain your audience.
As a beginner, the landscape of video editing may seem overwhelming, but armed with these 25 exceptional tools and their descriptions, you're equipped to make an informed choice. Whether you're drawn to intuitive interfaces, creative features, or professional-grade capabilities, our list ensures you'll find the perfect match for your YouTube aspirations.
Don't just edit videos; shape stories. With these 25 software options, your YouTube journey begins on a foundation of innovation and limitless creative possibilities. Explore, experiment, and embrace the world of video editing to craft content that leaves an indelible mark on the digital stage. Your YouTube success story starts here.