The New 2go v3.6.0 has been Officially Released with Unique features.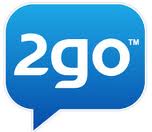 New Smiley.
2go has Fixed some Chatroom Bugs
+ New Exciting Features.
You can Download the Latest Version 3.6.0 by Visiting www.2go.im on your Phone to download it… Enjoy Chatting On 2go with new feature!
If you enjoyed this post and wish to be informed whenever a new post is published, then make sure you Subscribe to our regular Email Updates!
Feel free to drop your comment and remember to Click Share/Like buttons for the benefit of other 2GO Users.