With these rooting guides you will be able to root your Samsung Galaxy Pocket Duos (GT-S5302) with Android version 2.3 Gingerbread. Samsung Galaxy Pocket Duos is a perfect choice for those who are looking to have a device with Dual-SIM support and this device has it. Besides, the phone offers mid-range features, such as Android 2.3 Gingerbread on-board, a 832MHz processor and a 2MP camera, not quite good for taking high-quality images. Although not being a popular device in the industry, the phone's got a root method to allow users go beyond the features that come with the stock firmware. Rooting has a lot of advantages and you will realize them only when you root your device, so let's see how you can root your Samsung Galaxy Pocket Duo (GT-S5302) Smartphone. Before You Begin
This will void the warranty of your device. However, you can reinstate the warranty by unrooting the device if there is any unrooting procedure available.
Make sure your device's charged fully or has at least 60% of battery life left.
LEGAL CONDITIONS
Shelaf will not responsible for any damages caused directly or indirectly by a rooting guide. Any action for rooting your Android device must be done only under your responsibility. We recommend that you read all instructions related to each rooting guide and follow step by step instructions as indicated by the developers. Download Required Software Universal_gb_root_v25.zip Download
Rooting the Samsung Galaxy Pocket Duos (GT-S5302)
After download the above software, move or copy the universal_gb_root_v25.zip to SD card on your Android phone.
Switch off your phone.
Reboot into recovery mode by pressing,

Volume UP +HomeCenterButton+POWER

simultaneously, see the screenshots below: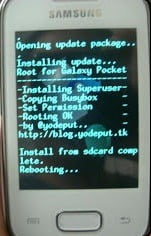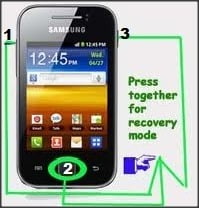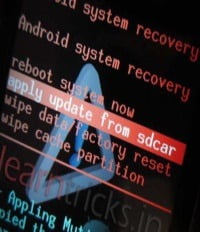 In recovery menu Select "apply

update

from SD card" and then choose "Universal_gb_root_v25.zip from SD card".
Then select the Universal_gb_root_v25.zip file. Flash with the file.
After that, select "Go Back" and then "

reboot system now

".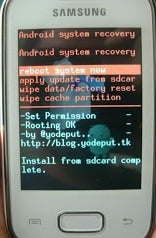 Now you will find an application named Superuser.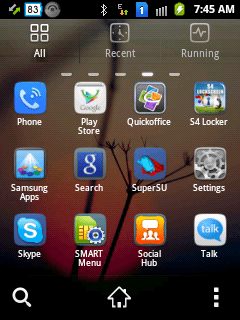 Now your SAMSUNG Galaxy Pocket Duos(GT-S5302) is successfully rooted! Note: You can easily unroot your phone when experienced problems with your rooted devices but you need to get unroot software, just use below link to download unroot software if you wish to unroot. Download unroot
Hope this information helps? If it works for you, don't forget to comment here and remember to Click Share/Like buttons for the benefit of others.
If you enjoyed this post and wish to be informed whenever the new post is published, then make sure you Subscribe to our regular Email Updates!