GTBank has recognized for its strength in innovative banking. The bank invests a lot in the appropriate technology to continually come out with innovative means of providing convenient banking solutions for its customers wherever they find themselves. GTWorld is the latest of such innovative solutions.
Guaranty Trust Bank has launched a new Internet banking app called GTWorld, it's a mobile application that brings all the transactions at your fingertips in a new science fiction style.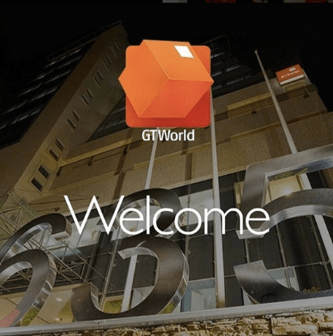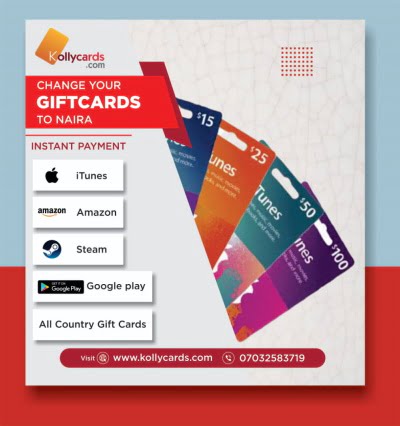 The new platform is set to displace the former mobile app because I see a lot of potentials with it, especially the fascinating options of login patterns such as biometric (fingerprint and facial recognition), PIN, token and password options. With GTWorld, you have a Mobile Banking App that is designed to cater to all that's important to you easily and seamlessly. The facial recognition feature means that you now have a mobile banking App that recognizes you and adapts to how and when you want to bank. Key Features
Login and complete your transactions using your face, fingerprint or a 4-digit PIN.
Check your account balance; transfer money within your accounts and buy airtime; all without having to sign in.
Turn your contacts into a beneficiary list; send money to someone using just their mobile number.
Apply for loans and set savings target right from your phone.
Send your Account Statements to your email or to an embassy of your choice.
Manage your Accounts
Set up a new account and view your account balance(s).
View transaction history and search transactions
Fx Transfers to all Banks
Confirm and manage your cheques.
Payment and Bills
Pay bills
Transfer money to GTBank accounts and all other banks.
Buy airtime and data for self and third party.
Schedule and manage standing orders
Other Services
Find GTBank ATMs and branches near you
Block your lost or stolen card
Get a New Card
Get the best deals on the SME Markethub
To get started
Download GTWorld via Google Play Store for Android devices. For iPhone or iPad users, download it via iTunes
Install GTWorld on your mobile device.
Launch the App and input your User ID and password.
NB: If you do not have a password you may dial *737*6*5# from your registered mobile phone for your login details. And if you have forgotten your password, please click "Forgot Password?" on the login page to reset your password. At first login, you will be asked to authorize your mobile device to access the app. If this is your preferred device, please select 'Yes' and choose if you would like to create a 4-digit PIN for your banking transactions. If you choose to create a 4-digit PIN, you will be required to agree with the Terms of Use. A 6-digit secure code will be sent to your registered email address to verify your device. If you do not receive this message please generate a code from your hardware token or dial *737*7# from your registered phone number to obtain a one-time verification code. You can also call GTConnect on ‪08039003900 or ‪08029002900 for the verification code. Enter this code in the app and your mobile phone will be successfully verified against your account profile. Now you can start using the App. Please note that this is required only when using a device for the first time. If you chose to use the token as your preferred means of verifying your transactions, you will also be sent the 6-digit secure code via your registered email to verify your device for the first time. Enter this code and your mobile phone will be successfully verified against your account profile. You will then be able to start using the GTWorld with your hardware or 737 Token. Please note that you will be asked to select a preferred option for login and completing your transactions, from which you have the options of Password, PIN, Token, Fingerprint and Facial Recognition. You can always change your preference in settings.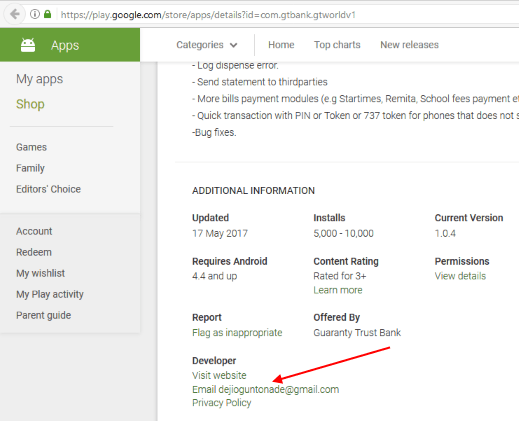 The email address of the GTWorld app developer looks suspicious, but we have done the proper verification and we discovered the app is genuine, so don't be afraid of using the app. The GTWorld mobile app downloading links were posted in all of the GTBank official social media: GTBank Google+, Facebook Page, and Twitter. We also contacted the bank and here is their reply "Hi, thank you for chatting with us. Please be informed that the GTWorld is an advanced option to our mobile banking app and has more features." So it's genuine, safe and official from GTBank.