Hello guys, this is a great news for all Business Owners as the Official WhatsApp Business is now rolled out globally, anybody from any part of the world can now download and install the app from Play Store (No more restriction to particular countries). A few days back, the app was announced and custody in Indonesia, Italy, Mexico, the UK, and the US. Thank God, it is now open for everyone in any countries to download and install. The Whatsapp Business is a must-have for all small business owners or anybody offering services to the public, this will make your business look more professional and it will help you interact with customers easily by using tools to automate, sort, and quickly response to messages.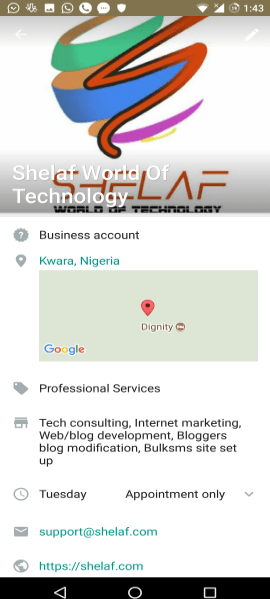 WhatsApp Business provides some of the basic needed functionality, which includes a Business profile with important information like a description, address, and other contact details. You can set greeting messages, enable quick replies for answers to common questions and view some analytics to see the efficacy of your communication or interaction. As long as you operate any form of business, you are free to download WhatsApp Business, you can get via Google Play Store here or through iTunes store for iOS users. Note: You are not allowed to use the same number on your regular WhatsApp to register for Business app. It will require you to use another number. Also Read: Promote Your Business With MTN CallerFeel!
Now, you Contact Us on WhatsApp via our business line +2348080501615. If you have any advert to make on Shelaf.com or you have a business proposal. Please, don't call, just send a WhatsApp message for business purposes only.