At this particular time, when cheaper internet data plans keep emerging, I don't know why Airtel NG has discontinued night data plan of 1.5GB for N200 on the SmartTrybe tariff plan.
Anyway, this is not the first time Airtel NG will discontinue or increase the price of existing data plans and I'm guessing it won't be the last, but that should not stop us from having hope for the cheapest and the best internet data in the upcoming months.
Before now, SmartTrybe gives subscribers options to go for any of the below plans;
» 1GB for N500 – valid for 7 days
» 500MB for N25 and 1.5GB for N200 – Night Plan from 12am – 5am
» 250MB for N200 + 30Min call – Weekend: Sat and Sun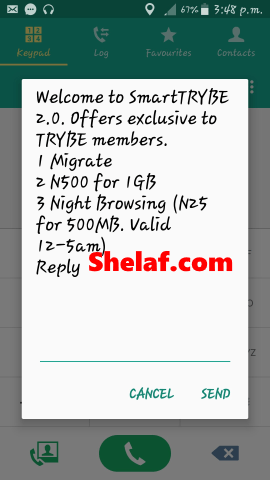 But at the moment, you only have N500 for 1GB (7-day plan) and 500MB for N25 night plan, others have been removed and discontinued, simply dial *312# on your Airtel to confirm.
It seems Airtel used the New Download Bundle of 1GB for N350 to replace the night data plan of 1.5GB for N200.