For a long time, the Android community has cried out for dark themes in applications and the system throughout, as it is very useful, many users simply prefer the look of a dark interface. In the late hours of the day, a largely dark theme also helps out with eye strain. A huge plus on Android too is that, as Google has explicitly confirmed, it can save battery life big time. The good news is that Google dark mode finally arrived to its popular Chrome browser for Android devices. The new dark mode is available in the latest stable version of Chrome (version 74.0.3729.112), so you don't need to mess around with experimental apps like Chrome Dev or Canary. However, the option to turn on Dark Mode isn't instantly available, and you have to enable it through Chrome flags. You just need to enable a flag, then toggle a setting. But even though it's in stable Chrome, it's a beta feature, so there are some bugs that you might see as dealbreakers. Currently, the version of dark mode in Chrome stable only themes Chrome's interface, not websites, though this may change as the feature gets refined.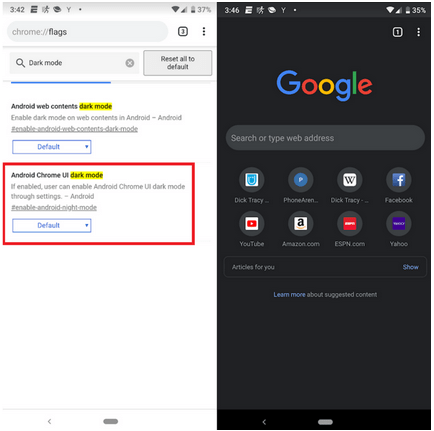 Enable Dark mode by following a few simple steps:
Update your Chrome to latest version 74+
Launch the app and paste chrome://flags in the address bar of Chrome
Tap the "Enable" box for Android Chrome UI dark mode. Also, enable Android web contents dark mode.
Relaunch Chrome.
After Chrome successfully relaunches, you'll still need to Enable Dark Mode for the app, so tap on the menu button in the upper-right corner of the screen and select "Settings." From there, tap on "Dark Mode," then enable the toggle on the following page to turn the feature on. If the "Dark Mode" option isn't showing up within Chrome's settings, force close the app and check the settings again until "Dark Mode" appears. In our testing, we found that the option finally kicked in after force closing Chrome three or four times.