9Mobile has added another amazing package to her prepaid plans, it is known as Moreflex, the plan is for individuals who love to have bundled voice, SMS and PAYG services. You get up to 300% bonuses on any moreFlex bundle you buy.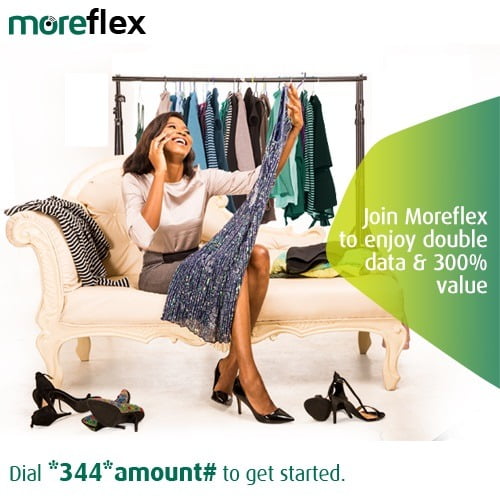 9mobile moreFlex gives you more value for making calls, browsing Pay as You Go and sending SMS to all networks. The prepaid plan formally called 9Mobile EasyFlex prepaid plan is also one of the simplest and best bundle plans you can activate when you recharge on 9mobile. You also get an extra 20% when you buy a higher moreflex bundle within the same validity period (applicable to moreflex 200, 300, 500 & 1000 bundles. Also Read: 9Mobile Latest Offer – Get 900% Bonus on Every Recharge What to Benefits on Moreflex
Enjoy unbeatable voice, data and SMS offers on any of the moreflex bundles.
Flexible & variety of bundles to choose from. And also
Enjoy free incoming calls while roaming on selected networks in 10 countries when you recharge ₦5,000 & above within a month.
9Mobile Moreflex Tariff Bundles and Activation Codes » moreflex 500
₦1,500
₦500 bundle cost
*344*500# activation
7 days validity
» moreflex 1000
₦3,000
₦1,000 bundle cost
*344*1000# activation
14 days validity
» moreflex 2000
₦5,000
₦2,000 bundle cost
*344*2000# activation
30 days validity
Others are ₦5000, ₦10,000 and ₦20,000 packages with extra bonuses of ₦12,500 ₦32,500 and ₦62,500 respectively. These three packages of moreflex on 9mobile have 30days validity. To activate the package,
dial *344*5000# for the ₦5000
*344*10000# for the ₦10000 package and
*344*20000# for the ₦20000
How to Subscribe to 9Mobile Moreflex Dial *344*amount# for you to opt in a bundle. And dial *344*0# to opt out from the bundle. Meanwhile to check your balance dial *232# Tariff / Pricing options
On/off-net calls @ 40k/Sec,
SMS @ ₦4,
MMS @ ₦100 and
pay as you go data @0.002k per kilobyte
Eligible countries for free incoming calls while on roaming are: UK (Vodafone, EE, 02, H3G), UAE (Etisalat, DU), South Africa (Telkom, Cell C, Vodacom, MTN), Spain (Telia Sonera, Movistar/02, Orange, Vodafone), Kenya (Safaricom, Orange) France (SFR, Bouygues, Free Mobile, Orange), Saudi Arabia (Mobily), Germany (E-plus, Vodafone, O2, T-Mobile), Turkey (Turkcell, Vodafone) & Egypt (Etisalat, Vodafone, Mobinil). More detail @ 9mobile.com.ng/packages…