[UPDATED – 01/03/2020] It is no more news that Airtel is offering the most competitive data plan through "My Airtel Offer". The Airtel New Data Offer was introduced to make data quite affordable for purchase. It is available for both new and existing subscribers.
The 6GB for N1500 and 9GB data offer for N2000 are not new to us, but this 16GB data for N3000 was just added to the offer and I'm sure you guys are going to need more data to enjoy yourself this Christmas season, so Airtel is here with more data and more value, you can actually get 16GB for just N3000!
Airtel 16GB data offer will work on all eligible smart devices and of course, it doesn't zap the data. Just make sure you deactivate applications that consume more of your data in the background.
Airtel New Data Offer: How to Get Started
Simply dial *141# and then, choose My Offer by reply with 1. Just like the screenshot you can see above, it should be available on yours too.
Why is my Airtel New Data Offer Different?
Each Airtel active SIM card is eligible for a special offer and if you don't have the same offer with me, kindly send GET to 141 for activating the double data offer and if you are lucky you should get a message as seen below;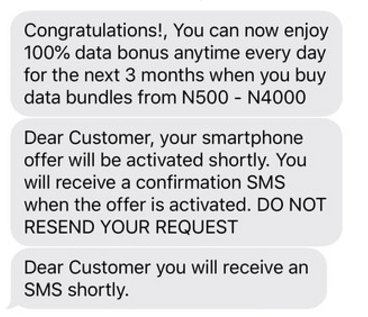 Dear Customer, your smartphone offer will be activated shortly. You will receive a confirmation SMS when the offer is activated.
After that, your "my Airtel offer" should look like mine above and if not, that means you need to get a new Airtel sim card if you really want to benefit from the offer.