In an attempt to support the government to restrict the spread of the Coronavirus pandemic. Y'ello Digital Financial Services (YDFS), a subsidiary of MTN Nigeria, has waived user fees for Cash2Cash – a local money transfer service offered by its MoMo Agent Network.
This is in addition to the measures outlined by the Nigeria Centre for Disease Control (NCDC) to reduce the risks of spreading the virus.
MTN said it is waiving transaction charges on its Cash2Cash service for 4 weeks, the waiver, took effect immediately, to enable people without a bank account to send and receive money across the country at no extra cost for the next four weeks.
With easier access to distance payments, customers can practice social distancing, which has been identified by the NCDC as a means of reducing the rate of transmission of COVID-19.
Similarly, MTN, in partnership with NCDC, has started sending the SMS updates to customers on precautionary measures to take to avoid the virus. The company also substituted its carrier name on customers' mobile devices for "Stay Safe", a message that customers responded that they found reassuring.
People without a bank account can use this opportunity to send and receive money across the country at no extra cost for the next four weeks. MTN Customers can dial *223# to locate the closest MoMo Agent to their location.
Lastly, MTN promises to offer her customers free 100MB daily to access the latest updates on coronavirus pandemic using the below sites.
To keep up with the updates on the coronavirus pandemic here are a few sites to visit at zero cost on the MTN network
https://www.who.int/
http://www.covid19.ncdc.gov.ng/
http://www.health.gov.ng/
All it takes for this virus to spread is just one person, try as much as possible to maintain social distancing and make sure you adhere to the guidelines in the image below in order to limit the spread of COVID-19.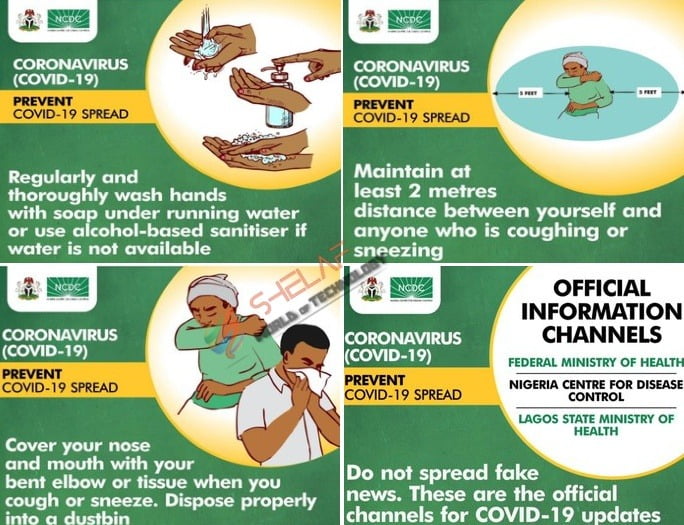 Stay Safe.