Have you heard of the OPay debit card? It's the first of its kind, the new tool to make payments anytime, anywhere. With the OPay physical debit card, you can make payments for goods, services, and international subscriptions from your OPay wallet.
Be part of the first 10,000 customers to request for OPay debit card and use it a minimum of 5 times this month to enjoy the following:
Enjoy delivery discounts.
Cashback on Card activation.
90 free transfers in a month
No charge on bills payment.
Share your experience with us to qualify for more freebies.
The new OPay's debit card gives you the freedom to make quick and easy payments both online and offline seamlessly, earn money, spend smart, and save more. Withdraw your money at your convenience ATM points at the lowest charge rate (but for now, it is free on all Zenith Bank ATM points nationwide).
Exclusive Features of OPay Debit Card
Make purchases via POS, WEB, and ATM anywhere in Nigeria and supported countries
Available in Naira denominations. Instant access to the account in OPay
Acceptable anywhere in Nigeria
Zero lost card liability
Cardholder inquiry service
Lost/stolen reporting
3D secured
More than 15% Owealth interest
Cashback annually depending on what you have on your Owealth
No maintenance fee
Free transfer to any bank account 90 times monthly
OPay ATM Debit Card Charge Rate and Benefits
We have as well contacted OPay severally to give us the breakdown of their card charges, but there seems to be no response on that yet. But so far below are the official Apply For OPay ATM Debit Visa Card charges which we have compiled;
| Services | Charges |
| --- | --- |
| Apply For OPay ATM Debit Visa Card application | N700 |
| Withdrawing from any Zenith Bank ATM | Free |
| Maintenance Fee | Free for Ever |
| Fund transfer fee | Free transfer (90 times monthly) |
The cashback is one of the benefits to start counting from. Other benefits include the interest you accumulate (which is noticed to be more than Opay's Owealth interest rate) while saving.
How to Get the OPay ATM Debit Visa Card
In order to apply for the OPay ATM Debit Visa Card, you MUST be a registered member of OPay.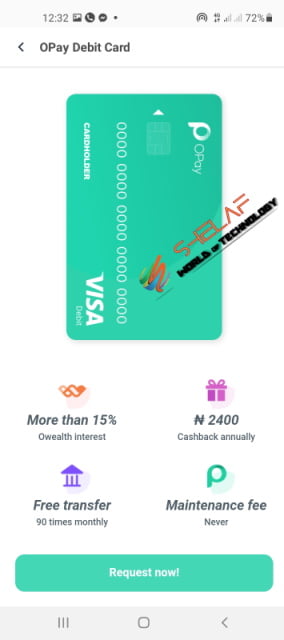 Download the OPay App and register, then log in (or use the steps below to create a new OPay Account). The OPay mobile app is available for Android and iOS devices.
Download the OPay app for Android or iOS Devices by Clicking Here.
Log in to your Opay App.
Click on "Me".
Click on "Request a OPAY card".
Tap "Request now!" button.
At the Referral Colum, input 7064706571 as your referral code.
Then, click on the "Submit" button.
Fill in your contact details accurately.
Select your Pick up Location, or choose Express to have the card delivered to your home or office address for a flat fee of N1000 (N700 + N300 delivery fee)
Then make a payment for the ATM Card Fee.
Confirm the payment and you are done.
Note: Once you receive the card, Activate the Debit card via the app and visit any nearby Zenith bank ATM to complete the activation.
OPay will give a cashback bonus when you activate the Card.
Use the comment box below in case you have any questions.
Sharing is caring, kindly share this post on your various social media platforms.