This isn't a new concept for us; Opera did it before, and we all enjoyed it. Opera is still partnering with MTN and Airtel in Nigeria to provide you with free browsing through Opera News and Opera Mini.
If you have the newest versions of Opera News and Opera Mini installed on your phone and you are on the Airtel or MTN network, then you are set to start free browsing – up to 50MB every day!
You may have noticed a notification that reads, "Dear customer, you are now enjoying FREE 50MB daily browsing on OPERA MINI and OPERA NEWS courtesy of OPERA. Thank you."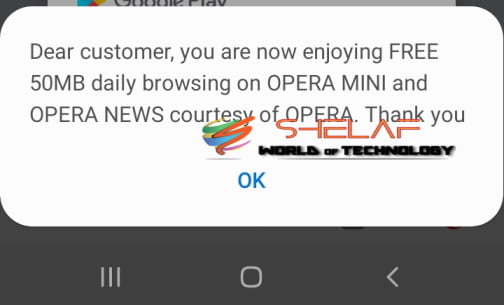 That means you have 50MB available to utilize on the Opera browser or the Opera News app for the day. So why not put it to use right now?
How to Browse with Opera 50MB Free Data
Just install the Opera Mini, Opera browser, or Opera News from the play store, open the app and start browsing free as long as there is Airtel or MTN SIM inside your Android smartphone.
Normally, you can't power other apps on your phone with the Opera free browsing offer, but with a VPN app, you can do it. The best VPN cheat apps you can use to achieve this is HA Tunnel Plus or Stark VPN.
Config File for Opera 50MB Free Browsing Data
Download Config File – Here
Import it inside your HA Tunnel Plus and click start to start browsing. You can check this page for more detail on how to set up HA Tunnel Plus.
How to Bypass Opera 50MB Daily Limit
I've discovered an easy technique to get around the Opera awoof's 50MB daily restriction. After you've bypassed it, you'll be able to use any opera app for limitless free browsing. Simply follow the instructions below;
To bypass Opera Free 50MB Daily Data, you have to turn on your data connection and launch either the Opera Mini Browser App or Opera News App. Once the app launched, you will be prompted to accept that you have been granted free 50MB data on MTN or Airtel, just tap on " I'm in" and start enjoying it.
Endeavor to browse until the normal Opera 50MB free data gets exhausted.
Once you have exhausted the normal 50MB data and your browsing stops.
Go to settings and select Applications, look for Opera Mini Browser, and tap on clear cache and clear storage or data (dependent on your android version).
When you are done with clearing the data and cache or cookie.
Lunch any of the apps again, then turn on your data.
A pop-up message will be sent to you like that of the one you got in the first process of activation.
Just continue repeating the same process as instructed above to accumulate more data anytime you finish or Exhaust your 50MB.
That is all for now. Enjoy while it lasts.
If you have any questions, feel free to drop your comment and it is good to tell us how you are enjoying this cheat via the comment box.
Sharing is caring, kindly share this post on your various social media platforms.