JumiaPay formally known as JumiaOne is an "all-in-one" lifestyle app that allows you to access many services with a single click. JumiaPay links you to your favorite services more quickly and easily. You may also save extra money when you use the App to make purchases.
Here is how you can make cool cash through the Jumia app referral bonus, you can earn up to 20k with this simple approach, this is an official promotion from Africa's leading online marketplace 'Jumia' courtesy of the JumiaPay app.
JumiaPay (JumiaOne) has restored its referral program, which provides you with a free ₦1000 (now ₦500) per referral. Once a new user downloads the app using your referral link, installs the app, and purchase anything on the platform worth ₦500 or above e.g airtime, data, cable TV subscription, utility bills, etc., ₦500 will be credited to your Jumia wallet as a referral reward which you can use to make a purchase in the app, also the person you referred will get a 50% cashback on his first purchase with the use of WELCOME50 Voucher Code on the checkout. However, it is a limited-time offer.
JumiaPay Referral Bonus: Sign Up Process for the Users
Here are the specifics on how to download and install the JumiaOne app in order to be eligible for this referral bonus.
Download the Jumia One app by clicking here (to join the promotion)
Launch the app after the installation
Do not quit the app; instead, register using your phone number and confirm the OTP.
Create a password and then log in.
You will need to validate your mobile phone number at some time in order to get the cashback bonus; an OTP will be issued to your mobile number for verification.
JumiaPay Referral Bonus: How to Enjoy 50% Cashback on your First Transaction
As I said earlier, it is a limited-time offer, you can only get this between now and Sept. 27th, 2021. Up to N1000 for new customers via the app only.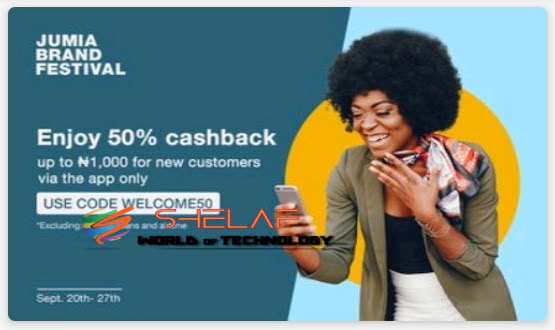 There are lots of products available on the JumiaPay app, but in this tutorial, I will use Airtime as an illustration.
To purchase Airtime, Click on the Airtime button.
Enter the mobile number to whom you want to send the airtime, and enter the amount, then tap on the "proceed to pay" button.
On the next page, click on the "do you have a voucher code?" button.
In the voucher code box provided, type in "WELCOME50" and click on the "Confirm" button to proceed.
Then, the cashback offer of your order will display to you as shown below.
Tap on the "Continue to Pay" button to proceed with the payment of your order.
You can buy as little as N500 or as much as you like, but if you want to meet up with the N1000 cashback maximum offer, you need to purchase the airtime of N2000.
Choose a payment option, credit card (ATM Card) is suggested for a speedier transaction.
Enter your credit card information and continue to make the payment for your order.
You will receive your 50% cashback reward as soon as the transaction is completed.
How to Make N500 Per Referral and Up to 20k from JumiaPay
Here is the process to make more money on JumiaPay after you have got your 50% cashback welcome bonus.
Now, tap the "Invite a Friend" button.
Then, "Invite Your Friends" button to send your invite link to friends and family via WhatsApp, Facebook, or any other social media platform.
Wait for your N500 reward for each successful sign-up using your invitation link.
The more people you invite, the more money you make on the JumiaOne app (now JumiaPay).
Note you must buy Airtime of at least N500 before sharing your referral link for the first time to qualify for the N500 cashback referral reward.
How to Track Your JumiaPay App Referral Earnings and Rewards
Initially, Jumia did not provide a system for tracking referral earnings and records, but this has recently been added. You can now track your referral earnings, date, time, and the amount of reward given.
In the app on your mobile phone, tap on the "View My Referrals" button, as shown in the picture below.
Existing users who have previously referred people to the old JumiaOne app should scroll down carefully to see whether there are any pending bonuses for which he or she must click the "confirm" button as indicated above before receiving the reward.
You can also access the JumiaPay site on your laptop or desktop by going to pay.jumia.com.
Next, choose Account, and then sign in to your Jumia account using your username and password.
As seen above, your most recent earnings Record should now be available on your screen.
Remember that the offer is only available until September 27th, 2021. Don't waste your time! Run around and invite all of your friends so you can earn your FREE money on JumiaPay before the offer ends.