Airtel Nigeria has announced the introduction of the Recharge and Blow campaign, which offers Airtel prepaid users the chance to win up to N100 million as part of its 20th-anniversary celebrations in Nigeria.
According to a release, Airtel Nigeria users will be able to receive guaranteed cash tokens and up to N100,000 cash reward when they boost their weekly recharge pattern to match the Network's predetermined weekly target. The fixed objective is based on the historical recharging habits of consumers.
According to the terms of the promotion, customers' weekly targets are set every Sunday, and they must meet their predetermined objective by Saturday. Those who reach their goal will be included in the weekly raffle draw, with a chance to win up to N100 million.
In addition, the company has given its customers a gift of 250MB of data and 20 SMS; if you are yet to be part of the beneficiaries, you can redeem the offer by dialing *444*4#.
The data and SMS, on the other hand, may only be used on the Gift Redemption Day, which will be on September 26 and October 3, respectively. On each of the aforementioned Gift Redemption Days, the gift is good until midnight.
Airtel Recharge and the Blow Campaign Promo Benefits
Customers will benefit from the following:
You may win up to N100 million.
Cash token with a guarantee (N8 rebate upon hitting the pre-set target).  This amount will be credited to the customer's wallet.
This accumulated cash token can be used to purchase data and voice services, as well as to pay utility bills.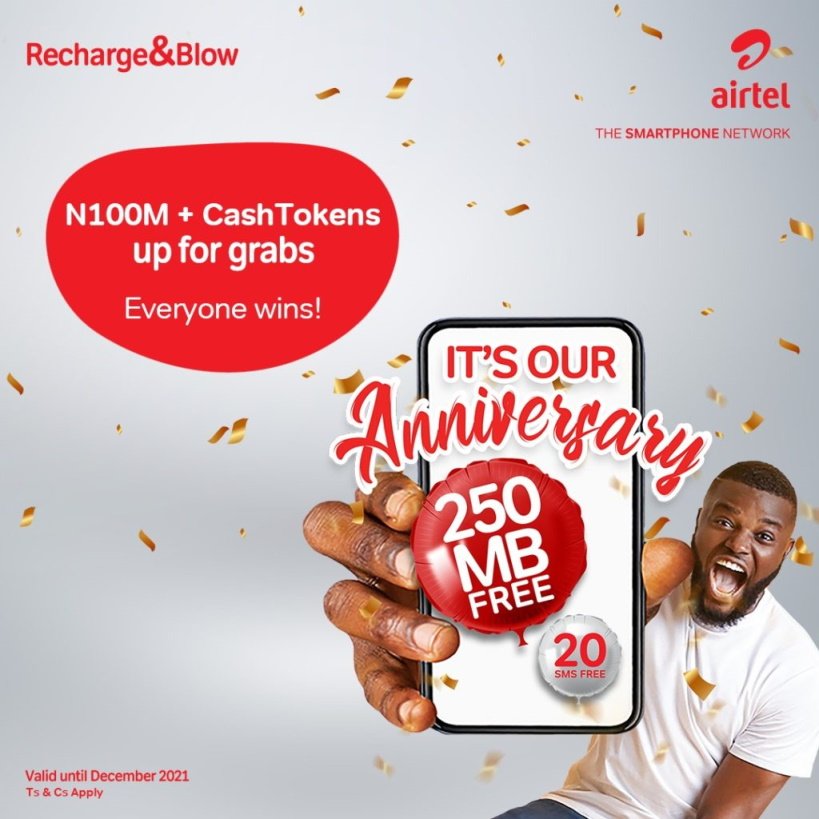 What is Airtel Recharge and Blow Code?
*444*4# is the code.
How Can I Take Part in the Airtel Recharge and Blow Promo?
Customers are expected to dial *444*4# to view campaign details. Customers can view Airtel Recharge and Blow target, recharge progress, cash token wallet on the aforementioned USSD string.
How Can I Check Airtel Recharge and Blow Weekly Target, Status, and Wallet?
Dial *444*4# on your Airtel prepaid line
Select reply and enter 2
You'll see options for your weekly objective, weekly status, and wallet.
If you respond with the number for the option you desire, for example, "3," you will see wallet options, including the option to reset your pin.
When Will the Airtel Recharge and Blow Offer End?
The campaign will run until December 31, 2021.