The process of collecting and organizing content from a number of sources is by far the most valuable feature of the new Google TV platform. But which ones, exactly? Here's a complete list of Google TV's supported streaming providers and applications.
Google may, of course, yank content from its own services like YouTube TV and Google TV (formerly Play Movies). However, there are a number of third-party services available. Disney+, Hulu, HBO Max, and NBC's Peacock are among the major players. The following is a complete list of Google TV services and applications available.
Streaming services and apps for Google TV
ABC
Amazon Prime Video
AMC
Apple TV+
A&E
BET+
Comedy Central
Crackle
Crunchyroll/Funimation
DC Universe
Disney NOW
Disney+
Epix Now
Fox Now
FuboTV
Google Play Movies (now Google TV)
Hulu
HBO Go
HBO Max
History
Kocowa
Lifetime
MTV
NBC
Pantaya
Paramount+ (formerly CBS All Access)
Peacock
Philo
Pluto TV
Showtime
Showtime Anytime
Sling TV
Starz
TBS
The CW
TNT
Tubi TV
Viki/Rakuten
VH1
YouTube
YouTube TV
BET+
It is the most recent streaming service to offer Google TV support.
BET+ is now completely integrated with Google TV. This offers content searches as well as account integration via the "Your Services" app. This implies that while looking for TV series and movies, BET+ will appear as a viewing option if the content is available on BET+. Furthermore, account integration allows providing improved support for the Google TV home screen.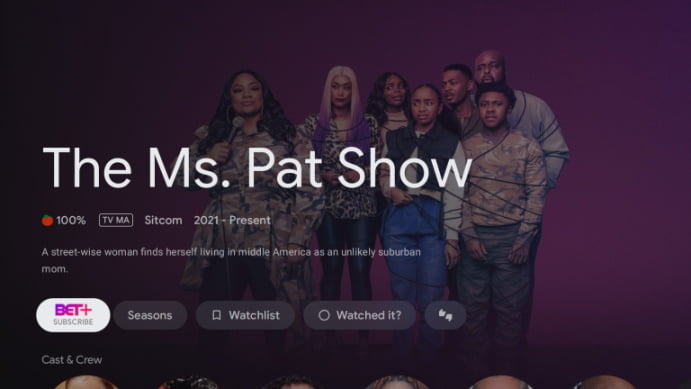 BET+ is a collaborative venture between BET Networks and Tyler Perry Studios that focuses on Black Culture content. The service is $9.99 per month with a 7-day free trial.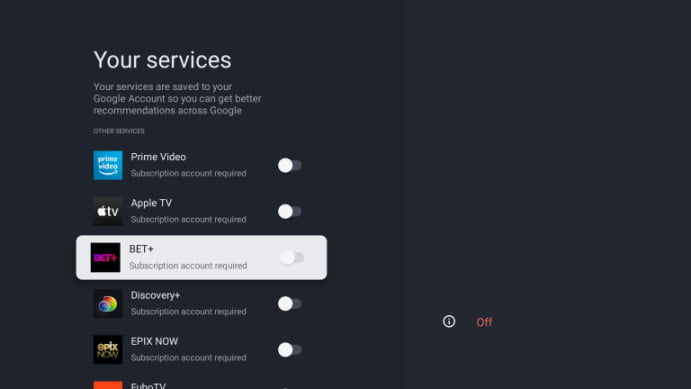 Various Tyler Perry productions, original series, including The Ms. Pat Show and Carl Weber's Family Business, and many more are among the titles that have BET+ as a streaming option.
Apps that connect with the Live tab on Google TV
Some services can also be integrated with the Google TV home screen's "Live" option. However, there are currently just three applications that enable this feature.
Sling TV
YouTube TV
Philo
Why is Netflix not available on Google TV?
On Google TV, Netflix is a bit of an oddity. Unfortunately, the platform does not play well with the world's largest streaming provider. You can utilize Google TV's directory lookup tool to find Netflix content, however Netflix prevents its original content from being used in the watchlist feature. Netflix removed this feature, as well as account linkage, from the platform in late 2020. As a result, Google TV will not provide any Netflix video recommendations. Netflix, on the other hand, has been running adverts on Google TV in recent months.
The Netflix and Google TV support dispute has been going on for over a year and shows no signs of ending anytime soon.