The online app for YouTube Music, which is owned by Google, is getting a new feature that makes it simpler for users to handle songs in quantity, especially when adding them to particular playlists.
The music streamer's online interface now allows users to pick several tracks in list views, as noticed by a Reddit user, according to Android Central. The new feature makes it simpler for users to select several things to add to a playlist.
Multi-select for YouTube Music web app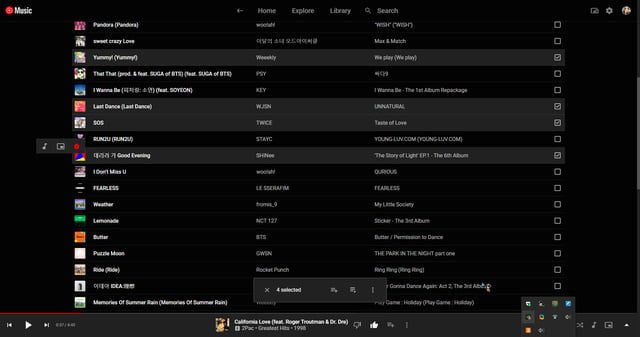 Users can accomplish this by selecting the brand-new check box that is located to the right of each song in a list. The option should appear when a title has hovered over, and users can manage as many things as they wish. At the bottom of the YouTube Music web app screen, you can add particular songs to a playlist or choose to play them after the current playing. Alongside these choices, there is also an overflow menu, according to the article. Users had to manually add songs to playlists by clicking on the three-dot menu adjacent to the thumbs up/down symbols prior to the most recent modification.
Several options are available on the overflow menu, including adding a song to the queue or selecting a particular library. However, it doesn't seem like the feature is currently widely accessible. There are currently very few users who can see it.
The Google-owned music streaming service YouTube Music received an update last month that added several new features. An upgraded radio algorithm, a new Shuffle, updated interface improvements, adjustments to Family listening, and more were all included in the update. The new features are a part of Google's plans to update YouTube Music in February and March of this year. Users of the YouTube app for Wear OS can now shuffle all of their downloaded audio at once thanks to this new version.