It is surprising to see that the original creators of BBM, cannot use it on default BlackBerry devices, but Andriod has cracked the limits. This is to show the extent Android device has useless BBM on Blackberry. BBM3 is the only Android secondary app of BBM that can run on the same device which BBM is been installed. It will allow you to have up to five different Pins on one device. Look at the picture below, you'll see that it contains five different BBM on one Android device. But it all depends on what you are using it for.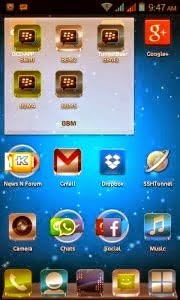 For the purpose of this tutorial, I will just center around 2 BBM on one device. Requirements: Make sure you've installed the Original BBM Make sure you are running Android 4.0 or above Installation Guide 1. First Download BBM3 here 2. Run and install it 3. Sign in or Create a new/different Blackberry ID (Recommended) 4. Wait until it finishes and you will have 2 BBM running on one Android device. FAQ Q: Can I run more than one BBM on Blackberry or iPhone/iPad Device? Ans: No, it can only run on Android devices. Hope this information helps?
If it works for you, don't forget to Comment here and remember to Click Share/Like buttons for the benefit of others and to appreciate our effort.
If you enjoyed this post and wish to be informed whenever a new post is published, then make sure you Subscribe to our regular Email Updates!