Airtel knew that they have missed lots of their loyalist customers and they want them back with all cost. Recently I made a post to let my readers aware that the Airtel Bis data deduction was back to normal on non BB devices and to let them know that the2GB of N1500 also reversed back, but I said in that post that I haven't made up my mind to port back to Airtel Bis (But that won't affect my free browsing with Airtel Sim ooooo via VPN Software) due to the fact that the MTN Night Plan is still better than that 2GB caped which Airtel called unlimited. Airtel 1+1 offer is not a new plan. It is an Airtel Bis Promo introduced in 2013, whereby you subscribe for one month and get the next month FREE at N1500 only. But the offer ended in December 31, 2013. Now is back again! Tested and confirmed working. All credits go to one of our commitment reader Hansel Precious. He is the one made me aware of this new development. Airtel wake him up with a message today as it has appeared in the screenshot below: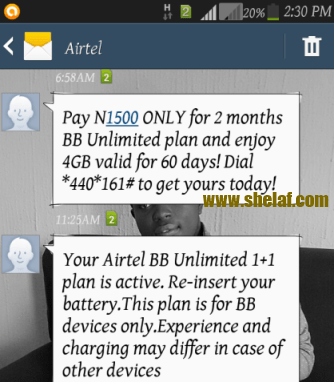 A few hours later, he followed the instruction of that message to subscribe and Since 11:25am today he is being enjoyed with Airtel 4GB! See the screenshot below for the proof.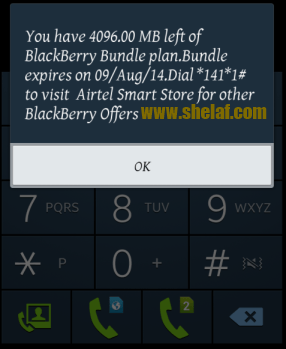 Now, I am thinking to port back to our old beloved Airtel. The code was tested and working fine on my both Airtel Sim, even it works on my line that was not eligible before.
How to Check if Your Sim is Eligible for The Offer
To be sure if you can benefit from the offer, dial *440*161# on your device when you have less than N1500 airtime, the message/reply you get from dialing the above code will tell if you are eligible or not. A. If you receive a message like this: "Dear customer, you are not eligible for this offer, kindly call *141*1# to select other blackberry 2+1 offers". This simply means, that particular Sim is not eligible. B. But if you receive a message like this: "Dear customer, you do not have sufficient balance for this plan". This Simply show that the line is eligible, so continue reading.
After you have confirmed that your Sim is eligible, here are the procedure to get 4gb for 2 months:
Load your Airtel line with N1,500 airtime.

Then dial *440*161#.

You'll be credited with 4.2GB data bundle valid for 60 days.

Dial *123*9

#

to check your data bundle balance.
No special setting required, just insert that sim to your modem or phone, connect with normal Airtel setting you are using before and you are good to go. Enjoy! Never miss any of my future post CLICK HERE TO SUBSCRIBE Once entered, you will have to check your Inbox for a confirmation email containing a confirmation link. Once you VERIFY your email by clicking on the confirmation link in the message, you will never miss any future articles. If you want to appreciate this, have Questions to ask or have anything to contribute, kindly use the comment form below. More so, Remember to use the "Share", "Like" and other Share buttons to share this post with your friends