I taught Sybla Mobile Tv is the best when it come to online TV streaming with Smartphone. Now I have discovered another powerful mobile Tv for Smartphones that is far better that Sybla TV, the software is popularly known as Mobdro. Mobdro is a tool that constantly looks for free video streams available on the web and makes them accessible on your mobile device.The application has premium channels and it is divided into eleven categories namely: News, Shows, Movies, Sports, Music, Gaming, Animals, Tech, Podcasts, Spiritual and others.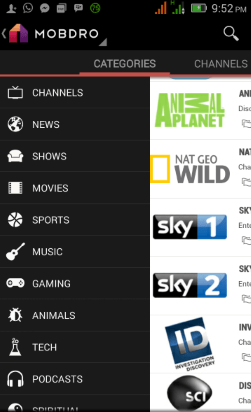 It contains over 2,000 channels and is constantly updating every day; it contains popular channels Sky Sport 1-5, Bein Sport, Euro Sport, BT Sport, ESPN,NatGeo Wild, Animal Planet, Discovery Channel, MTV Base, Vevo Hits, Hip Hop TV, Sony Max, Wrestling, Sky News, ALJEEZERA, BBC, ABC, CNN, Action Movies and many more.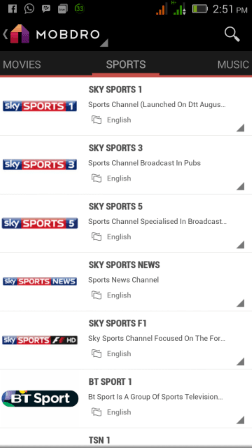 I believed this should help in reducing the extra cost on DSTV Subscription, as you can easily watch your favorite DSTV Channels at the palm of your hand through Mobdro software for free! Supported Device Currently Mobdro software is available for Android Devices only. For Android and BB10 Users. Download Latest Mobdro v1.2.428 here iPhone/iPad users, should manage this TVOnTheGo Once you have a steady 3G connection on your Device, no hold bar situation for you because you will just stream and steam until you run out of your data plan. So guys, what are you waiting for get it now and Share/Like this post with your friends and families.
Remember to stay glued for the free Megabytes/Gigabytes tweak updates to power up your Free Video Streams with MOBDRO.