This a good news for all Infinix Note2 X600 users, finally Android 6.0 Marshmallow now available for your Infinix Note2 aka the Big 6, revealed by Infinix Mobility. The update is available via OTA (Over-the-Air) and you can as well upgrade your Note2 to Android 6.0 Marshmallow manually, by flash/install the official ROM Packages via SP Flash Tool.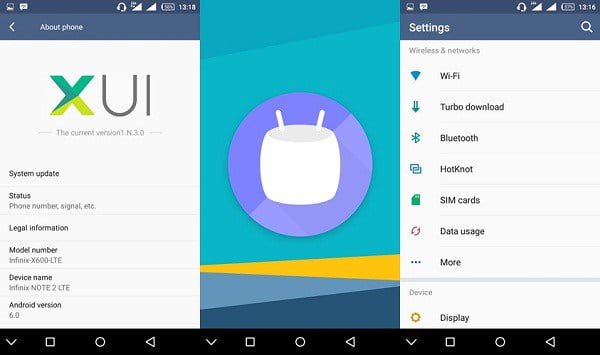 Below are the Upgrade Highlights as Reported from Infinix Mobility Forum.
1. Device will upgrade to android Marshmallow
2. XUI upgraded to 1.N.3.0
3. XACCOUNT registration added to startup guide.
4. Screen Record upgraded to V1.0; record toggle added to notification bar.
5. Fixed issue where front camera cannot be accessed by non-system apps.
6. Added video call (only usable if SIM card supports this function).
7. Fixed one-hand mode malfunction
8. Fixed issue where Direct Call widget does not display contact avatar.
9. Removed pin number notification from pulldown bar when Mobile Anti-Theft is activated.
10. Fixed button overlap with "Just once – Always" and "Home- Back".
11.Battery percentage added to pulldown bar.
12.Added quick wallpaper swap for enhanced customization. Long press the Idle interface, select a key switch wallpaper from the widget
13.Screen Record upgraded to V1.0; record toggle added to notification bar.
14.Added Xshare function with QR delivery.
15.Optimized communication module interaction and visuals.
16.XACCOUNT registration added to startup guide.
17.Optimized system stability and performance while fixing other issues.
Before You Begin The Upgrading
It is important to back up your files, contact and essential apps before you begin, because the flashing process will re-brand your smartphone and thus clear all your important data and files. Follow any of the procedures below carefully to update your Infinix Note2 Smartphone to Android 6.0.
Note that this process might void the warranty of your device, so implementing the below guide is at your own risk. Shelaf won't be held responsible for whatsoever happens to your device.
How to Upgrade Infinix Note2 to Android 6.0 via OTA You can check if the update is already pushed on your device. To check, navigate to Settings » About Phone » Software Update.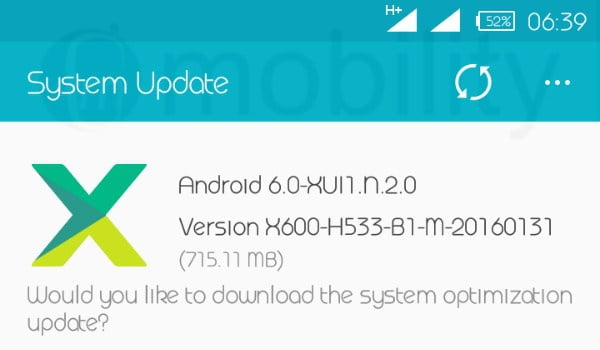 Important Notice If you have already rooted your Infinix Note2 device, you're strongly advised to Unroot or flash/install the ROM of your device to android 6.0 marshmallow via SP Flash Tool. Upgrading an already rooted device Over-the-Air can get the device bricked. How to Manually Flash/Install the Android 6.0 on your Infinix Note2 For the manual upgrade, there are various methods, but the recommended method here is to get it done via SP Flash Tool. Needed MaterialsUSB Cable for communicating the device with PC. SP Flashtool – Download it here VComm Driver – Download it here Infinix Note 2 x600 Marshmallow ROM for 2GB RAM version –Download it here Infinix Note 2 x600 Marshmallow ROM for 1GB RAM version –Download it here Steps to Install VCOM Drivers 1. Extract the downloaded Vcom Drivers. 2. Go to Device Manager» click Action» click Add Legacy Hardware 3. Under welcome to add new hardware, click next 4. Select, Advanced Option and click next 5. Select "show all devices" and click next. 6. Click have disk 7. Browse to your Vcom Drivers extracted folder and select the driver setup up file and click open, then ok. 8. Select Mediatek preloader usb vcom driver and click next. To Flash Android 6.0 Marshmallow to Infinix Note2 Via SP Flash Tool
1. Extract the Android 6.0 Rom file which you downloaded from the above link to the desktop screen of your computer or create a folder and extract to it.
2.Now, power off your device.
3. Navigate to the SP Flash Tool folder and double click on it 4. Launch the SP flash tool.exe 5.Once it is launched, hit the Scatter-loading button. Navigate to the Infinix Hot 2 rom folder and select the scatter file MT6735_Android_scatter.txt "
6.Hit the "Download' button in SP Flash Tool to begin the flashing process
7. Connect your Smartphone immediately to the computer with a USB cable, and press Volume Down or up key, so it would be detected easily by your computer.
8. The Flashing process would be in progress, and once the Flashing is complete you will see a green circle confirming… With Download OK
Simple as that. Reboot your Infinix Note2 devices and Android 6.0 Marshmallow will smile to you on the device! Take note that the first booting process might take few minutes to complete.