It is no more news that Jumia Market is the new name for online marketplace Kaymu. Jumia Market offers thousands of products in categories such as Fashion, Mobile Devices, Health and Beauty, Computers and Laptops, Food and Beverages, and lots more. Services are also available on the marketplace.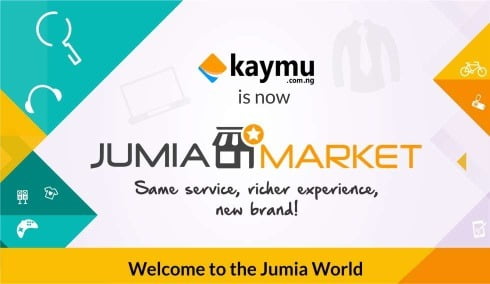 The Nigeria's largest online social marketplace formally known as Kaymu, has relaunched its affiliate program which not only aimed to reward affiliates for driving sales, but also reward you for referring affiliates. Additionally, when you register for your own affiliate account on Jumia Market you will instantly receive N500 once your application approved. Benefit of Join Jumia Market Affiliate Program 1. You will earn N500 commission when you register for Jumia market affiliate program 2. You will earn N700 commission per sale, when someone you referred buy from Jumia market (through your unique affiliate link).
3. You will earn N300 commission (per referred Affiliate), when Jumia market approves anyone you refer to join their affiliate program.
4. You will earn N700 as flat commission per any product you sell through your unique affiliate link irrespective of the price of the item sold.
5. If you get more than 100 valid Sales in one week, you will earn N1,500 per transaction generated the following week.
Before now, minimum payout of Jumia market affiliate program is N5,000, but it has been reduced to N3,000 to permit the youthful bloggers to make money online in Nigeria.
How to Join Jumia Market Affiliate Program
Go to Jumia Market Affiliate Page Here (our affiliate link), the application form will open to you, fill in the necessary detail and click on "Signup" button. If accepted, you will get a confirmation from Jumia Market with your account information. Thereafter, you can log in to your account to select the Jumia Market display banners and use their Deeplink Generator to promote any product on Jumia Market to your visitors and followers via 'Promotion' tab on the affiliate dashboard.
How to Get Your Sub-affiliate Link
I'm sure that you will like to earn N300 per affiliate you referred, what you need is to recruit affiliates by making use of your unique sub-affiliate signup referral link. You can get it by login to your affiliate account, navigating to "Promotion' > "Advanced Tools" > 'Sign Up Sub-affiliates".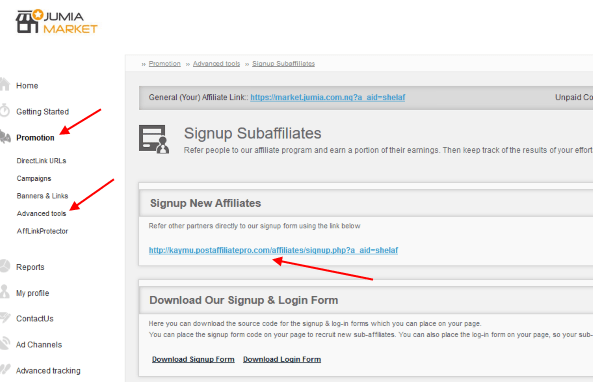 Copy, shorten it and start promoting it on your blog and your social media.
NB: Sub-affiliate link is different from your unique general affiliate link and your sub-affiliates must own a site.
No dulling guys, this a better means for you to earn extra income on the internet, don't be left out. Learn how to create a free blog here if you don't have a blog yet.
Share your view via commenting and don't forget to assist your friends on Facebook, Twitter and others by sharing this info. Click on any share button below and click share link. God bless as you are sharing it, thanks.