It seems Infinix want to take their products to the next level. Infinix is going edgeless just like Samsung Galaxy Edge. No wonder they've been taking their time before they unleash another device into the mobile market. Introducing to you is the Infinix Zero 4 Edge version, which will be the next Infinix Crown Jewel Android Smartphone. We are aware of the Infinix Zero 4 and Zero 4 Plus, as the latest Flagship Phone from Infinix and the next to be added into the Zero Series is Zero 4 Edge version. According to Benjamin Jiang; who is also an official of Infinix. From the pictures seen below, the device looks very much like Samsung galaxy Edge.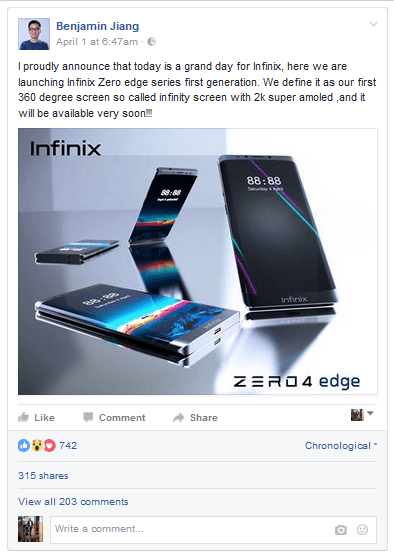 According to the pictures of the phone. It will be the Infinix first ever edge series with 360-degree infinity screen, 2k super amoled. The phone will pack the USB Port at the bottom and the Earphone port at the top.
It might arrive with 3/4GB Ram and 32/64GB internal memory, 16MP front and back camera with flash!
We are looking at either 5.98′ or 6.0″ inches, you will enjoy seamless clean screen, especially when playing games and the rest and also coupled with a screen protector.
Before you buy your next smartphone, you might want to consider waiting for this crown jewel Android Smartphone to be launched.
It is too early to be sure about anything on the Infinix Zero 4 Edge, just take everything with a pinch of salt. The real images and specifications of the zero 4 Edge will be communicated to you as soon as we get the naked truth.