The Android operating system is widely used across the world as it holds around 65% of the market share. The convenience that Android phones afford its users has its disadvantages. Since the Android operating system gives its users the freedom to download tons of items directly from the internet, it puts the phones at risk.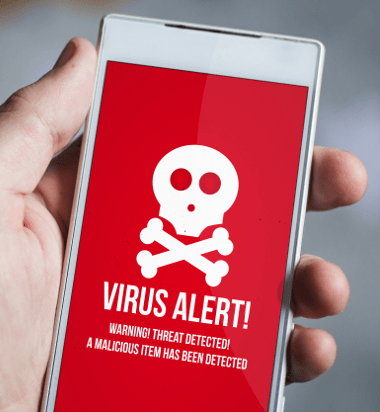 No system is completely impenetrable, however, it's important to know that, your phone can be infected with viruses and other malware. With so much personal data is stored on Android devices, including photos, messages, contacts, and of course every sensitive piece of information in every email account linked to your device! It's terrible to think what a hacker could accomplish with all that data. On an even creepier level, the Android operating system has listening, viewing, and tracking capabilities that, if hacked, can allow your personal conversations, the view from your camera, and your GPS location to be viewed and stored. Knowing all this, I'm sure you're wondering, "Does my Android phone have a virus?" If so, how can we remove viruses safely from Android phone? Is there a way to prevent another breach? Let's get started learning about Android viruses so that we can identify, remove, and keep from getting reinfected with viruses. How to Detect if your phone has a Virus It is pretty easy to detect that your Android phone has been compromised to a virus attack. Below are the meaningful signs for you to spot if your phone has been infected by a Virus (mostly malware). 1. Battery Drainage: All of these unauthorized functions in the background will ultimately cause your battery to drain quite quickly because your phone has a virus. So if you notice signs such as a drastic drainage in your battery or your phone heating up even if you're not excessively using it, be alarmed. 2. Excessive Pop-ups: This is one of the most obnoxious and obvious signs of them all. If you're seeing uncalled for ads, reminders and unfamiliar system warnings, then the integrity of your phone may be compromised. This will result in slowing your phone and wasting your data. Also, you are potentially installing even more malware. 3. Spikes in your Data Usage: should be the first sign that your phone is infected. Phones that are infected with adware (advertising ware) maliciously perform clicks in the background to spawn the profit for cybercriminals. Try to compare your current mobile data charges to the billings of previous months and spot any unusual activity. 4. Unexplained SMS Charges: Adware also sends text messages to premium-rate numbers without the user's consent and accordingly, charges you behind your back if your phone has a virus. 5. Also, you may have foreign Apps that you don't recall installing to your phone. Trojan malware is known especially for downloading apps on your phone that is identical to popular apps. Cybercriminals and hackers, later on, change them to their original form through app updates.
What are the best methods of deleting viruses on the Android phone? In most cases, a hard reset may be the only option. However, this comes at a huge price as you lose other valuable data that have not been backed up before the attack. Fortunately, you can get rid of the virus without having to factory reset your phone. This is possible if the infection is not that much.
Should I simply Factory reset my phone to get rid of the virus? A factory reset means removing all your applications, losing all your data and erasing all your personal settings. So you may consider leaving this option as a last resort.
Remove Android Virus Safely: the booting in safe mode method First, attempt removing those malicious apps by heading to your Settings, then Application Manager and don't forget to tap ''Clear Cache'' and ''Clear Data'' before permanently Uninstalling those questionable apps. However, some apps are quite stubborn because of their administrative access and won't get uninstalled this way. In such instances, you will have to remove such malicious app via the "Safe Mode". At this point, you will need to search for how to boot in safe mode for your individual Android phone. Generally, the following steps will work for most android phones,
Hold the power button on your phone until the ''Power Off'' option appears.
Tap and hold to the ''Power Off'' option until the ''Safe Mode'' option appears.
Go back to your Application Manager and Uninstall those apps
If the apps are clinging to your phone by their administrator access, consider the following:
Head to Settings >> Security >> Device administrators
Locate the app that refuses to install
Uncheck the box
Next, tap on "Deactivate"
Head back to your Application Manager again and uninstall the app for good
After getting rid of these suspicious/malicious apps, restart your phone to complete the process. Are there reliable antivirus software for Android phones? I don't really use antivirus software to Delete Android Virus. However, lots of capable contenders are available in the Google Play Store that offers a good security solution for your android phone in the form of an app, with more notable ones being Avast! Free Mobile Security, Avira, Lookout Mobile Security, AVG Mobile Security, Kaspersky and Norton Mobile Security, just to name a few. There is a different feature-set offered by each, so you have room to weigh your options carefully before making a decision to go with one. Also, read: