Google has launched an updated version of its Android (Go Edition) mobile operating system for entry-level phones based on Android 10. Google has detailed its latest version of Android Go, its lightweight operating system meant for low-powered devices with less than 1.5GB of RAM.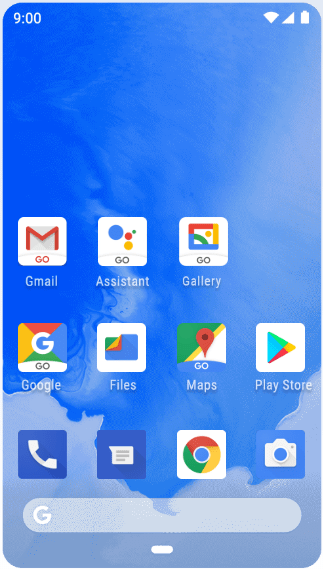 With Android 10 (Go Edition), Google says it has improved the operating system's speed and security. App switching is now faster and more memory efficient, and apps should launch 10 percent faster than they did on the last version of the OS. Features of Android 10 Go Operating System
Entry-level smartphones now have the same key security features as Android 10. The software includes lightweight versions of official Google apps found in the standard version of Android 10, and the amazing part, it takes up less space on the device's internal storage than the full version of the operating system.
Find My Device features built-in: If your device is lost or stolen, you can track it down, set a passcode or wipe it clean just by signing into your Google account from another device.
We have Google Assistant, Gmail, Maps, Google Play Store, Search, Chrome, and YouTube well Optimized.
We have an improved File Manager app and a selection of new apps such as Gallery Go, Google Go, and Gboard on Android 10 Go
This operating system also includes a built-in data manager to help users reduce their mobile data usage.
Recommended: Tecno Spark Go 2021 is Released in Nigeria, Check out the Price and Specs
For some, data protection may be the real star of the show. Android 10 Go edition includes a new Adiantum encryption system that should secure data without affecting performance or requiring special hardware. You won't have to worry that your sensitive info is vulnerable simply because you bought an entry-level device.
Google said that Android 10 Go will begin rolling out to various budget Android smartphones from several manufacturers this week. Source: android.com