There are quite a number of the digital bank (branchless and paperless) in Nigeria today, but Alat by Wema Bank is the first of its kind. This mobile platform allows you to get everything done from the comfort of your mobile phone.
ALAT was launched on May 2nd, 2017, by Wema Bank Plc, a Nigerian commercial bank. Wema Bank was designed to cater for the need of today's (digital) customers who are in dire need of a bank that understands and suits their lifestyle with respect to value for time, money, and responsiveness.
With its unveiling, the bank solved the problem of exhausting queues in banking halls and ATMs, as well as the rigorous paperwork that customers had to face. Built with the core values of simplicity, reliability, and convenience, adoption of the digital bank has been on the rise by Nigerian Millennials.
During its first year, ALAT by Wema acquired more than 250,000 customers responsible for well over NGN 1.6bn ($4.48m) in general deposits. In 2018, the bank closed in the NGN 1bn ($2.78m) mark in terms of deposits into savings accounts. Source: Wikipedia.org.
ALAT by Wema was recognized as the 'Best Mobile Banking App' and 'Best Digital Bank for 2017' at the World Finance Digital Banking Awards. In 2018, it was also awarded 'Best Digital Bank in Africa' at the Asian Banker Awards. The digital bank has also received other series of awards including BusinessDay Digital Banking Platform of the Year and Excellence in Branchless Banking in the New Age Banking Awards. ref>Wema's ALAT named Africa's best digital banking app.
Today, Wema Bank has adopted ALAT by Wema as the fulcrum of its digital transformation. With the closing of its old Wema Mobile app, the bank has converged its banking services into an ALAT that has become a versatile, omnichannel platform. The convergence allows for the coexistence of digital and traditional banking platforms. Source: Wikipedia.org.
With ALAT, account opening/sign-up can be done in five minutes from a mobile phone or personal computer. Account-holders can instantly fund their new account using any existing local or international debit/credit card you may have, in-app. No branch/ATM visits necessary.  Debit cards are delivered to an account holder's address in two business days, anywhere in Nigeria, at no cost.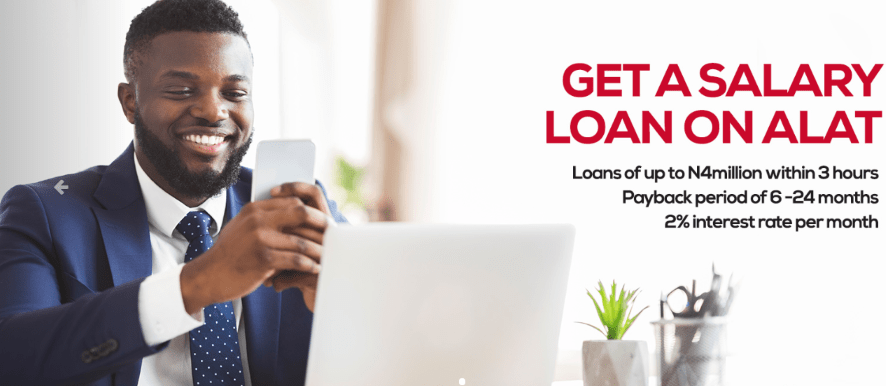 Holders of ALAT account can also enjoy a simple automated savings plan that will see them earn 10 percent annual interest – about three times the standard bank rate. They can also schedule frequent transfers (e.g salaries or mumsi's stipend) and bills (e.g DSTV subscription) and forget about them.
ALAT Refer and Earn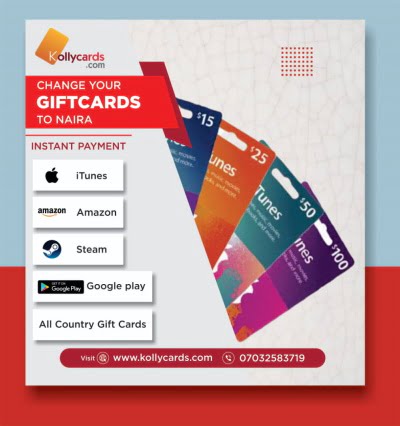 On the Alat platform, you can earn money by referring it to other Wema Bank customers; you earn this money when they install the Alat app, sign up and fund their account. It is not a new program, it has been available ever since the launch of ALAT on May 2, 2017.  Lots of people are already earning big amount of money through ALAT Refer and Earn and if you are not part of those beneficiaries, not too late yet.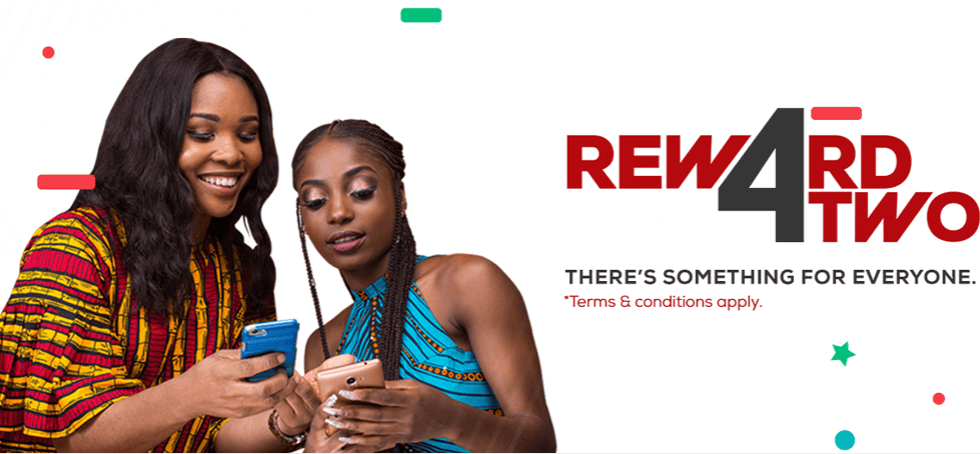 You can still get N500 bonus if your referral funds his or her Alat account with up to N500, this amount is automatically credited into your Alat account. Your referral is not left out as he/she receives N200 worth of airtime from Wema.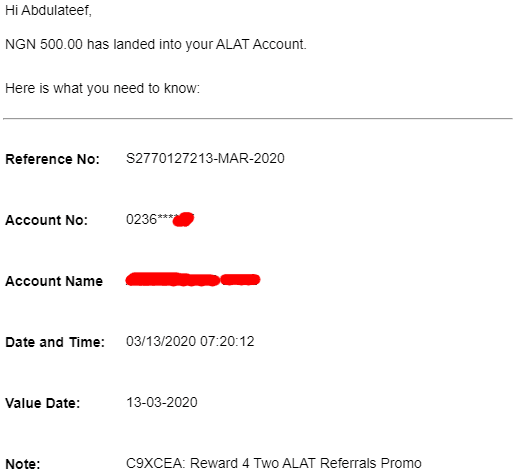 ALAT Registration and how to earn as well
1. Firstly of all, you have to download ALAT app by Wema;
2. After getting the ALAT application, then you need to sign up and fill in your details.
3. You need your Bank Verification Number (BVN) to open the ALAT bank account with your phone number.
4. Then move on by clicking next, where your full name would be uploaded already and you'll be told to fill in your Date Of birth and also A REFERRAL CODE. Copy this C9XCEA and paste it in the referral section.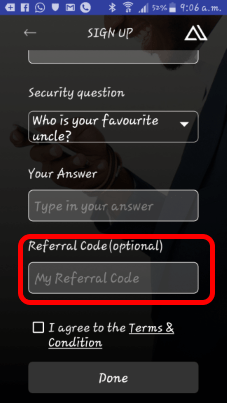 5. You will have to upload your documents and that involves your ID card, written of your signature in white paper with a pen, taking a picture of yourself, and upload them.
6. Fund your account with as low as 500 Naira (through a bank transfer or by clicking on "fund account") for your account to be activated and functioning and that's it, You Now have a fully functioning bank account that can send money, receive money, save money, buy airtime, buy Data, you can withdraw your money via ATM Machine using your ALAT debit card.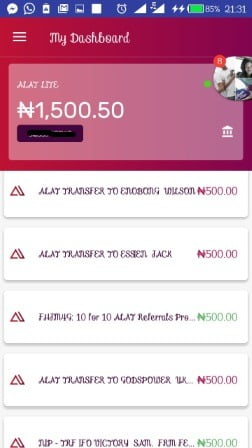 7. Refer anyone to open ALAT Wema bank account with your own referral code which you'll find when you click on "refer a friend" and you will earn N500 if your referral funds his or her Alat account with up to N500, this amount is automatically credited into your Alat account. Your referral is not left out as he/she receives N200 worth of airtime from Wema.
Remember to fill your detail with referral code: C9XCEA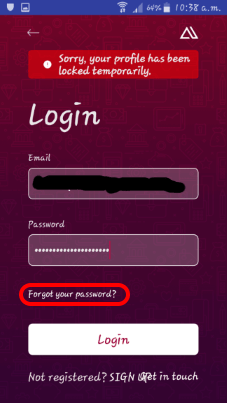 In your first login, if you have issues, simply click on "Forgot your Password?" and reset your password to the initial one through the Password Reset Notification sent to email and after that, your account will work fine.
More so, go to the profile section and fill in your details, ensuring that all the ticks are green so that your account does not become restricted. Check this section regularly to ensure they're all perfect.
You can also sign up via this URL with any browser: https://online.alat.ng/#/signup But, to get your referral code, you must use the Alat app via Android or iOS device.
Open a bank account in less than 10minutes and get your Virtual Card shipped to your doorstep within two business days. I hope you find this very interesting and easy?
You Might Also Like: