Rather than spending your spare time during lockdown trawling through social media, why not put it to good use and earn some extra cash?
For now, Branch App referral system is the best and easiest way to make some extra money without stepping out of your front door.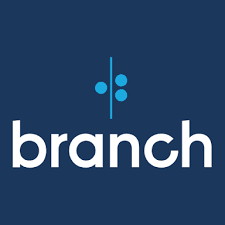 This is known as "weekly free wages" you can make up to N27,000 or more from the comfort of your Android smartphone through the Branch App, with the aid of the guide on this article you will be cashing out like boss from the branch App.
Branch is currently giving out N1500 per referral, you can make as much as N27,000 every week with my accumulation method and no verification is required.
I think the Branch app is the best among all refer and earn programs that I have ever shared on this blog. Jumia One is offering N500-1000 per referral, ALAT by Wema is offering N500 per referral, OPay is giving N310-470 per referral, MyMTN App is giving 200MB data per referral, the dead Zoto offered us N500-1000 per referral and the scammed Gigs4five declared $2 (N700) per referral while Branch is offering N1500 per person you referred.
What is Branch Application?
Well, it's always right to give you the insight of the core uses of any app or platform that we share, for that reason here is what Branch App is all about.
Branch makes it easy for you to access loans for the way you live anytime, anywhere. Sign up in seconds, apply for a loan, and receive your money straight to your account. It's a fast, convenient, and reliable way to access credit when you need it.
Branch is an international company that is not only located in Nigeria but also in other countries. Available in Kenya, Tanzania, Nigeria, Mexico, and India. You can get up to Ksh 70,000, Tsh 1M, ₦200,000, 20,000 pesos, or 50,000 rupees.
Everything about getting a loan through Branch is done using your smartphone.
Therefore, you need no paperwork or collateral. You will get a reply from Branch within minutes.
How to Make N1500 And More Than N27,000 Every Week From The Branch App
Here is the real gist on how you can make cool cash from the branch App, please follow the instructions below thoroughly to be able to join on this free money raid, note that if you miss any step you wouldn't have the chance of earning alongside others, so read attentively
1. Firstly, Download the Branch App from Google Play Store here (it is just 5MB)
2. Install and Launch the App
3. Select Register With Mobile Number
4. Input your mobile number and complete the registration
5. Register with your real details, full name, You will be required to provide you BVN number, go ahead and provide it, if you don't have it saved on your device, you can dial *565*0# from your mobile number to get your BVN, note that your BVN is required by branch and other financial apps to confirm that you are the owner of the bank account details you provided, so you are safe. Here are the reasons why your BVN cannot be used to steal your money.
6. Complete the Registration, then add your bank account number for withdrawal and loaning
7. Now, to start earning, click on Menu Button >> Promotion and Copy this code SHEU0BEA7 and paste it in the promotion section, Then tap on Apply Code.
This part is very important as that's where you start earning free money, as soon as you enter the code you will be given free N500
8. Now click on Loan and Select N1000 loan in which you will pay N1200 later, don't worry about the extra 200, remember you have got N500 already from the above code you inserted.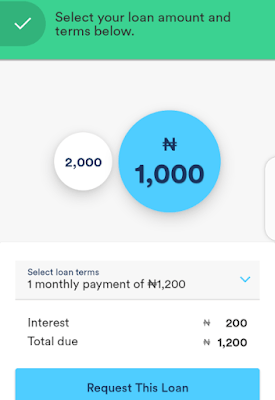 Note: if they denied giving you a loan with a reason " there is insufficient data etc" that you should try again in a number of days.
You will have to cross-check your information, check if your date of birth is correct, also check if your bank account details are correct, you can check all these on the MY ACCOUNT option and edit any of then that is not correct.
9. As soon as they process the loan and send it to your bank account, repay them back, you will pay N1200.
Note: You have to repay back as soon as possible, don't wait till the given date to pay back, you can even pay back immediately the loan is given to you.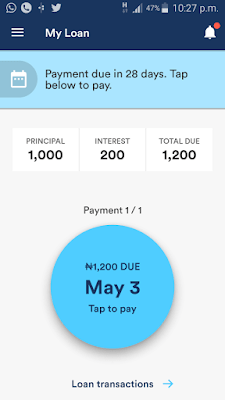 How to Repay the Loan
To repay, you will have to follow the instructions on the branch App, you can pay with your ATM card, or with your bank's USSD code if your bank USSD is supported in the app, the repayment methods are easy and convenient, so don't worry about that.
If you find any of the instructions of the method above confusing, don't hesitate to drop your comment, for assistance.
As soon as you repay your loan of N1200, your free N500 will be made available for withdrawal, so practically you have free N300 immediately.
Now, it's time for you to earn more money from the Branch App and if possible more than N27,000 every week.
Firstly, click on the earn option and copy your referral code
Now share the Branch App alongside your referral code with your friend or on WhatsApp and telegram group.
For every successful sign-up, you will earn free N1500, which you can withdraw immediately from Branch App, The cash will be credited to your registered bank account.
To check your bonuses click on "Earn >> Review Your Bonuses"
The amount on the bonus balance is the amount you can borrow without paying back (the amount you can withdraw), Total pending is the amount you have received, but yet to be withdrawable, while Total redeemed is the bonus you have earned and withdrawn to your bank account as shown on the screenshot below.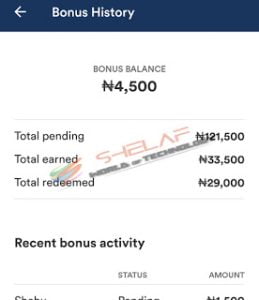 Note that the promotion is available for other African countries too.
Enjoy and earn more money while the promotion is on.
Stay positive, have a solution-seeking mindset, and leverage this way to make money during the COVID-19 pandemic, and it will surely work out!