Scam Alert: InsMe Proved to be a SCAM website, so we need to stop investing in it. Just 26th January 2021, InsMe went away with people's money. Based on our research – InsMe, Uwork and MyBonus are currently Scam Website, please stay away from them.
Please disregard this Article as it was written when InsMe was paying people.
For certainty, money is one of the most important things we need for survival. Beyond the basic needs, money helps us achieve our life's goals and supports. There is no amount of satisfaction that can be compared when you always have money to satisfy your pressing needs. To earn money you have to work.
For about 2 weeks now, we have been talking on InsMe. Yes! This is the way forward for now. People no longer work hard rather they work smart!
I introduced InsMe to my readers 12 days back and many who have been waiting for an opportunity grabbed it immediately. They are already busy using their fingers, smartphone, and Instagram account to enrich themselves and smiling with the credit alerts that they receive every day.
Based on the information released on the platform, InsMe is a legal American social platform registered in the United States, and has passed the rigorous review of the U.S. Companies Registry, and belongs to a global online interactive community. As every single cent collected by InsMe will be directly submitted to IG and follow by a monthly audit ensuring everything is error-free, the member's membership is very safe and exposure to risk is considered very low.

Isme claims to have a commercial agreement with Instagram, 10% of the influential marketing expenses paid by the IG merchants will be allocated to their (InsMe) members as rewards.

IG is currently experiencing total sales from the influential marketing sector as high as USD 20 billion per year. In other words, InsMe will be receiving USD 2 billion from IG for every year.

When a member chooses to sign up the InsMe package, they must first consider their own financial affordability. Once the member decided to quit the membership, InsMe will not making any refund to the member. This is the rules and regulations set by IG. When members sign up a InsMe package, InsMe will submit all the collected funds to IG accordingly. In return, IG will pay InsMe a handling fee as the operating expenses of InsMe when any member successfully performs any mission as per the guidelines.

Any business in the world, any government, and empire and even an entire civilization can disappear. That said, our collaboration agreement with IG is 20 years, and InsMe stakeholders, board members and teams are all looking forward to growing bigger and gaining more members for the next two decades.
Based on my own view, it seems the platform is here to stay because they have a good source of income which can make the business last longer.
As a blogger and web designer, I know what it takes to link a website to other people's website, if InsMe doesn't have mutual agreements with Instagram (one of the companies owned by FB), the API that allows two applications to talk to each other will not be released to them.
If you are still contemplating whether to subscribe or upgrade your account to a higher plan, I think this is the best time to conclude on what to do. This is a good means to back up your low income, The longer you're not taking action the more money you're losing.
New visitors can Click Here to become InsMe Member, in the space requesting the invitation code, input BGTPQ2
For those that are already subscribed and enjoying the platform, let talk about how to make more money on InsMe.
How to Make More Money on InsMe
Aside from the reward of the InsMe missions, InsMe has two different kinds of rewards for now, namely, Referral Bonus and Individual Team Reward.
Both the referral Bonus and Individual Team Reward are in the same category, just that the referral bonus is just an offer with a limited time while the team reward is a lifetime bonus.
InsMe Referral Bonus
For every online platform, the referral model follows a pattern, all companies want to promote their product, app, or site so they offer referral programs for members to participate also and earn via InsMeApp Referral Program.
I have almost 9 years of experience in blogging and ever since I have started promoting businesses with referral programs, I have never met the one that is better like this InsMe Referral Program and Team Rewards.
As I said earlier, the referral bonus has limited time. If you can invite one of your subordinates between now till 18th December 2020 to finish the first deposit successfully and become InsMe 2 valid members, you will get N1,688 reward. Lots of people including me are enjoying this offer.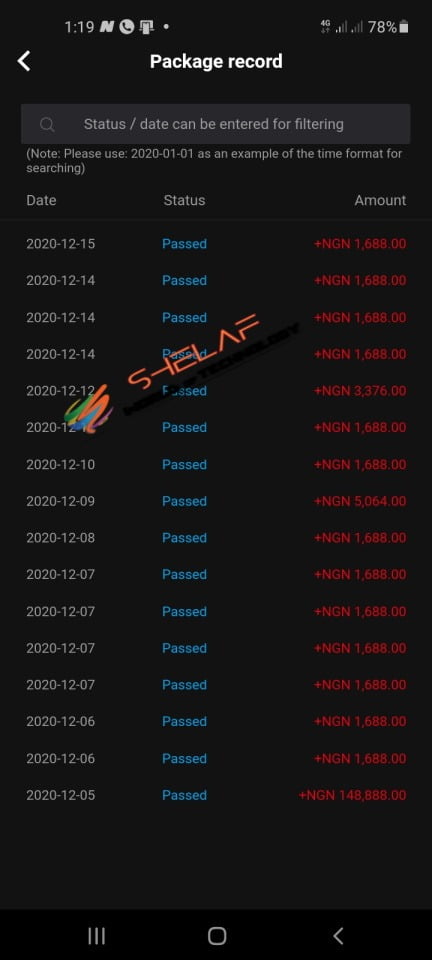 To claim your referral bonus you need to contact the WhatsApp of the InsMe Welfare Specialist +852 90143706 with the following format of the message:
My invitation code: BGTPQ2

Subordinate invitation code: ******
Change the first code to your own invitation code and the second one to the code of your new member that just subscribed to the InsMe 2 plan or above. You can check your new subordinates member and his/her code via Me >> Details (under the total recharge amount of subordinates today).
Once the message sent, wait for them to verify the accounts and you will receive the bonus of N1688 in your InsMe wallet. You can confirm the bonus under the package record.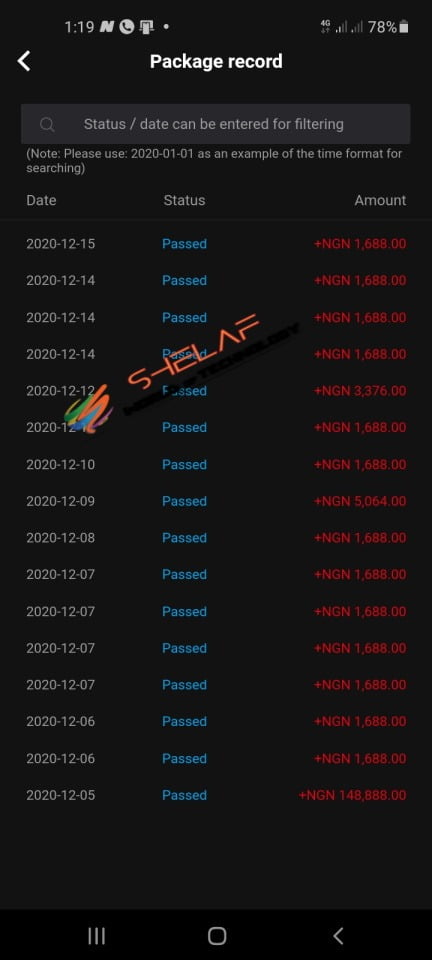 If you really want to make more money on InsMe, you need to work harder on referring people, make sure you act fast before the offer ends.
Also, you need to pay attention to their notice board each time you logged in, the referral bonus time may be extended later.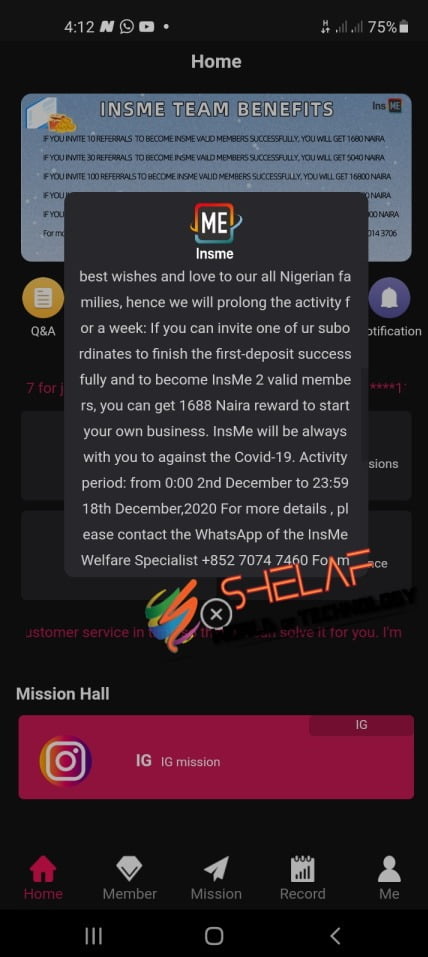 InsMe Individual Team Reward
As the name implied, you build your own team by successfully referring members. As the leader of your personal team, you will be able to get extra Individual Team Reward from the total Mission Reward earned by each member of your personal group.
There are 6 generations of the Individual Team Reward, which is 16% for the 1st generation, 8% for the 2nd generation, 4% for the 3rd generation, 1% for the 4th generation, 1% for the 5th generation, and 1% for the 6th generation.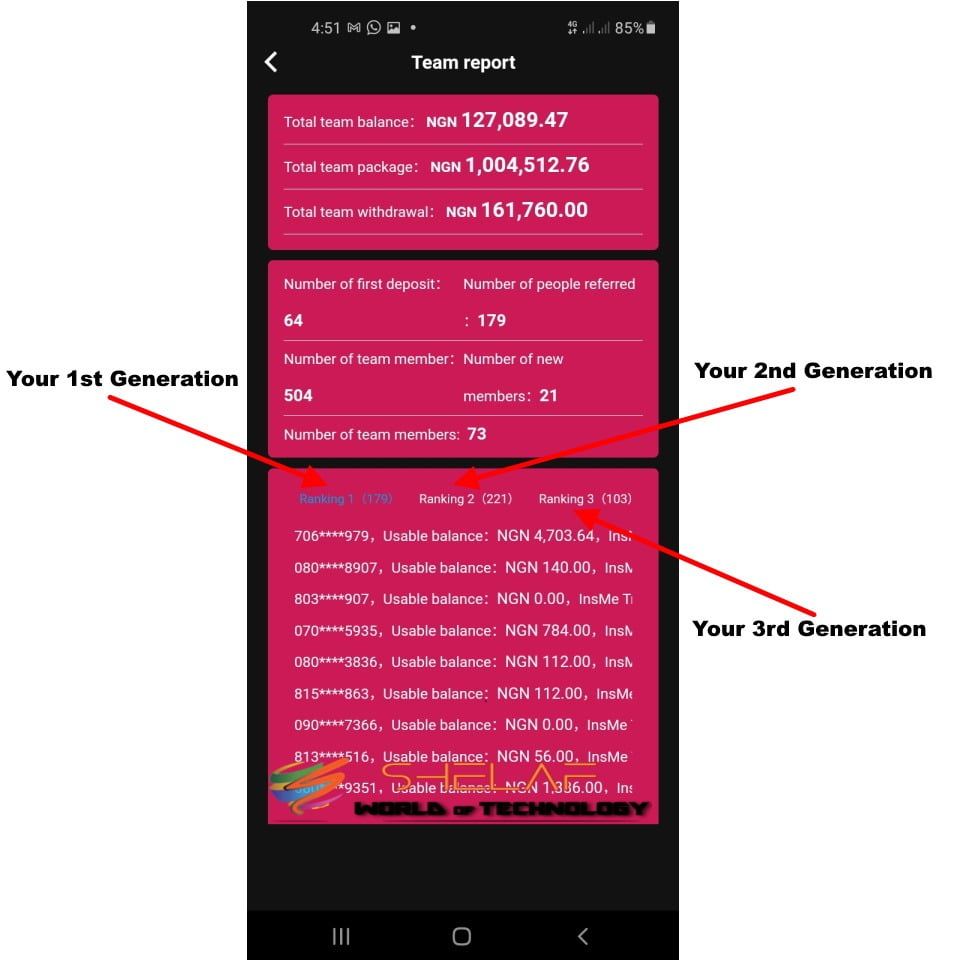 16% for the 1st Generation
Those that used your affiliate/referral link to sign up are your 1st generation and you due for 16% commission on each of their daily missions.
For example, if one of your direct referrals subscribed to InsMe 3 plan of N62,888 with 25 missions per day at the rate of N125. The 16% of 125 is 20, now 20×25=500.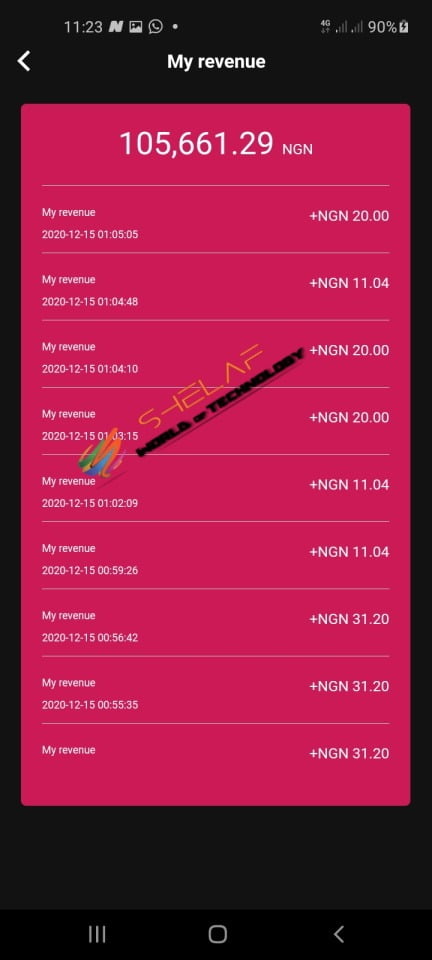 This means you will be making N500 per day on a single person that subscribed to Insme 3 via your affiliate link. Remember the period of the plan is 60 days. That is, 500×60=30,000. It means, N30,000 will be the total of your reward for that single person.
8% for the 2nd Generation
Your 2nd generations are like your grandchild, people that used the affiliate links of those you referred, you due for 8% commission on each of their daily missions.
For example, if someone under your 2nd generation subscribed to InsMe 3 plan of N62,888 with 25 missions per day at the rate of N125. The 8% of 125 is 10, now 10×25=250.
This means you will be making N250 per day on a single person that subscribed to Insme 3 via the affiliate link of someone you referred. Remember the period of the plan is 60 days. That is, 250×60=15,000. It means, N30,000 will be the total of your reward for that single person.
It goes like that to the 6th generation, I hope you understand now and you can agree with me that the InsMe Referral Program is better than others
If you really want to make more money on InsMe, you need to work harder on referring people. The more you have people who subscribed to InsMe packages, the more your daily Group Rebate Income will be increasing.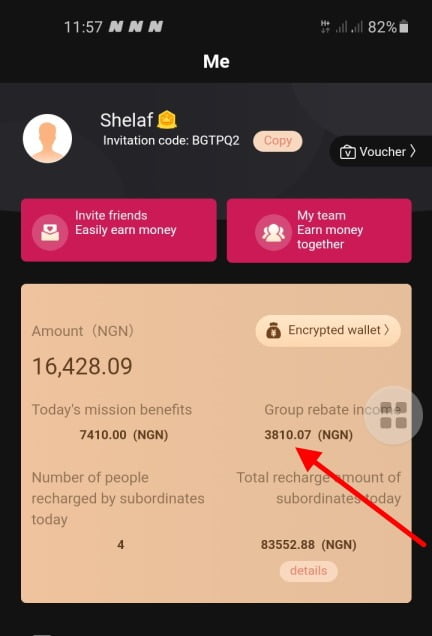 InsMe Plan Upgrading
Upgrading your plan from the lower to the higher package is another means of making more money on InsMe. All InsMe packages are valid for 60 days and members are allowed to upgrade to any package as they wished.
However, when a member has successfully upgraded to a higher package, the remaining Mission Day will be automatically calculated according to the system calculation and added to the Mission Day of the new package.
As for the above example, A has completed 10 Mission Day and remained 50 incomplete Mission Day (50 days X Daily mission reward as 84 = 4200). The system will then divide 4200 with the Daily mission reward of InsLike 2 (344) to get 12 days and subsequently added the 12 days to extend the initial Mission Day of InsMe 2 to 72 days (60 + 12 = 72).
Let's do the mathematical calculation for better understanding.
Let say your first plan is InsMe 2 of #6,888, 5 missions daily at the rate of #69 and after 5 days you upgraded to InsMe 3 of #62,888, 25 missions daily at the rate of #125.
The earning and the days of the first missions will be converted to the rate of the new plan you upgraded to in which more days and more missions will be added to your new upgraded plan at the end.
For example;
Remember your first plan is InsMe 2 of #6,888, let's times your daily missions with the rate. Which is 5×69=345. Your daily earning is  #345, let's times it with the given period which is 60 days.
Now, 345×60=20,700. Remember you have done the missions of days 1 to 5.
Total commissions for 5 days which is #1,725 will be removed from your initial plan of InsMe 2. 20700 – 1725 = 18975. Your remaining balance from the previous plan will be #18,975
Now, your remaining balance from the previous plan (#18,975) will be divided with the actual price of a mission on your upgraded plan. Recall that the price of a mission on your upgraded plan is #125.
Now, 18,975 ÷ 125 = 151.8. This means you have undone 151.8 missions from your previous plan.
Now, InsMe will divide that 151.8 with your upgraded daily missions number, which is 25.
151.8 ÷ 25 = 6.072. This means, at the end of your new plan, 6 days will be added and you will be having 25 missions daily at the rate of 125 to recover your capital and profit from your previous InsMe 2 plan.
It is as simple as that.
How to Become an InsMe Member
For the new visitors who wish to register on the platform and start making cool and free cash on this great app, kindly follow the steps below; do not miss out on any steps to avoid any issues.
Click Here to create an account
Fill in your Registration details, in the space requesting for the invitation code, input BGTPQ2

Then, tap on the REGISTERED button.
That's all, you can proceed by click on the login button.
For the full detail on how to become InsMe member, check this previous article: How to Make Money Online Through InsMe
For those who are yet to invest in this new paying business, InsMe is knocking on your door once again. Don't hesitate to subscribe to any of its plans. The door is always open, but the earlier the better.
Please do help share this post with your friends using any of the share buttons below and also don't forget to drop your comment and testimony.