When you're stuck at home in the middle of a pandemic, you need to make your own fun, and plenty of folks have turned to video games to pass the time.
Serious gamers play in one of two ways. PC gamers usually sit at a desk and use their keyboard and mouse, staring at a monitor that's just a foot or two away and usually measures between 20 and 30 inches. Console gamers, on the other hand, often sit on a couch with a gamepad and headset, staring at a TV that's six or more feet away. The greater distance needs a bigger screen.
For gaming aces and love seat heroes the same, having a TV or monitor that can handle today's video games is a must. Regardless of whether you're playing on your PC, your PlayStation® 5, or an Xbox Series S/X, having the best screen for gaming will help upgrade your experience. Yet, concluding which is the correct one, given the scope of alternatives today, can be a challenge.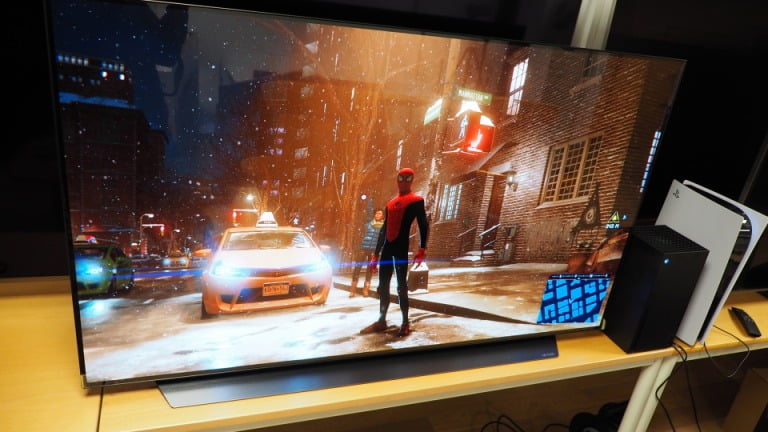 In this guide, we're sharing all you need to know to help you choose the best monitors or TVs for gaming, as well as our favorite picks based on budget and features.
There are three key things to take into consideration when shopping for a TV or monitor for gaming:
1. Refresh Rate
Refresh Rate is how quickly the TV or monitor can switch to the next image. For example, a TV or monitor with a 60hz refresh rate will only refresh the image on the screen up to 60 times per second. Refresh Rate at 60hz is common, but to maximize your game viewing experience, you'll want to aim for between 120hz – 144hz.
Is 165hz better than 144hz?
Technically speaking, 165hz is better than 144hz, but if you have a monitor or TV that goes up that high, you might not be able to tell the difference entirely. For the additional cost often associated with refresh rates above 144hz, it may not be worth it because the human eye can't always detect the difference.
2. Response time
Response time is how long a TV or monitor needs to turn a pixel from one color to another. The faster the response time, the better. Faster also means a smoother display and allows for higher refresh rates. For gaming, TVs or monitors with 4ms – 1ms response times are ideal.
3. Console or PC Gaming
Are you planning on gaming on PC or are you a console fanatic? Hardware matters when it comes to deciding whether to buy a TV or a monitor. Having the right graphics card in your PC to support 144hz is a requirement to unlock that feature; also, having the right cables ties into that as well! Consoles nowadays are equipped to handle high Refresh Rates, but still a good question to ask yourself.
Is QLED or OLED better for gaming?
This is a hot topic for console gamers, driven by many instances of burn-in happening with OLED screen TVs. Burn-in is when a logo or some type of image stays on the screen like a ghost of it, well after the image has disappeared from the screen. It's not a given that it will happen with an OLED screen, but it is a possibility. For that reason, you may consider QLED for gaming to be the better way to go.
Best TVs for gaming
Samsung TU8000 Series

Price: $380 – $1800 | Resolution: 4K | Refresh Rate: 120hz | Type: LCD | HDMI ports: 3 | Available sizes: 43 inch, 50 inch, 55 inch, 65 inch, 75 inch, 82 inch, 85 inch.
Gaming Features: Auto Low Latency Mode (ALLM lets a game console, PC, or other device send a signal to the display, which switches over to low latency, a low lag mode for gaming); Game Motion Plus (minimizes motion blur and halo effects to help with smooth gameplay).
The Samsung® TU8000 series is the best bang for your buck in terms of finding a good TV for gaming without having to blow your budget. This TV would be ideal for folks playing solo games to get that rich experience, as playing with multiple people on this TV may have issues with color draining if viewing from an angle. Also, features like 120hz Refresh Rate, 4k resolution, and Auto Low Latency Mode are a nice touch.
LG OLED CX Series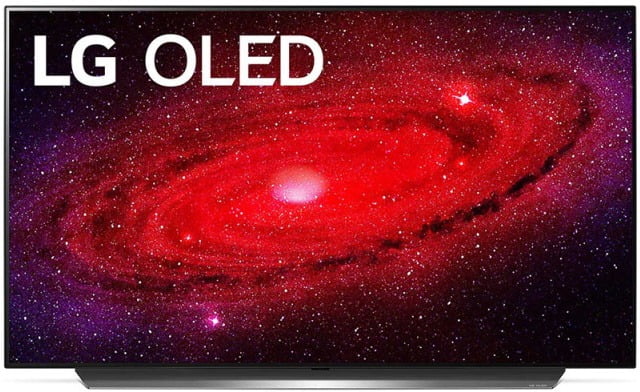 Price: $1499.99 – $3299.99 | Resolution: 4K | Refresh Rate: 120hz | Response Time: 1ms | Type: OLED | HDMI ports: 4 | Available sizes: 48 inch, 55 inch, 65 inch, 77 inch.
Gaming Features: Auto Low Latency Mode; Variable Refresh Rate (VRR allows the TV to adjust its Refresh Rate in real-time to the frame rate output by a console or PC).
LG® OLED CX series TVs are a good contender if you are looking to spend a bit extra on a 4K beast. With a 120hz refresh rate and a 1ms response time—as well as Variable Refresh Rate and Auto Low Latency Mode that keep you from having to mess with the settings for your favorite games—the CX series packs a ton of gaming performance punch, especially for the price and sizes available.
Samsung Q90T Series
Price: $1599.99 – $4499.99 | Resolution: 4K | Refresh Rate: 120hz | Input Lag: ~11ms | Type: QLED | HDMI ports: 4 | Available sizes: 55 inch, 65 inch, 75 inch, 85 inch.
Gaming Features: Real Game Enhancer (additional clarity automatically reduces ghosting and motion blur in fast-moving scenes)
The Samsung® Q90T series is the most expensive on our list, but its amazing picture quality justifies the splurge. With low input lag and 120hz Refresh Rate, it's a great choice for PlayStation® 5 and Xbox® Series X owners looking to best immerse themselves in the gorgeous scenes from their favorite video games.
Recommended: Guide to Gaming Websites Software
Best monitors for gaming
BenQ EX2510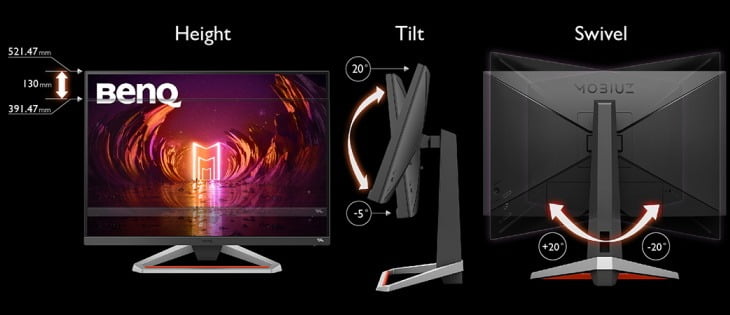 Price: $249.99 | Resolution: 1080p | Screen size: 24 inch | Refresh Rate: 144hz | Response time: 1ms | HDMI ports: 2 | Display ports: 1 | Speakers: Yes.
BenQ® monitors have been in the competitive esports scene for a long time, used at major events as well as by casual players, and for good reason. The EX2510 monitor is the most well-rounded 144hz monitor that won't bust your budget but will give you everything you need to play at a high level.
ASUS ROG Strix XG279Q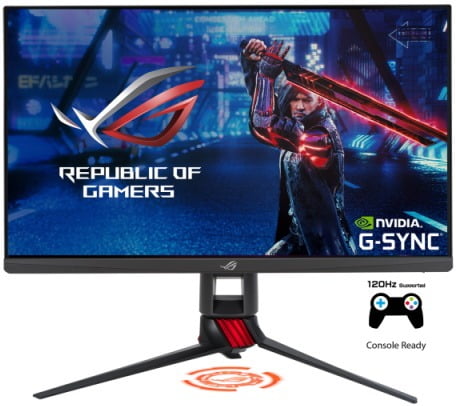 Price: $599.00 | Resolution: 1440p | Screen Size: 27 inch | Refresh Rate: 170hz | Response time: 1ms | HDMI ports: 2 | Display ports: 1 | Speakers: Yes.
ASUS® is another brand that has been in the gaming scene for a long time. The ROG Strix XG279Q monitor gives you 1440p resolution; High Dynamic Range (HDR); and Extreme Low Motion Blur Sync (ELMB), eliminating ghosting and tearing for sharp gaming visuals with high frame rates. This is a good monitor for both console and PC gamers.
Samsung Odyssey G7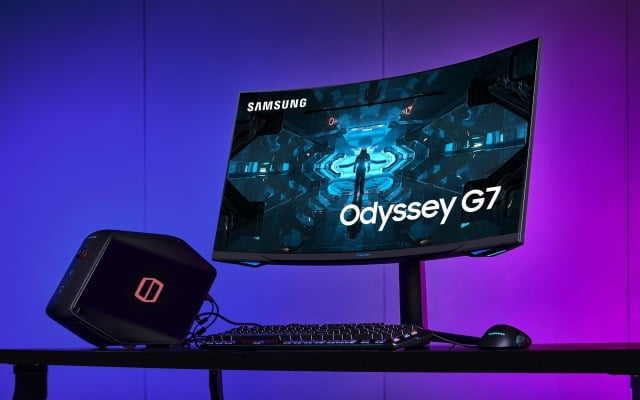 Price: $699.99 | Resolution: 1440p | Screen Size: 32 inch, curved with a 1000R screen curvature | Refresh Rate: 240hz | Response time: 1ms | HDMI ports: 1 | Display ports: 2 | Speakers: No.
The Samsung® Odyssey G7 is a great curved monitor option for under $700. With its 240hz refresh rate and a 1ms response time, it boasts new and exciting features for gamers looking for a curved monitor that doesn't take away from the immersive experience.