Telegram has launched a big update to its messenger. The main innovation is Voice chats 2.0 or, as the developers named it, "on steroids" voice chats.
Voice chats appeared in Telegram groups in December 2020. With today's update, they can also be created in channels, and the number of listeners is now unlimited.
Voice Chats 2.0 is nothing but a clone of what Clubhouse (another popular app) has to offer: the ability to conduct live, voice-based conversations. The ability also comes with a number of added abilities for easy audio sessions.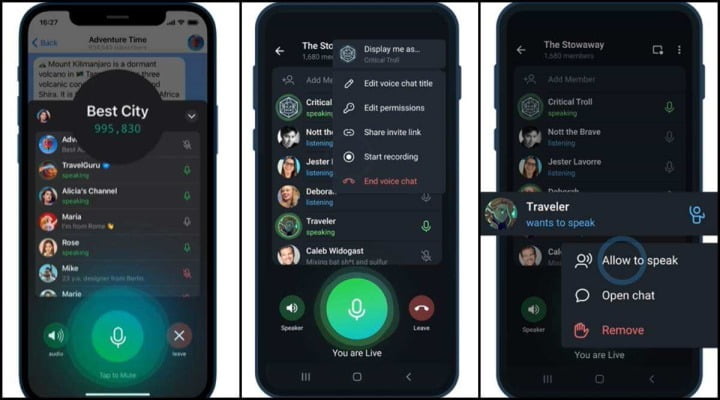 Voice chats can now be saved as podcasts, listeners can "raise their hand" to participate in the discussion, and speakers can connect to the chat on behalf of their channels.
There are also new tools for organizers. Administrators of public groups and channels can create invite links that immediately open voice chat. You can create separate links for speakers and listeners.
Other innovations include the ability to quickly undo erroneous forwarding, including by choosing a different chat, users can now restart long voice messages from where the user left off.
In honor of the new big update released, Pavel Durov, who is behind the popular Telegram messenger and is one of the founders of VKontakte, made an interesting statement.
Durov said he is very proud of the launch of the new version of Telegram just three weeks after the last big update. He also noted that iPhone and iPad users may have to wait several hours longer for the Telegram update than Android users, due to technical problems with Apple.

Promised that following the opportunity to create their own radio stations; users will receive the function of video broadcasts. Their launch will take place in the spring of 2021 – Durov added.
Who can Start and Join Telegram live voice chats?
Channel and Group admins who have updated to the latest version of the Telegram app can now host live voice chats. Admins alone will also have the ability to record these live voice chats and send out their invite links. Recorded audio files can be later found in the Saved Messages section. Admins will also have control over letting users in the live voice chat speak.
How to start a Telegram live voice chat?
Telegram voice chats can be started by admins by first heading over to the respective Group or Channel. They can then tap (⋮) or (⋯) to open the menu and choose 'Start Voice Chat'.
Extra Telegram features
Telegram has also got some additional features to make the user experience better. People can now cancel the forwarded messages (if you have sent them by mistake) and can even change the recipient if you want.
Voice messages can now be heard from where they were left to provide all the convenience to the users. To recall, this feature was earlier limited to long audio and video messages.
Additionally, Android users can now decide which action will be performed (archiving chats, pinning, muting, deleting, or marking them as read) upon swiping left. iOS users already have all these functions.