The time to enjoy free browsing on Airtel in Nigeria and as well, making money with OPay App is here for everybody.
Airtel in partner with Opay is giving out free browsing to their customers, meanwhile, you must be an Airtel customer and have Opera Mini browser installed on your device to enjoy this free browsing and other benefits that come with this package. If you are already using Opera Mini and you are an Airtel customer, all you need to do is access the browser to activate your daily free data bundle.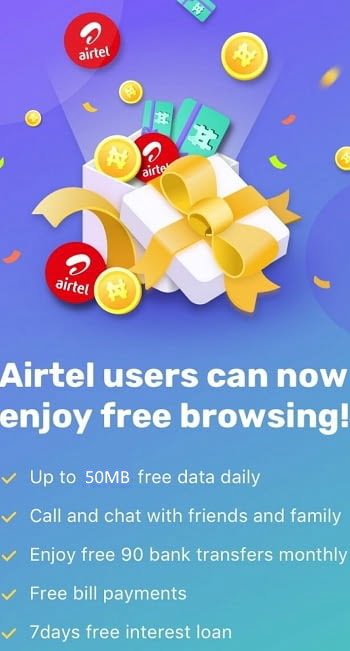 For the new users, you can download the latest Opera Mini with the link below:
Airtel is providing 1.5GB of free browsing per month (50MB/day) to Opera Mini users, along with more exclusive data deals. Simply open up the app to activate your daily free data bundle.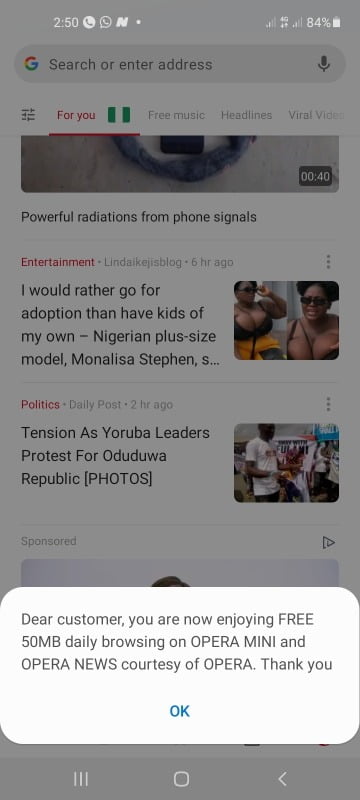 With OPay app and Airtel SIM you can get all this and much;
As you might have known, Opay gives loan to their users and with Airtel, you can get a 7days free loan
Pay your TV, Utility bills for Free
Enjoy up to 50MB of free data on a daily basis
Chat with friends and family for free and
Do free 90 bank transfers monthly
OPay App – Sign up and Download the app here
How to Make N400 Per Referral on OPay App
There are copious opportunities that come with the Opay App, and this is not restricted to the Airtel Free browsing alone but getting much more money.
Presently, you can make N400 per person you invite to the platform when the person you referred carried out the process to make you earn. The best part is that the person you invite too will also earn N400 as a registration bonus which makes both parts earn from the OPay referral program.
You will need to be a member and have your own personal opay account before you can be able to partake in the OPay referral program, let's get into it.
How To Join Opay
To join OPay and be a verified user of the bank or platform (OPay is a merchant bank on its own) if you don't know. The needed requirement includes:
A valid mobile phone number that can receive and send messages.
Your personal Bank Verification Number (BVN) will be used for verification and KYC.
Reserves Amount of 150 upward that will be used to carry out first-time transactions.
After you have gotten the requirements, you can now proceed to join OPay.
How to Get Opay Account
Click here to head straight to the registration page.
Provide your phone number in the blank box.
The first zero digit must be omitted to prevent yourself from getting errors during the registration process.
After you have provided your phone number click on the Download and Earn Button below the box.
Then, you will be redirected to a page to download OPay app.
Download the app, open it and log in with the phone number you just provide.
Log in or register using the process provided on the app to fetch an OTP one-time password for yourself.
After you have successfully registered or been granted access to log in to the app.
Now, locate the button named "Me" that can be found below the app.
Click on your profile and locate the button named "Upgrade Account or Upgrade To KYC2".
Before you proceed, take note of the important notice, make sure any information you are providing on the app when registering such as full name and date of birth are corresponding with your BVN Details.
Once you click on the upgrade button you will ask to provide your BVN and date of birth. Make sure it is correct, once the info is corresponding then you are good to go.
The above process will earn you N100 altogether.
Now, we move to the next part. Just by sending money to your OPay account.
The phone number you use to register your OPay is your OPay account number.
Go to your local bank account and transfer money to your account minimum of N50, but make sure you transfer N150 to get your entitlement.
The last part is to partake in other OPay account funding.
Transfer money to another OPay account using the person's OPay account number.
If you don't have the one to transfer to, kindly transfer to this account 07064706571 and request a refund.
It is simple as that, you can make up to N5,000 daily.
You will need to get your OPay referral link before you can invite anybody and earn money from the program.
How to Get your OPay Referral Link
Login to your OPay account.
Click on the "Me" button.
Find the options button indicated as "Refer Friend".
Opay Referral Link
Click on it and the button "share link".
Opay Referral Program Link
Then share it with any of your friends on WhatsApp to get your invitation link.
Everybody you successfully referral will earn N400 as said earlier, once they carry out the task as stated.
Important Notice About the OPay Referral Program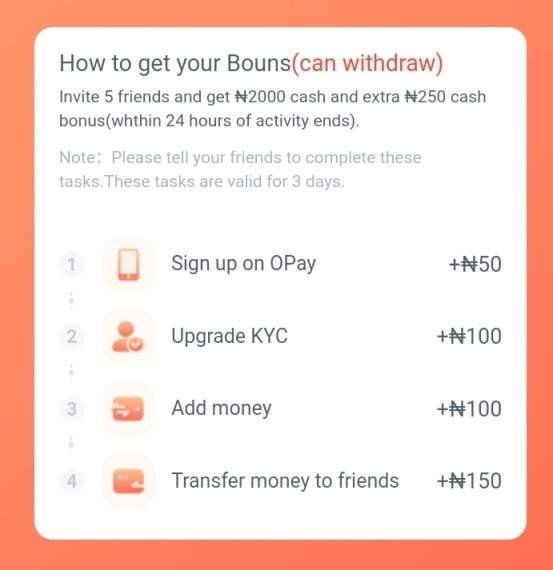 You must successfully partake in the sign-up process.
Referral must partake on account upgrade to KYC 2 using BVN.
Account must be funded with at least N150.
Referral Should also partake in account OPay transactions.
This implies that you need to transfer funds to another OPay account, at least N100.
Once the person referred done all, then you will both get N400. Imagine when you invite 13 people daily, you earn N5,200.
Please don't forget to share and like this article with your friends