Hey guys, here's another money-making app. The amount you can make with this VAULTe app by Polaris Bank is enormous, but it all depends on how hard you work.
This is yet another option for you to make extra cash online; as is customary, we offer legitimate online money-making updates and platforms that may assist you in growing your finances, and today's post wins hands down.
You don't have to keep hunting for cheats forever; you may take advantage of possibilities like these to make money that you can use to buy airtime, data plans, and take good care of your basic needs.
What exactly is VULTe?
Polaris Bank of Nigeria has launched VULTe, a digital banking platform, in order to expand its market share. Customers will have access to a 24-hour service through the digital platform, giving them more control over their funds.
VULTe will provide services such as account opening, bill payment, fund transfers, and balance inquiry, among others. Customers who have been onboarded can use PayDay Loan on both mobile and online digital platforms. The app is very similar to ALAT by WEMA Bank.
VULTe Refer & Win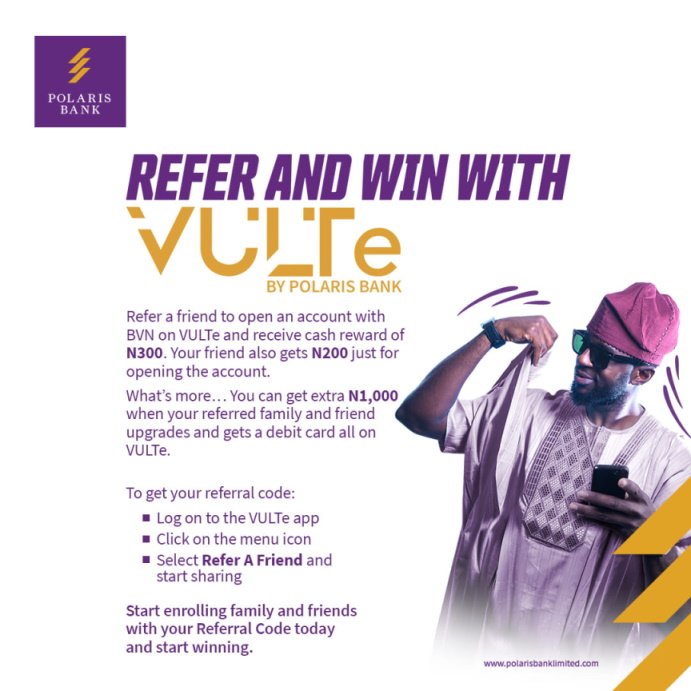 To take advantage of the reward initiative, all a referrer (who could be an existing customer or a new user) has to do is refer a new user to open a Polaris Bank account by enrolling on the VULTe digital bank platform.
Applicants can onboard by providing their bank verification number (BVN) and taking a selfie. Subsequently, an automatic process will compare the photo on their BVN profile with the selfie to authenticate the identity.
According to the CDO, for a new user that is successfully enrolled under category one, the referrer will earn a maximum of N300 per referral; while the referred earns N200.
For category two, a customer is required to open an account with Know-Your-Customer (KYC) information supplied on VULTe, plus obtaining a debit card through the platform. A referrer earns N1,300 per referral and N200 for the referred; that is an additional N1,000 from the N300 base amount from category one.
How Do I Register For The VULTe Digital Bank App?
For Android and iOS users, get the VULTe Digital Bank App official app from the attached below.
After you've downloaded the app from the app, launch it.
On your screen, tap the signup button.
Choose the option "I don't have a Polaris bank account."
Fill in the needed information in the fields below.
Use the referral code ZQCMK062.
When you've finished filling in all of your information, click the continue button.
You will now be asked to take a selfie of your face to prove you are a human and not a robot.
When you're finished, click the proceed button.
You will now be directed to your dashboard after creating your transfer pin.
That's everything required to register for the VULTe digital bank app.
Note: Use the referral code above to sign up, and don't be afraid to link your BVN because the Polaris VULTe app is a well-trusted and certified banking platform.
How Can I Make Money With The VULTe Digital Bank App?
Log in to your account and scroll down a little.
On your dashboard, click the "refer a friend" icon.
Copy your referral code, start sharing it with your friends and family.
You will earn N300 for anyone who signup with your referral code and also N1000 for whoever upgrade and request a card on Polaris VULTe app.
In less than 10 minutes, you may open a VULTe Digital bank account and have your Virtual Card sent to your home in a few days. I'm hoping you'll find this both intriguing and simple.