🔊Would you like your emoji to laugh, cry, or play a Billie Eilish clip? Now they can at Facebook Messenger.🥳
Facebook Messenger debuted "soundmojis" in July, which are emojis that play a sound when you send them through the messenger. 30 emoticons have been given distinct sounds by Facebook's sound design team. So, if you want to send hands clapping emoji, you can now include actual riotous applause with it.
Pop culture sound clips are related to other soundmojis. When you press the stop emoji, Billie Eilish will ask: "Stop. What the hell are you talking about?" Which is a far more dangerous message to send than the basic red octagon.
For the time being, soundmojis are only available in Facebook Messenger. On the other hand, Facebook owns WhatsApp and Instagram and has already begun merging the platforms' backends and allowing for cross-platform messaging between Facebook and Instagram. As a result, you'll probably see more of these unpleasant emojis in the future.
Here's How to use Soundmojis
1. In your phone's settings, grant Facebook Messenger access to the microphone. Go to Settings on your iPhone, then scroll down and tap the Messenger app. Toggle "On" for the Microphone option.
2. Open a chat at Messenger Facebook.
3. Click the smiley face in the right corner and navigate to the textbox.
4. In the lower portion of the app, this will open up a four-tabs menu. Click on the icon of the speaker on the farthest right tab.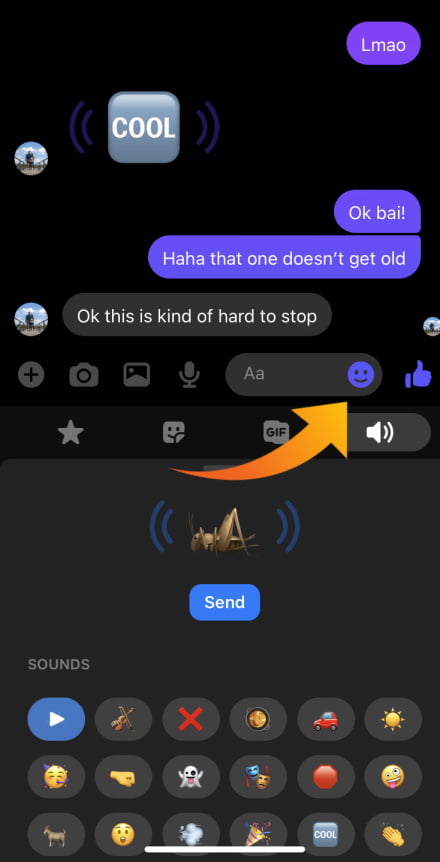 5. You will be sent to your Soundmojis menu by clicking on the speaker icon. Scroll among the options and test the sound with a soundmoji click within the menu.
6. The soundmoji will become larger in the center of the menu if you select a test soundmoji. By clicking again, you can hear a test. And if you're confident that it's soundmoji, click the "send" button below the soudmoji you have chosen.
7. The chat will show up the soundmoji. But it's not going to play alone. You must click on soundmoji to listen to its audio by the person you chat to. They'll know it has the soundmoji status because the parentheses around it will show.