Apple users, in case you didn't know, you can edit images on your camera roll using the iPhone editor. Given the abundance of photo-editing apps available on the internet, most of us would probably avoid using the iPhone editor. However, this viral TikTok iPhone edit may persuade you otherwise.
TikTok users are going wild for this magic formula, which converts your photographs into warm, sun-drenched utopias. The only catch is the shining natural luminosity of the original shot.
An iOS smartphone and a precise set of instructions (that you will find below) are all you need to recreate magnificence. This could be one of the best smartphone photography tricks we've ever seen, as it exactly recreates the 'golden hour' of sunlight.
TikTok creator anaugazz demonstrated the value of trusting in this process in one of the most famous videos showing this strategy. The video, posted in April, has 17.3 million views. Anaugazz increased the exposure and brilliance of the shot to the greatest feasible position by use of a selfie. Then she modified the highlights of the photograph to make the dreamlike atmosphere of the final image, shadows, dark spots, saturation and vibration, and warmth.
Go try it now !! #SkipTheRinse #foryoupage #editing #photo #filter #iphonehack #photohack #xyzbca #fyp #newtrend #musttry #inspo #fypシ #viral #fypp
♬ original sound – poussy fire🔥 – CLOSE FRIENDS NYA DANU🥵
In the midst of editing, the picture appears like a reliquary of MySpace posts. Don't be ashamed of blown-out selfies, though — even superstars like Lizzo fell prey to the overexposed, oversaturated aesthetic of the early internet.
You will end up with a sunk-in image worthy of any summer mood board once you explore with the iOS vignette tool and then reduce photo exposure and brilliance to zero.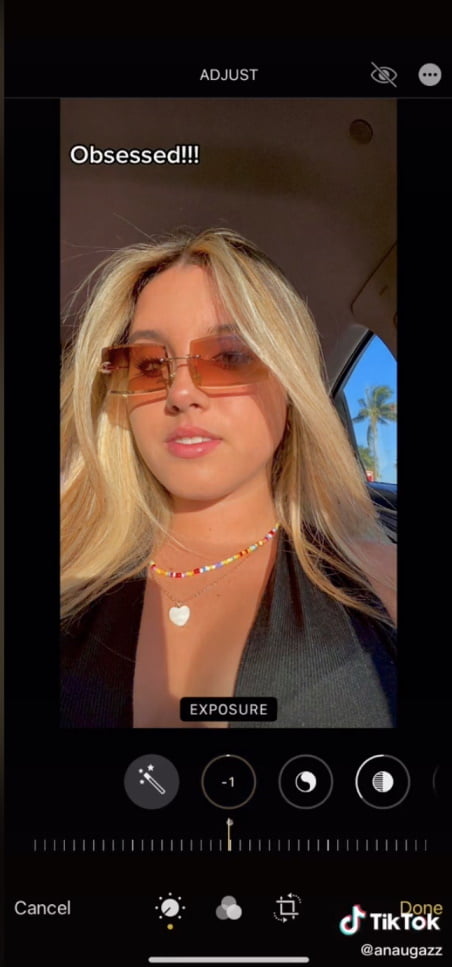 Here is the precise anaugazz formula used to achieve this final iPhone photo masterpiece:
Exposure: 100
Brilliance: 100
Highlights: -32
Shadows: -26
Contrast: -30
Brightness: -15
Black point: 10
Saturation: 10
Vibrance: 8
Warmth: 10
Tint: 29
Sharpness: 14
Definition feature: 23
If all these settings have been adjusted, go back to the editing features of the iPhone and move your exposure and brightness back to 0.
Below is an example of a TikTok maker kawehi_ modifying formula. The golden hour clouds look otherworldly.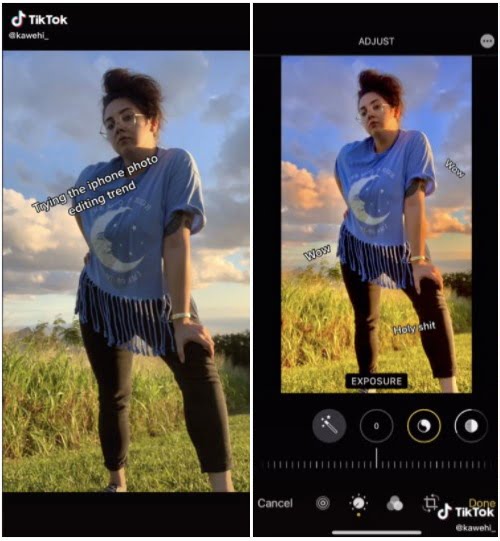 This editing style appears best with images taken with clear, natural light. It's worth noticing.