In the smartphone market, Xiaomi is a tremendous phenomenon. Following the embargo, the Chinese business appears to be the winner, devouring Huawei's market share. Xiaomi has recently surpassed Samsung to become the world's largest smartphone manufacturer by volume in June 2021.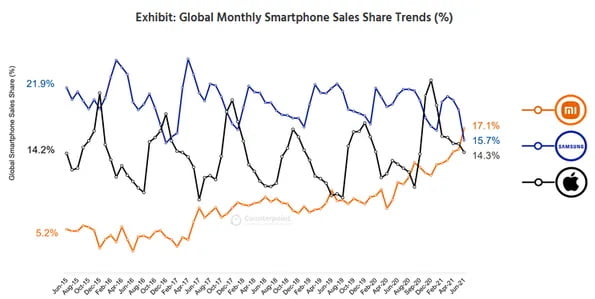 According to Counterpoint Research. It's the company's first time accomplishing such a feat. Xiaomi beats Samsung and Apple to become the world's number one smartphone brand for the first time in June 2021. However, if the full second quarter of 2021 is included, it stays second to Samsung. As of June 2021, China's firm shipment market share was 17.1 percent.
In June 2021, Xiaomi increased its sales by 26% to MoM, making them the most rapidly expanding brand of the month. In addition, Xiaomi became the world's second most important brand in Q2 2021, and from its beginning in 2011 altogether, it has sold about 800 million smartphones.
Regardless of the contrary research report, Xiaomi poses a serious challenge to Samsung's market position. Samsung's smartphone business has stalled, Huawei is virtually non-existent, and LG has completely abandoned the market. This gave Xiaomi the opportunity to expand significantly, which it did.
Xiaomi has been making persistent and aggressive attempts to fill the vacuum caused by Huawei's downfall since the beginning.