MTN Nigeria has launched the first-ever digital version of Season of Surprises as part of its efforts to maintain delighting and rewarding customers.
MTN Season of Surprises is a year-end event in which they give back to Nigerians. MTN users will be able to give loved ones presents like FREE data, Jumia shopping coupons for crafting seasonal hampers, and mobile devices, courtesy of MTN, Coca-Cola, Golden Penny, Maggi, and TECNO.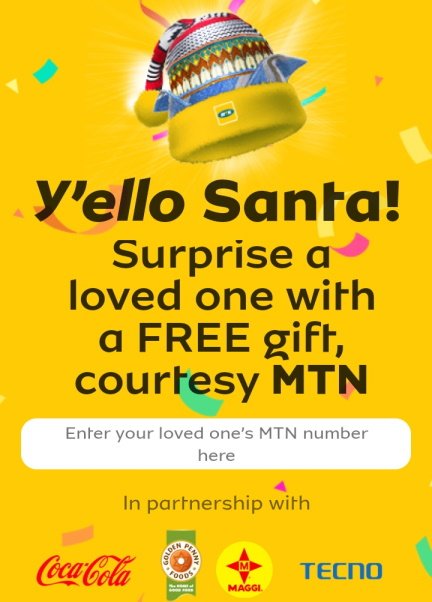 You can suggest a loved one get presents using the new myMTN NG App and the USSD channel (*135#), and a gift will be given to them.
MTN Nigeria's Chief Marketing Officer, Adia Sowho, spoke on the company's digital direction, saying, "This year's edition has been digitized because of the restrictions on physical travel owing to COVID-19." It's a wonderful opportunity for people to connect via giving, and this year, we can all be Y'ello Santas spreading joy and goodwill!"

MTN's tradition of giving back to communities and Nigerians as a whole is reflected in Season of Surprises. Food, electrical equipment, household appliances, mobile devices, bus and plane tickets, and cash donations have all been given to Nigerians in earlier editions.

"During this unique season, we are committed to making Nigerians happy." "This is a once-in-a-lifetime opportunity to promote the spirit of giving and motivate people to love those around them," Sowho said.
How Season of Surprises Work?
There are 2 simple ways to accomplish this:
Do you own a smartphone? Awesome!
From the Apple Store or Google Play Store, get the new myMTN NG App.
Sign up for a new account if this is your first of using myMTN NG App
Click on the Y'ello Santa banner button and enter your loved one's MTN number, a gift will be sent to them while stocks last.
You don't have a smartphone? Don't be concerned!
Dial *135#, follow the prompts and enter the MTN number of your loved one.
While stocks remain, a present will be sent to your loved one.
Season of Surprises is set to take place from 17th – 24th December 2021 at 12pm daily.