After the deadline for the verification exercise expired on March 31, the Federal Government asked Telcos to ban outgoing calls on all lines that had not linked their SIMs to NIN.
Meanwhile, many Nigerians have been barred from making calls since they have yet to comply with the instruction. Around 72.77 million active telecom consumers were prevented from using their SIM cards to make calls.
Telecommunication companies have lost almost N75.78 billion as subscribers fail to link their National Identification Number to the Subscriber Identity Module, barely 23 days after the Federal Government ordered telecom companies to stop allowing defaulting customers to make outgoing calls.
For telecom companies, voice income is a significant source of revenue. MTN made N819.74 billion in voice revenue in 2021, while Airtel made N397.91 billion.
In 2020, the industry's average revenue per user was N1,420, according to the Nigerian Association of Telecommunications Companies. In 22 days, this equates to around N1,041.33 per subscriber.
Subscribers with blocked lines can get them unblocked after they link their SIMs to their NINs, according to the announcement announcing the decision.
The verification exercise has become a huge headache for the operators and the Nigeria Identity Management Commission, according to a source in the Association of Licensed Telecoms Operators of Nigeria.
Globacom has created a tempting NIN offer to urge users to link their Glo SIM Card with the NIN as soon as possible in order to reclaim customers and recoup losses.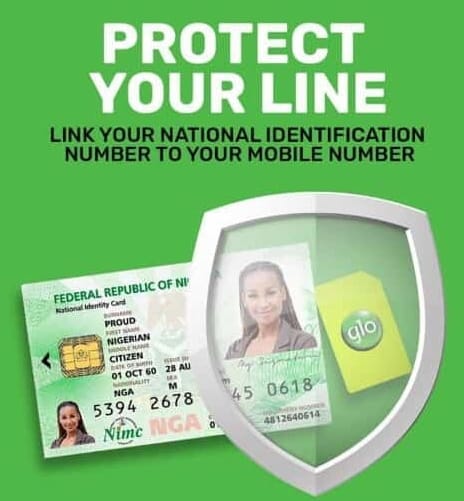 Glo NIN Offer is a one-time bonus offer available only to customers who have been barred from using the Glo Network to make outgoing calls as a result of the NIN violation as authorized by regulation.
The Bonus Value can be used only to call, browse and text at the following rates: On-net – 36k/sec, Off-net – 36k/s, SMS-N4, Flexi Data Browsing – N10/MB.
The Bonus value will be credited to the impacted customers 1 hour after they are unbarred.
The Bonus value will be credited to a dedicated bonus account.
The Bonus validity will be 7 days from the date of first use.
Remember, the offer is for all Customers who got barred and submitted their NIN after the 5th of April 2022.
Recommended: Link NIN: How to Overcome the Ban on Non-Linked SIMs and Keep Making Calls
How to Link NIN to Glo SIM Card
You can now link your National Identification Number (NIN) to your mobile number as a Glo subscriber.