MTN, the largest telecoms company in Nigeria, launched its Fifth-Generation (5G) service this morning in 190 locations around the nation, mostly in Lagos and Abuja. Some customers have reported internet speeds of up to 1.4g per second, according to BusinessDay sources.
The service goes live on the same day that the National Communications Commission (NCC), reserved as the date of official authorization for the service's distribution.
The MTN 5G service is anticipated to be operational in 500–600 locations nationwide by the end of October.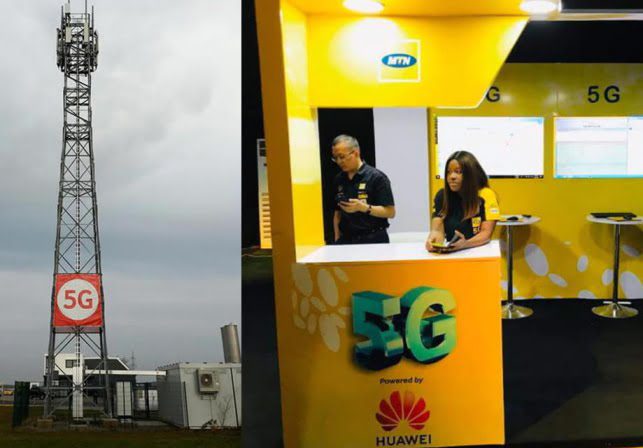 Due to the modifications and software updates necessary for these devices to engage the 5G service in Nigeria, only a small number of them could access it as of Wednesday morning.
Additionally, users of Apple or Samsung phones will probably have to wait a little while for the update to arrive from the phone makers.
Samsung could be able to make the necessary changes in roughly a month to six weeks so that Nigerian subscribers can use the 5G service, while iPhone users might have to wait until October.
Mafab Communications, the other 5G license holder, has been handed a five-month extension for the service's implementation in Nigeria, even though MTN has already started the 5G service.
The Nigerian Communications Commission (NCC) granted MTN and Mafab Communications the August 24 (Wednesday) rollout date after both companies won the 3.5GHz spectrum license in December and paid the Federal Government $550 million as early as February.
Mafab and MTN Nigeria emerged as the two winning winners of the 3.5 gigahertz (GHz) spectrum auction for the implementation of 5G technology in Nigeria in December 2021, following 11 rounds of bidding that lasted eight hours. The Commission additionally announced that in February 2022, the two businesses each paid the entire $273.6 million license fee for the 5G spectrum.
In accordance with the terms of the 5G license, the licensees were anticipated to start rolling out 5G services starting on August 24, 2022, according to Mafab. However, due to delays in getting its UASL and Numbering plan, which was not until the end of July, Mafab has been given a five-month extension.
"We are totally dedicated to providing the advantages of 5G services to Nigerians and building a network that will boost internet availability nationally and promote economic growth. I am certain that the service would contribute to advancements in the business, smart cities, education, and entertainment sectors, said Dr. Mushabu Bashir, chairman of Mafab Communications Limited.
Nigeria has now officially opened the 5G network on the continent, joining South Africa and Kenya with MTN's debut earlier today. Through MTN and Vodacom, South Africa started its 5G network adventure in March.
Kenya, on the other hand, began the deployment in April via Safaricom.