A smartphone software called MyDailyCash enables users to earn PayPal Cash by carrying out simple tasks and possibly referring the app to others. Due to the app's direct payment to your PayPal account, it qualifies for our detailed instructions on how to earn free PayPal Cash by carrying out easy activities on the app.
If you read this article through to the end, you can use the MyDailyCash app to earn $2 up to $500 or more.
I'm assuming you have a working PayPal account that has been verified.
If you're from Nigeria and don't already have a working PayPal account that can send and receive money, check out the instructions below for full instructions on how to do so without any worry.
---
How to Open a UAE PayPal Account that can Send and Receive Payment in Nigeria
---
MyDailyCash App Information
With the MyDailyCash app, you can use your smartphone to make money and have it sent to your PayPal account. You earn PayPal dollars by participating in tasks and becoming more active inside the app.
Win Glory International Limited owns and controls the MyDailyCash App. You can use the app to earn money that you can withdraw to your PayPal account.
How to Create a MyDailyCash Account
As soon as you decide you want to start earning money using the app, the first thing you need to do is register for the Mydailycash App. Fortunately, the registration process is so simple that you don't even need a VPN. You only need a working phone number to register, no matter where you are.
Download the MyDailyCash App
Install and launch it.
Fill in a valid phone number and check all the boxes to agree to the terms and conditions.
Type 531024 into the referral code field and hit the "Receive Bonus Now" button.
A one-time password (OTP) will be texted to the stated phone number; input the OTP to finish the registration process, and you'll be sent straight to your dashboard.
Recall that you must provide the referral code 531024 while registering.
Login to the MyDailyCash App
All you need to do to get into your MyDailyCash app account is launch the app, enter your phone number, and select the receive bonus option.
An OTP will be sent to your phone; after you input it, your account will be immediately accessed.
Can iOS users Download the MyDailyCash app?
Nope. MyDailyCash app is currently only accessible on Android; an iOS version has not yet been made available as of the time this article was being written. On that matter, if you have an iPhone, you won't be able to download the software.
How to Earn PayPal on MyDailyCash App
Task completion and the refer and earn options are the two methods to earn PayPal from the app.
The main method of earning PayPal on the app is by completing tasks, and the referral program is an additional option to earn money and withdraw it to your PayPal account.
How to use MyDailyCash to complete simple tasks and Earn PayPal for Free
As soon as you log in to your account, you will be sent immediately to the tasks page, where you can click on any of the tasks that are currently open and proceed as instructed.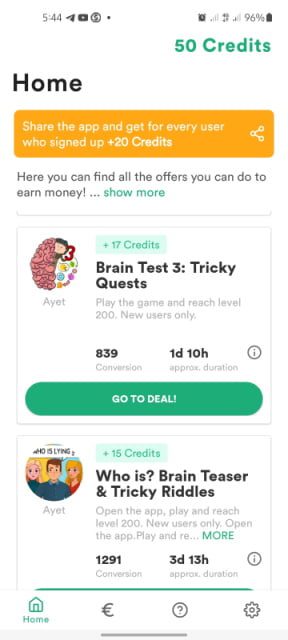 You will receive the coins associated with the tasks as soon as you finish them. For instance, if you download an app to receive 100 coins, the coins will be transferred to your dashboard balance as soon as you finish the download procedure, and you can convert them to cash as soon as you have the minimum number of coins needed for withdrawal.
Referral Program for the MyDailyCash App
With the MyDailyCash referral program, you can earn 20 coins ($0.2) per person you refer to the app. As soon as they download and register on the app using your referral code, you'll get the 20 coins ($0.2), which is equal to 20 cents.
How to obtain a Referral Code from MyDailyCash
Simply log into the app and click the button in the top image to obtain your unique referral code, which you can then use to refer users and earn rewards.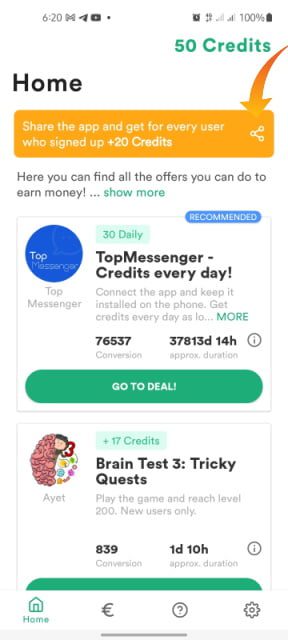 You can see your code within the words when you send the context straight to a friend over WhatsApp DM or any other social messengers. Copy it and use it for future referrals.
How to Redeem the MyDailyCash Sign-up Reward
Yes, there is a one-time bonus upon registration, and you will earn the bonus if you correctly complete the registration procedures.
When you enter the referral code during registration, you will automatically receive the bonus because it applies to your referral.
The registration bonus application code is 531024.
Withdrawal from MyDailyCash
All you need to do to request a withdrawal on the app is sign in to your account, then click the Euro symbol (€) at the bottom of the app. When you select the Get money option on the following screen, money will immediately transfer to your PayPal account.
Withdrawal minimum from MyDailyCash
The Mydailycash App's minimum withdrawal is 1000 points, which is equal to $10. As soon as you have at least 1000 coins in your account, you can transfer money directly to your PayPal account. However, before you can withdraw, you must first link your PayPal email to Mydailycash.
How to link PayPal email with the MyDailyCash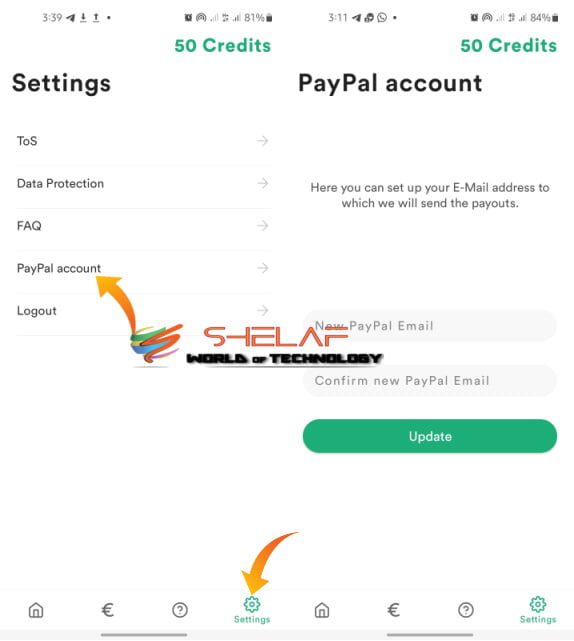 Simply log in to your account, click the settings icon as seen in the image above, choose PayPal Account, enter your valid PayPal email address on the next screen, and then click the update button.
Now, you can withdraw whenever you have at least 1000 coins in your account thanks to the successful linking of your PayPal account.
---
Recommended: How to Withdraw Money from PayPal to a Prepaid Card and Collect the Dollar Notes in Nigeria Bank
---
Conclusion
MyDailyCash App is legitimate and pays, and after reading this tutorial, you should completely understand how to earn PayPal cash for free by performing simple tasks on the app. You should also have a thorough understanding of how to withdraw your earnings and anything else you need to know about the app.