A fintech software called PalmPay processes online financial transactions and provides additional services. These consist of sending money, making payments, purchasing airtime and data, and even approving short-term loans. One of the greatest apps for digital banking is PalmPay, which is also recognized as such.
Unlike most traditional financial platforms, PalmPay's features make people fall in love with its app since they enable users to make money as they do any transaction in contrast to allowing them to make transactions. PalmPay is licensed by the CBN.
In addition to being a digital banking software, PalmPay provides many opportunities to generate money. This post will go through the 7 ways for money making via PalmPay app.
Money making online has never been simple, but with the correct knowledge, methods, and platform, the potential earnings are virtually limitless.
PalmPay is the most popular platform among all of these opportunities to get passive money. In addition to being a fintech business, the platform is renowned for making its customers' cheeks grin every time they use the bank's app.
PalmPay, in contrast to the others, enables an almost immediate usage of any money earned on its platform. Many money making firms are notorious for requiring you to either make or fulfill specific criteria before you can make withdrawals or even use your earnings.
You can receive discounts and greater value on PalmPay for whatever you do.
Three free bank transfers every day to any Nigerian bank. After that, every amount will cost you merely N10
PalmPay awards you with PalmPoints that can be used now or later.
Free transfers to other PalmPay wallets, free deposit, and withdrawal
There are new programs every month in which you can earn PalmPoints, vouchers, and other rewards!
6 PalmPay Money Making Opportunities
You must first download the app and create an account with appropriate information in order to earn money with PalmPay. Simply click here to download and register for a Palmpay Account.
However, if you already have a PalmPay account, you can log in now.
In light of the foregoing, the methods for earning money using the PalmPay app are listed below.
PalmPay Refer & Earn Program
PalmPay Cash Spree
PalmPay Invitation
PalmPay Flexi
Rewards on Transactions
Group Buying Discounts
PalmPay Promotions
1. PalmPay Refer & Earn Program
The referral program in Palmpay is known as Refer and Earn, Cash Spree, or PalmPay Invitation, it is where you should start if you want to make quick, free money with PalmPay. However, it is not the simplest option.
When you tell your friends about PalmPay or refer the app to people and they sign up using your referral link, you will receive real money, not points, according to how the PalmPay referral program is designed to operate.
If you refer only one person, you will receive at least N500; if you refer two people, you will receive N1,000; and so on. Of course, you can take a withdrawal into your PalmPay wallet as well as a cash withdrawal and spend it.
With this PalmPay referral program, you're not the only one who benefits financially; after using your referral link to sign up and perform the required task, the individuals you refer also receive N100 worth of airtime for free.
Simply click here to download and register for a Palmpay Account. If you are an existing user, kindly skip the step.
Once you click on the link provided above, fill in your mobile number and follow the instruction to register for an account, and become a member.
Now, open your Palmpay app and log in to your account.
The next thing is to complete authentication by going to the button page and hitting the "Me" icon, then clicking on your "name" at the upper page, then clicking on "Authentication" to verify your account.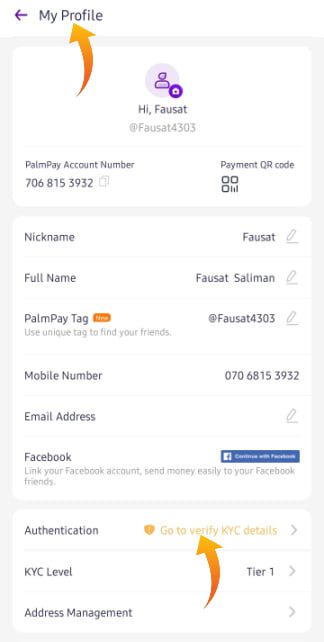 After that, fund your Palmpay account with at least #100 and make sure you used the fund for the transaction (like buying the airtime or data) in order to qualify for the welcome bonus.
How to get your own referral unique link
On the app home menu, Locate "Refer & Earn " as shown in the picture above.
Tap the button to enter the page, and follow the instruction there. Copy your referral link, and share it with your friends to start earning money with PalmPay.
2. PalmPay Cash Spree
Another way to make money with the PalmPay app is via the Cash Spree which is another referral program on PalmPay. But here, there are 3 different cash reward thresholds, each one has its corresponding value and number of invitees required. You can choose any of the reward thresholds to start your earning task
You will select an amount you would like to claim. Palmpay gives you a basic reward of N500 or N1000 or N2000
You can claim N500 by inviting 1 friend to sign up, N1000 for 2 people or N2000 for 3 people and you will be given a week's ultimatum to reach the withdrawal threshold and withdraw cash after which you have to start your earning task all over again.
How to get your own referral unique link
On the app home menu, Locate "Cash Spree" as shown in the picture above.
Tap the button to enter the page, and follow the instruction there. Copy your referral link, and share it with your friends to start earning money with PalmPay.
3. PalmPay Invitation
The invitation referral program on PalmPay is another option to earn money using the PalmPay app. Instead of money, you earn points here.
The points you accumulate are referred to as PalmPoints and can be converted into withdrawable Naira.
Similar to the approach above, all you have to do to get money using this one is tell your friends, family, neighbors, coworkers, etc., about the PalmPay app.
Your friend will instantly receive a 100 Voucher after they sign up for PalmPay and log in using your link or code. You will get 500 PalmPoints whenever your friend completes their first transaction.
1 Palmpoint = N1, this means you got N500 per referral.
Only transactions like funding PalmPay accounts, sending money, topping up airtime, and/or paying bills qualify you for the 500 PalmPoints bonus instantly.
How to get your own referral Code or unique link
On the app home menu, Locate "Invitation " as shown in the picture above.
Copy your referral code or link, and share it with your friends to start earning money with PalmPay.
4. PalmPay Flexi
One of PalmPay's products, OK Cash, now goes by the term Flexi or Flexi Cash.
Customers can purchase now and pay later using Flexi, a product of Palmpay, inside the app. Within the app, you have access to a set amount that you can use to pay for game betting, data, airtime, and TV subscriptions.
This product has the advantage of not charging interest as long as the payback is made on or before the due date.
The money can also be quite useful in addressing some requirements right now and paying for them afterward.
The inability to send or withdraw funds directly into your bank account is one limitation of Flexi.
There is, however, a formal procedure to withdraw your Flexi funds. Transfer all of the Flexi funds to your online betting wallet (such as Bet9ja), from which you can withdraw them to your bank.
If you don't already have an account with one of these sites, you can make one just for this.
Contrarily, you can use Flexi Cash, a loan service from PalmPay, to cover your immediate needs. Up to 150,000 Naira may be borrowed with a decent and manageable interest rate for easy repayment. No collateral or paperwork is required.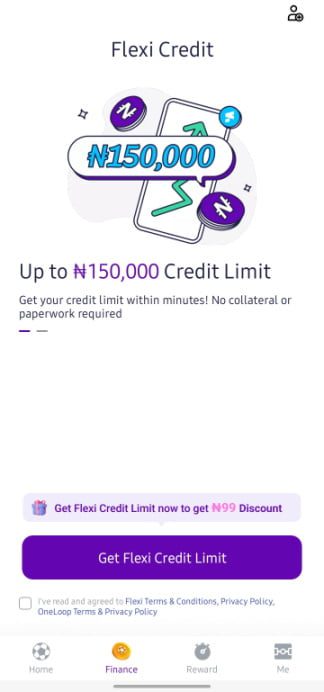 Flex is another way to increase your earnings; once your invited friends are eligible to activate Flex, an extra task will be activated. You receive N60 for each Flex activation.
How to Activate Flexi
Click "Finance" at the bottom of the homepage.
Click "Get  Now" and follow the steps to activate.
5. Rewards on Transactions
Of course, using PalmPay to transfer money is almost free, but did you realize that certain of your transactions might earn you rewards?
Using the PalmPay app to complete transactions that provide you with cashback is another option to make money.
These transactions include paying bills and purchasing airtime. You might get up to 6% cashback if you purchase airtime with the PalmPay app.
For instance, you can receive N60 as an incentive if you spend N1,000 on airtime.
Didn't seem like very much, did it? But what if you turned it into a service by identifying individuals who want to recharge their airtime, did so for them at the standard cost, and earned about 6% in profit that was credited to your PalmPay wallet?
You can earn up to N600 per day, or N18,000 per month if you can use PalmPay to make daily purchases of roughly N10,000. Now appear enormous, yeah?
So, if you're wondering how to make money on PalmPay by buying airtime and data, that's just what you do.
6. Group Buying Discounts
The group buying discounts feature is perhaps the best way I've discovered to consistently save money.
You all receive a discount if five users of the app purchase something at once.
Discounts are given on devices, airtime, data, bills, and betting.
When I run out of coupons, I often use this option to receive 10–60% off my airtime and data.
For instance, if a unit of MTN airtime cost N100, joining a group to purchase the airtime might result in a 60% reduction.
Now, when you purchase the airtime, you will save N60 by paying just N40 instead of N100.
You now see why I added "Save Thousands of Naira" in the title.
Let me share with you some magic links for the group buying discounts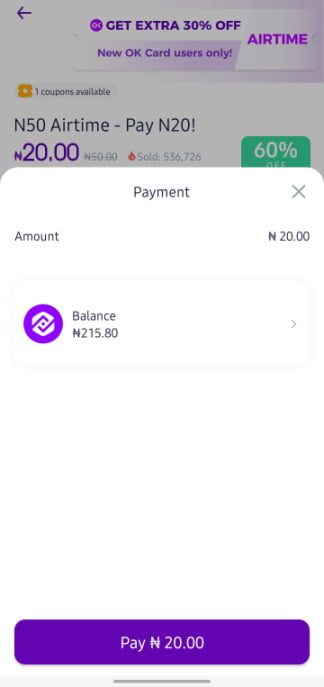 Purchase Palmpay airtime of N50 for just N20 (60% off)
https://link.palmpay.com/MssX
Purchase Palmpay airtime of N50 for just N35 (30% off)
https://link.palmpay.com/3cEX
Purchase Palmpay airtime of N100 for just N70 (30% off)
https://link.palmpay.com/LQiU
Purchase Palmpay airtime of N100 for just N80 (20% off)
https://link.palmpay.com/FgAz
To use the group buying discounts, copy any of the links to your browser search bar and hit enter.
Once the discount page opens, tap on the "Open" button and it will lead you to your PalmPay app.
Tap on "Join Another Group," followed by "Start your group, Buy Now!" and then tap the "Get it" button.
Choose your payment option, then tap "Pay" to complete the transaction.
7. PalmPay Promotions
This article is especially for you if you're looking for ways to make money with the PalmPay app.
Simply open and check your PalmPay account on the app periodically to look for new and active promotions to begin making money with PalmPay.
When you discover a promotion that is now active, all you have to do is read the terms and conditions and enroll if you meet the requirements.
Festive season promotions (such as Easter, Salah, and Christmas) like the PalmPay Super Easter challenge, social media challenge promotions, the ongoing PalmPay Cup, and others are common forms of promotions on PalmPay.
Conclusion
PalmPay is clearly one of the few financial platforms that also gives users a way to generate money in addition to providing them with financial services.
We are certain that after reading this comprehensive tutorial, you will understand how to use PalmPay to make money online, on the PalmPay app, and in other ways.
It's your chance to put the tactics you just learned today to use.