Are you looking to earn some rewards while using Binance Pay? Then you're in luck! Binance Pay, the leading payment gateway of Binance, has launched an exciting promotion exclusively for its users.
Here's the deal: if you've never transferred cryptocurrency via Binance Pay before, you have a chance to receive a 1 USDT token voucher as a reward. All you have to do is complete your first cryptocurrency transfer using Binance Pay before April 30th, 2023 at 23:59 (UTC)*.
To qualify for the reward, simply use Binance Pay to send at least $0.01 equivalent. And here's the best part – the reward is available on a first-come, first-served basis, and there are 250,000 USDT in token vouchers up for grabs!
How to participate in the Binance Pay promotion
Are you excited to participate in the Binance Pay promotion and earn some fantastic Binance rewards? Well, it's easy and straightforward! Here's how to get started:
---
Recommended: Binance Sign-Up Bonus: Refer Friends and Get a $100 Cashback Voucher Each
---
Step 1: Open the Binance App and access Binance Pay by tapping on the top-right corner of the homepage. Then, select the "Send" icon to begin your transaction.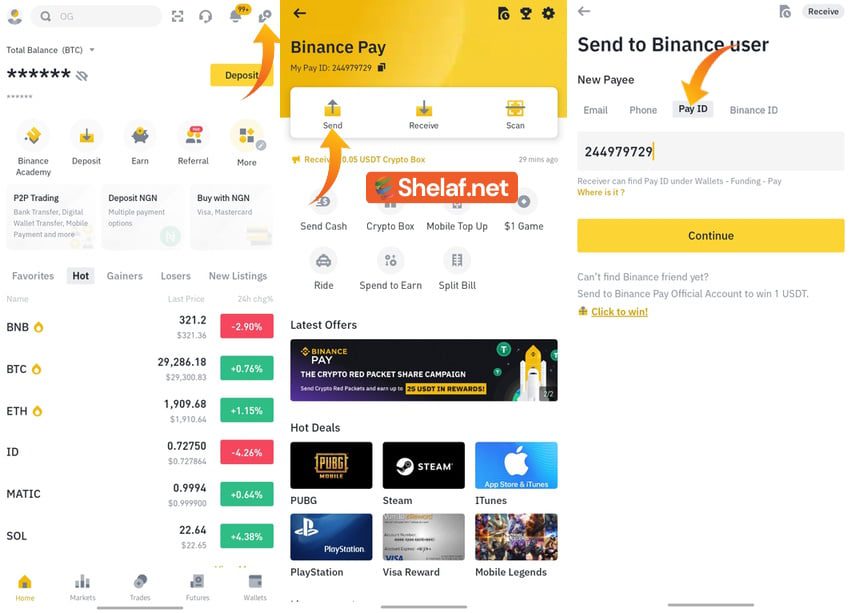 Step 2: Enter your recipient's Pay ID or Binance ID. If you're unsure, use my ID: 244979729, and tap "Continue" to proceed.
Step 3: Choose your preferred currency and select an amount of at least $0.01 equivalent before tapping "Continue."
Step 4: Review the details of your transaction, and when you're ready, tap "Continue" to complete the transfer.
It's that simple! By following these easy steps and making your first transfer using Binance Pay, you will be rewarded with a 1 USDT token voucher.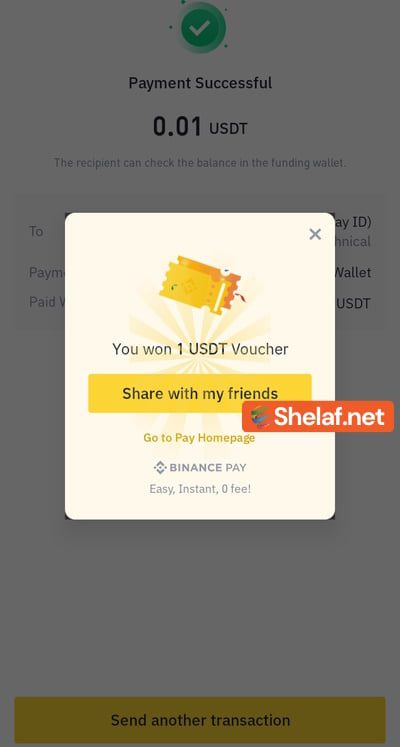 So, don't wait any longer! Participate now in this fantastic promotion and enjoy the many benefits of using Binance Pay.
How to win more rewards?
To win more rewards from 0.01 to 3 USDT on Binance Pay (Crypto Box Red Packet Campaign). Tap on this link to claim Crypto Box or scan the QR code in the image below.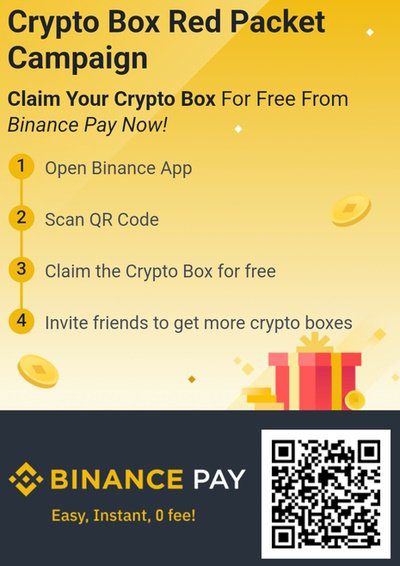 Would you like to know how to earn more rewards?
It's simple! Just share the link with your friends, and when they claim the reward, you'll get an additional reward! You can even get 1 extra crypto box by inviting your friends to claim the box via your link.
Moreover, the top 10 users on the invitation ranking and the top 10 users with the most retweets on Twitter will each receive a reward of 50 USDT. So, start sharing and inviting your friends to earn more rewards today!
How to Redeem your Binance Pay 1 USDT Token Voucher
Are you ready to redeem your Binance Pay Token Voucher and enjoy the rewards? Here's a step-by-step guide to help you claim and redeem your voucher in no time: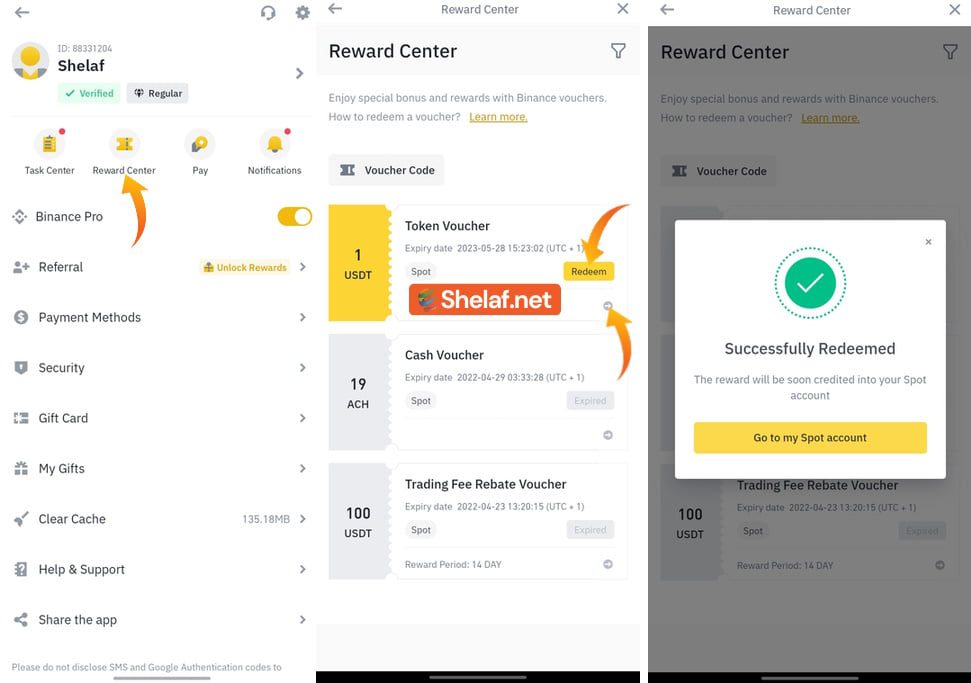 Log in to your Binance account and head over to [Profile] – [Dashboard] – [Reward Center].
Under the [Voucher Code] tab, scroll down and find the Token Voucher you want to redeem, which in this case is 1 USDT. Click on the [➜] button to view more details, including the voucher's face value, expiry date, terms and conditions, and applicable products.
Go back and tap the [Redeem] button to proceed.
Re-click [Redeem] to confirm your redemption.
Congratulations! You have successfully redeemed your token voucher. The reward will soon be credited to your Spot Account, which you can confirm by checking your Spot wallet.
It's essential to remember that you must redeem your Token Vouchers before they expire, as they will no longer be valid after the expiry date. Unfortunately, you cannot extend the expiry date or exchange the Token Voucher for any other rewards. Therefore, it's crucial to keep track of the expiry dates and redeem your vouchers as soon as possible.
Once the voucher value is credited to your Spot Wallet, you can use, transfer, or withdraw the token with no restrictions. So, what are you waiting for? Redeem your Binance Pay Token Voucher today and enjoy the many benefits of using Binance Pay.
Terms & Conditions
To access Binance Pay, please download the latest version of the Binance App or upgrade to iOS v2.47.0 or Android v2.47.0 or later.
This promotion is exclusively available to verified users who have not used the "Send" function of Binance Pay before 2023-04-02 02:00 (UTC).
An eligible user is defined as a verified user who completes their first transaction of at least $0.01 equivalent using Binance Pay's Send function during the promotion period.
All transfers to the Binance Pay official account are non-refundable. Please review the transfer amount carefully before confirming your transaction.
Each participant is eligible for only one reward. The rewards will be distributed on a first-come, first-served basis. Users will not be able to participate in this promotion once all rewards have been distributed.
The rewards will be distributed within 24 hours after a qualified transaction is completed. Users can view their rewards through Account > Reward Center.
The token voucher is valid for 30 days from the date of distribution.
Binance reserves the right to disqualify any participants showing fraudulent behavior immediately.
Binance reserves the right, at any time, to determine and/or amend or vary these Promotion Terms without prior notice. This includes, but is not limited to canceling, extending, terminating, or suspending this Promotion, its eligibility terms and criteria, the selection and number of winners, and the timing of any act to be done. All users shall be bound by these amendments.
Additional terms and conditions for the promotion can be accessed here.
In case of any discrepancy between the translated versions and the original English version, the English version shall prevail.
Frequently Asked Questions
Let's make the Frequently Asked Questions section more engaging and informative:
What is Binance Pay?
Binance Pay is a revolutionary payment technology that lets you make secure and seamless crypto transactions with your friends and family worldwide. Developed by Binance, the world's leading cryptocurrency exchange, Binance Pay is a contactless and borderless payment solution that brings you one step closer to the crypto lifestyle you always wanted.
With just one tap, Binance Pay offers a speedy and secure method to send cryptocurrency to your loved ones, while bidding farewell to unjustifiable costs and expenses. Experience the convenience of paying, sending, and receiving crypto with no fees whatsoever.
Who can use Binance Pay?
Currently, Binance Pay is available only to eligible users on Binance.com. If you're not registered on Binance.com, you can sign up now and complete the identity verification process to start using Binance Pay.
Which cryptocurrencies does Binance Pay support?
Binance Pay supports over 300 cryptocurrencies, including popular options like BTC, ETH, BNB, USDT, and many more. You can find the most updated list of supported cryptocurrencies on the Binance App.
How long does it take to complete a Binance Pay transaction?
Binance Pay transactions are usually confirmed instantly, meaning you can enjoy quick and hassle-free payments with your friends and family. No more waiting for banks to process your payments or worrying about hefty transaction fees.
We hope these answers have been helpful. Don't forget to check out the Binance Rewards program for exciting token vouchers and other exclusive offers!
Conclusion
Binance Pay offers users a secure and convenient way to pay and get paid in cryptocurrency. With support for over 300 cryptocurrencies and instant transaction confirmation, Binance Pay is an excellent addition to the Binance ecosystem. Additionally, users can earn rewards by completing transactions with Binance Pay during promotional periods.
So, what are you waiting for? Get your hands on 1 USDT with Binance Pay today and join the other lucky users who have already received their Binance rewards. Don't miss out on this fantastic opportunity to earn rewards while enjoying the benefits of Binance Pay.