Welcome to the Jumia Brand Festival 2023, more than just a shopping extravaganza; it's a grand celebration of top-notch brands and irresistible deals that are destined to captivate your shopping desires. Get ready to explore a world of authentic products directly from Jumia and premier partner brands, all at unbeatable prices that you won't find anywhere else.
Embrace the Experience of Originality and Affordability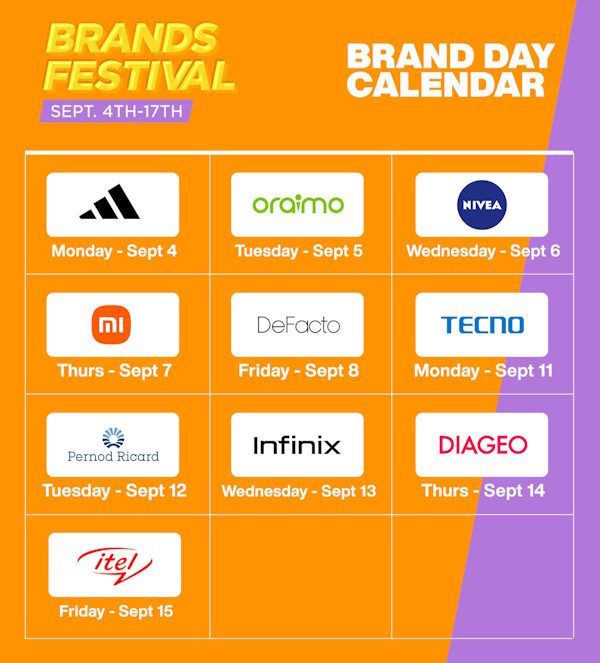 Imagine the thrill of purchasing genuine products directly from manufacturers, all while enjoying budget-friendly prices. This unique experience awaits you at the Jumia Brand Festival 2023. Prepare to be dazzled by a spectacular lineup of renowned brands, including favorites like Adidas, Infinix, Coca-Cola, Oraimo, Samsung, Umidigi, Nivea, Diageo, Defacto, and more.
A Purpose-Driven Festival
The Jumia Brand Festival was conceived with a clear purpose: to introduce you to a world of authentic products that can be conveniently purchased through Jumia, cutting out any intermediaries. In a world where quality meets affordability, this festival shines as a beacon for those who seek top-tier products at the most competitive market prices.
Moyosore Oduwobi, Head of Brands at Jumia Nigeria, explains, "Our festival aims to provide consumers with access to quality products from global manufacturers. Today's shoppers desire quality without compromise, and through this campaign, we've partnered with international brands to enable Nigerian customers to shop directly from the source, all while saving significantly."
The Countdown to Savings Begins
Anticipate a treasure trove of deals spanning various brands and products, all available at unbeatable prices that set the Jumia Brand Festival apart. From September 4th to 17th, 2023, mark your calendars for an extraordinary shopping experience that promises to elevate your expectations.
Unlock a World of Deals: 7 Highlights of the Jumia Brand Festival 2023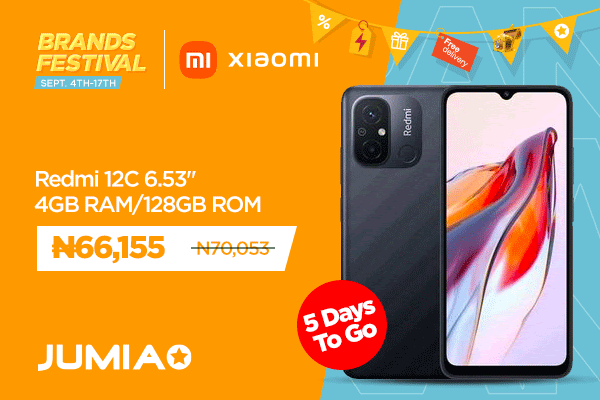 Exclusive 10% Off Voucher Code
Elevate your savings strategy with the power of vouchers. Jumia offers you an exclusive 10% off voucher code, making every purchase a rewarding endeavor. Whether you're eyeing the latest fashion trends, cutting-edge gadgets, home essentials, or beauty products, this voucher code is your ticket to enhanced savings.
Flash Sales Galore: Up to 50% Off!
The excitement of flash sales is synonymous with the Jumia Brand Festival. Witness prices plummet by up to 50% on a myriad of products, allowing you to snag your favorite brands at incredible discounts. Act swiftly, for these flash sales are fleeting and first-come, first-served.
Embark on the Jumia Brand Treasure Hunt
Sharpen your senses for the exhilarating Jumia Brand Treasure Hunt game. Navigate through unexpected twists as you pursue treasure with unmatched fervor. Be among the swift, as products await you at jaw-dropping discounts of almost 99% off.
Free Delivery for Jumia Express-Tagged Products
As you revel in the festival, revel in the convenience of free shipping for Jumia Express-tagged products. A seamless shopping experience awaits those in Lagos, Ibadan, Port Harcourt, and Abuja. It's a golden opportunity to receive your purchases promptly and without shipping fees.
Daily Jumia Hot 10: Your Voice, Your Deals
Participate in the Jumia Daily Hot 10, where your preferences drive the discounts. Vote for your beloved products, and the top 10 upvoted items will grace the prestigious Daily Hot 10 list, each at astonishingly discounted rates.
Unveiling Exclusive Deals Across Brands
Every brand featured on the Jumia platform gets its moment in the spotlight. Discover your cherished brand's designated day, marked by irresistible offers. It's a rendezvous you won't want to miss, so save the date and shop smart.
Phone Bonanza: Up to 57% Off on Top Brands

Embrace the festival season with open arms and new phones. Prepare for unbeatable offers on renowned phone brands such as Samsung, Tecno, Infinix, MI, and iPhone. Savings soar as discounts reach up to 57% off, accompanied by complimentary shipping for Jumia Express-tagged products.
Why Choose Jumia Brand Products?
The allure of Jumia brand products lies in the multitude of advantages they offer:
Uncompromising Quality: Rigorous quality control ensures Jumia brand products meet the highest standards, backed by direct collaboration with manufacturers.
Value for Your Money: Competitive pricing ensures you receive quality products without breaking the bank.
Diversity of Products: Jumia's array of products spans electronics, home appliances, fashion, beauty, and more, catering to diverse preferences.
Trusted Name: Jumia's reputation as a reliable e-commerce platform extends to its brand products, delivering trustworthiness with every purchase.
Free Shipping: Most Jumia brand products come with free shipping, ensuring affordability from start to finish.
Warranty and Support: Jumia brand products come with warranties supported by an attentive customer support team.
Empowering Local Economies: By choosing Jumia brand products, you contribute to local business growth and job creation.
Innovating for Africa: Jumia brand products are designed with African consumers in mind, reflecting local needs and preferences.
Seize the Jumia Brand Festival 2023
The Jumia Brand Festival 2023 is your gateway to a world of authenticity, affordability, and unbeatable deals. Prepare for an experience that exceeds your expectations, from vouchers to flash sales, treasure hunts, and brand-specific days. Join us from September 4th to 17th, 2023, and embark on a shopping journey like no other. Whether you seek fashion, gadgets, essentials, or luxury, Jumia brand products have you covered.
Conclusion
The Jumia Brand Festival 2023 promises an unparalleled shopping experience where authenticity, affordability, and top-tier deals converge. It's not just a shopping event; it's a celebration of brands and products that redefine your expectations. With an array of advantages, including exclusive vouchers, flash sales, treasure hunts, and brand-focused days, this festival guarantees you'll discover quality products at prices that delight.
Mark your calendars for September 4th to 17th, 2023, as Jumia invites you to join a shopping journey that goes beyond the ordinary. Whether you're a tech enthusiast, a fashion connoisseur, or simply seeking household essentials, the festival has something for everyone. The 10% off voucher code is your key to unlocking even more savings, making every purchase a rewarding endeavor.
Don't miss out on the opportunity to be part of an event that celebrates originality, affordability, and unbeatable deals. Embrace the Jumia Brand Festival 2023 and let your shopping desires come to life. Share this guide with others, and let us know what's on your shopping list for the festival in the comments below.
Get ready to experience the ultimate blend of quality, affordability, and excitement—the Jumia Brand Festival 2023 awaits your presence.