In a surprising turn of events, Tecno, a prominent player in the smartphone industry, has unveiled a sneak peek of its upcoming marvel, the Tecno Phantom V Flip. Following the introduction of their groundbreaking horizontal foldable smartphone, the Phantom V Fold, Tecno is poised to amaze the world once again with the Phantom V Flip clamshell model. Today, we bring you exclusive insights, courtesy of an astute case maker who has already started selling accessories for this innovative device, shedding light on its remarkable design.
Unveiling the Tecno Phantom V Flip Design
At the heart of the Tecno Phantom V Flip's design lies a distinctive circular cover display that promises to redefine the way we interact with smartphones. Surrounding this captivating centerpiece, two cameras and an LED flash are poised to capture attention and create an immersive user experience.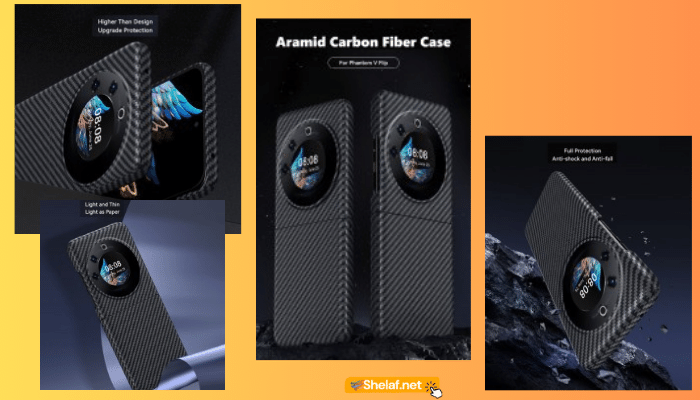 What sets the Phantom V Flip apart is its unconventional camera placement, forming what can only be described as an "O-shaped island." This intriguing design choice leaves us pondering the possibilities concealed within this unique feature. Tecno's commitment to pushing boundaries and crafting devices that stand out in a crowded market is evident in this bold design direction.
Revolutionary Features Unveiled
The images shared by our sources also offer a glimpse of a flat power button on the side of the device. This button serves a dual purpose, functioning not only as a power control but also as a fingerprint scanner. Departing from the conventional placement beneath the foldable panel, this innovative approach promises seamless and secure user authentication.
The front of the Phantom V Flip showcases a discreetly positioned selfie camera, elegantly nestled behind a punch hole. Meanwhile, the bottom of the device is equipped with a USB-C port, ensuring convenience and compatibility with modern accessories and charging solutions.
A Note on the Rendered Images
It is important to note that the images provided are meticulously crafted renders based on schematics. While they accurately represent the device's dimensions and the placement of functional elements, the final finish may deviate from these artistic representations. The true essence of the Tecno Phantom V Flip's design will come to light when Tecno decides to reveal more details about this remarkable creation, which, we anticipate, will be soon.
Conclusion
In the ever-evolving world of smartphones, Tecno continues to capture our imagination with groundbreaking innovations. The Phantom V Flip, with its circular cover display, unconventional camera placement, dual-function power button, and fingerprint scanner, is poised to make a significant impact in the industry. As we wait for Tecno's formal reveal, we want to thank the anonymous source who provided us with this intriguing view into the future of mobile technology.
Stay back for additional Tecno Phantom V Flip updates as we explore deeper into its features and capabilities, bringing you the most recent insights and discoveries on this game-changing gadget. The smartphone landscape is about to witness another revolution, and Tecno is leading the charge with the Phantom V Flip.