Qmee is the platform you've been seeking, whether you want to increase your income or earn some extra money and gift cards in your spare time. We'll examine Qmee's inner workings in this in-depth tutorial and outline how much money you can make there.
What is Qmee?
Qmee stands as a remarkable rewards platform where members have the opportunity to earn money through diverse activities. These include completing surveys, cashback shopping, playing games, and web searches. One of its standout features is the absence of a minimum payout threshold, coupled with instant payouts. Established in 2012, this UK-based platform has since gained popularity among those seeking additional income.
Straight from their website:
"Qmee is a free, user-friendly browser and mobile app that rewards you with real cash for sharing your opinions and engaging with your favorite brands."
"With the Qmee mobile app, you can get paid to take surveys on the go—share your opinions with fun and engaging paid surveys, and you'll get a cash reward for each one you complete. We find the best surveys that fit your profile!"
How Does Qmee Work?
Qmee members can accumulate earnings by participating in surveys, answering pop-quiz questions, conducting web searches, enjoying mobile games, shopping for cash back, referring friends, and more. With no minimum payout requirement, you can cash out your earnings instantly via PayPal, gift cards, Venmo, or even opt for charitable donations.
Earning Potential on Qmee
Before we dive into the specifics of earning money, let's set realistic expectations. What can you truly earn on Qmee? Is it worth your time?
Based on Qmee member reviews:
Hourly earnings on Qmee typically range from $0.50 to $5.00.
The average hourly wage is $2.78, with a median of $3.00.
Monthly profits range between $2.00 and $70.00.
The average monthly wage is roughly $24.63, while the median monthly wage is $15.00.
Getting Started on Qmee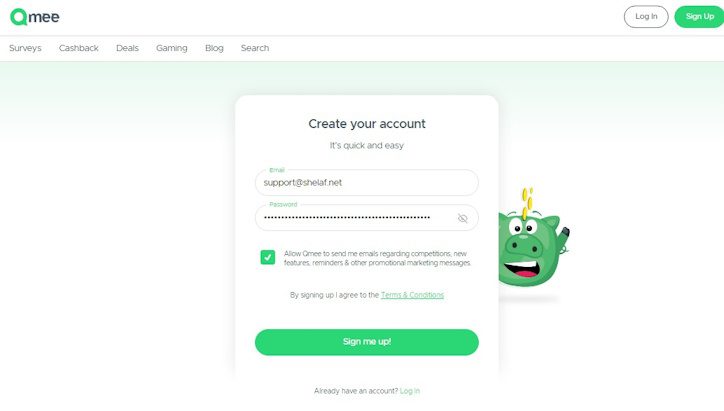 If you're new to Qmee, ensure you meet the following requirements:
Minimum Age: 16 years old
Supported Locations: Currently, membership is open to residents of the United States, the United Kingdom, Canada, Australia, France, and Germany.
For those residing in unsupported countries, you can still become a member by using a VPS or strong VPN with caution.
Languages: Deutsch, English, and French
Supported Devices: Qmee is accessible via web browsers on various devices, including computers, smartphones, tablets, Android phones, Android tablets, and more.
Other: You'll need a PayPal account.
If you meet these criteria, you can sign up here and embark on your Qmee earning journey.
8 Effective Ways to Make Money on Qmee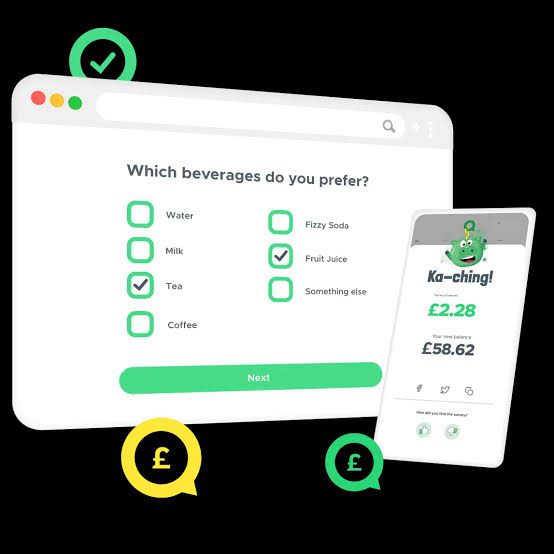 1. Surveys: Qmee offers a wide range of surveys, including political, gaming, shopping, and banking topics. Some surveys even require a webcam and cost more. Qmee collects surveys from multiple research companies, ensuring a steady supply.
2. The Daily Poll: Participate in the daily poll—a quick multiple-choice question that doesn't pay but helps you maintain streaks.
3. Streaks: Maintain a 5-day streak to boost your survey earnings by 5%. To do so, complete a survey or answer the daily poll.
4. Pop Quiz: Quick, 10-second trivia questions. Correct answers earn you $0.03.
5. Qmee Searches: Qmee is known for paying users to search the web. While you won't earn a fortune, you can accumulate earnings over time using Google.
6. Cashback Deals: Qmee offers cashback deals for shopping on different sites, although this requires initial spending.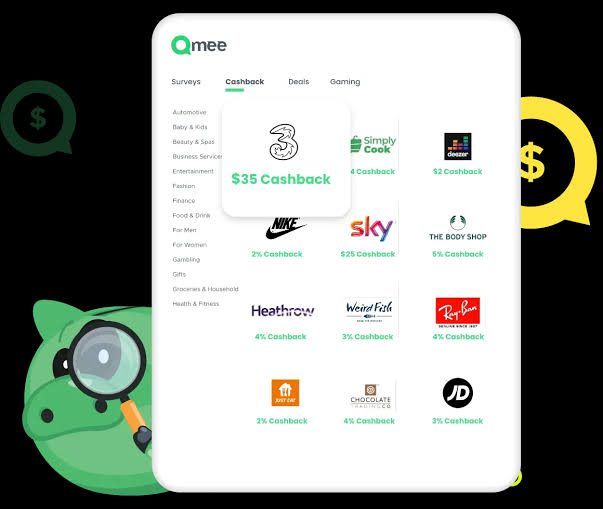 7. Paid Games: Most paid games on Qmee are mobile-only. You'll need to download an app and meet specific milestones or spend within the game to earn.
8. Referral Program: Qmee's referral program is unique, offering three referral links with varying reward distribution options.
Quick Tips
Install the browser extension for easier earnings and balance checking.
Aim for a profile strength above 90% to reduce disqualifications.
Answer survey questions honestly and avoid rushing through surveys.
Download the Qmee app for on-the-go survey participation.
Be selective with surveys, focusing on shorter, more enjoyable ones.
Maintain your daily streak for a 10% bonus on survey earnings.
Cashing Out Your Qmee Earnings
Qmee stands out with its absence of a minimum payout threshold. You can receive your earnings via charity donations, gift cards, PayPal, or Venmo. Note that your first payout must be to PayPal or Venmo to verify your identity. Subsequent payouts are typically processed instantly, although occasional delays may occur due to external factors.
Final Thoughts
This comprehensive guide should equip you with the knowledge and strategies needed to maximize your earnings on Qmee. With a plethora of money-making alternatives at your disposal, you can maximize your earning potential. If you have any questions or if there is something we missed, please leave a comment below!