Welcome to the Altbank Referral Program, a unique initiative within the Altbank App designed to incentivize our users to refer friends and family and earn generous rewards. This enticing program allows you to earn N500 per referral sign-up, and it's as easy as it sounds. If you're ready to learn how to make the most of this opportunity, let's delve into the details.
About Altbank: A Bank with a Difference
Altbank embarked on its unique journey in January 2014, initially granted provisional permission to establish a non-interest banking window under Sterling Bank. July 2023 marked a significant milestone when the Central Bank of Nigeria (CBN) issued a Banking License to The Alternative Bank, enabling it to operate as a fully-fledged, standalone bank.
At the heart of Altbank's operations lies ACE, the Advisory Committee of Experts, tasked with ensuring that every step taken aligns with the principles of Non-Interest Banking (NIB).
Altbank's mobile app, thoughtfully designed with customers in mind, offers features and benefits that empower users to manage their wealth effectively. Notable features include the ability to open an account in under 5 minutes, access an interest-free credit line of up to 10% of monthly turnover, explore personalized financial products through the "althub," master budget planning, and manage payments conveniently with an in-app bill payment feature. Card management is simplified, allowing users to request, block, unblock, and modify card limits with a single tap.
It's time to bid farewell to mundane banking and embrace a world of possibilities with The Alternative Bank.
Empower Your Finances with AltBank's Seamless Digital Solutions
Altbank's mobile app is built with customers in mind, offering features and benefits that empower users to grow their wealth right from their banking app. Here are some of the key features of the Altbank App:
Account Opening: You can open an account in less than 5 minutes with just a few easy steps from the Altbank app.
Interest Free Credit Line: Access financing of up to 10% of your monthly turnover, interest-free for up to 30 days.
Personalized Financial Products: Explore the "althub," an innovative suite of personalized financial products and services tailored to meet your diverse needs, right from your phone. This includes asset financing, vehicle financing, investment options, and more.
Budget Planning: Take control of your finances with enhanced budgeting features that help you manage your expenses effectively.
Bill Payment: Manage all your payments with ease using the in-app bill payment feature. Enjoy the peace of mind that comes with having control over your payments, all in one place.
Cards: Simplify card management with just a tap. You can manage your virtual and physical cards from the Altbank app. Request, block, unblock, and modify your card limit with ease.
How to Sign Up on the Altbank App
Getting started with Altbank is a breeze. Follow these simple steps to activate your account and begin your referral journey:
1. Download Altbank App: Find Altbank on the Google Play store or App Store and download the app.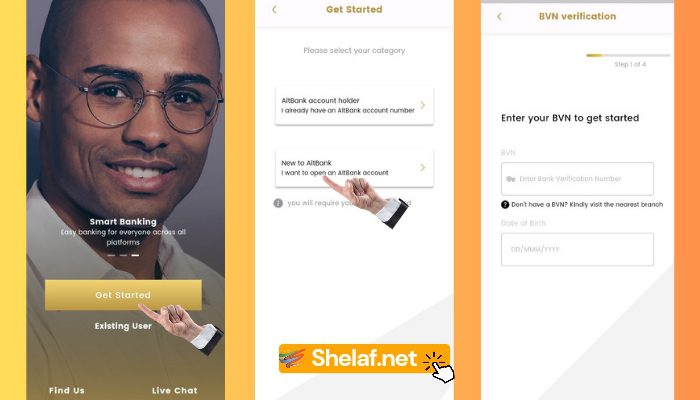 2. Get Started: Open the app, click on "Get Started," and select "New to Altbank."
3. Accept Terms & Conditions: Agree to all terms and conditions, enter your BVN and date of birth, then click "Next" and verify with OTP.
4. Complete Your Profile: Fill in your profile information and use "8377455" as the Referral Code.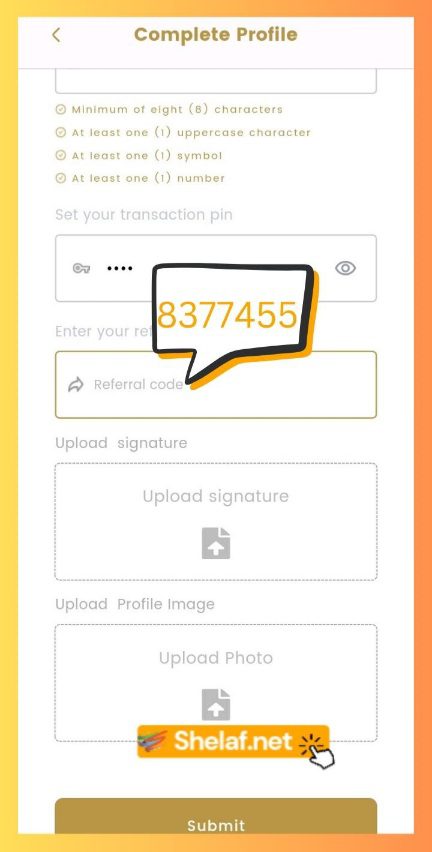 5. Set Up Security Questions: Establish your security questions, upload your profile picture, and your signature in white paper, then log in to your account.
You can also deposit N500 and use the Altbank App for your airtime recharge. Now that you've completed your registration, let's explore the referral program.
How to Deposit Funds into Your New Altbank Account
To deposit funds into your freshly created Altbank account, follow these straightforward steps:
1. First, tap on the account details as shown in the screenshot below to copy the account number assigned to you.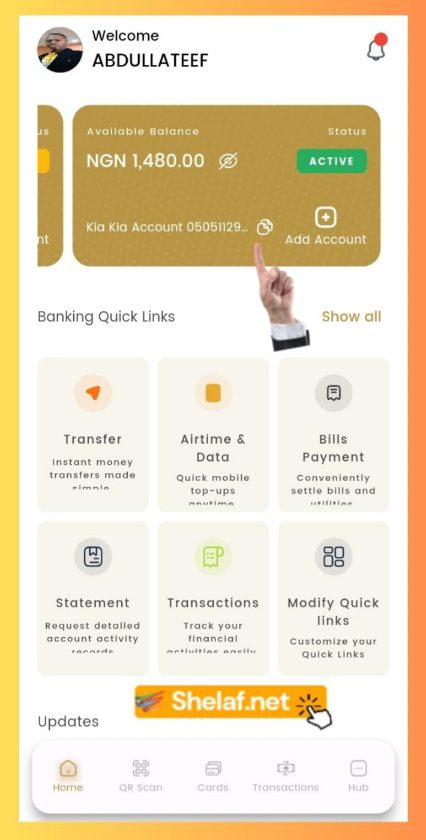 2. Next, open your preferred banking app and initiate a transfer to the copied account number. Ensure that you specify "Sterling Bank" as the recipient bank name during the transfer process.
With these simple steps, you can conveniently deposit funds into your Altbank account and begin your banking journey with ease.
---
Recommended: Unlock Free USDT with Binance Crypto Box Red Packet: Scan and Claim Your Reward Today
---
Altbank Referral Program – Earn N500 Per Referral
Referring your friends and family to create an account on the Altbank App is not only rewarding but also incredibly straightforward. Here's how it works:
1. Referral Bonus: Get N500 for each successful referral registration. This comprises N200 for the registration and an additional N300 after your referral performs a transaction of at least N500. They can use the app to buy airtime or pay bills to qualify.
2. Completing the Transaction: If your referral doesn't perform a transaction worth N500, you'll receive N200 as a bonus. The remaining N300 will be credited to your account once they complete the transaction.
3. Withdraw Your Earnings: Your referral bonuses will be credited to your Altbank account within a week, and you can withdraw them to your local bank app immediately.
To access your referral code, log in to the app, tap on your "profile icon" at the top left corner, click on "Refer to Earn," and copy your referral link to start referring.
Conclusion: Seize the Opportunity with Altbank's Referral Program
The Altbank App referral program is a fantastic opportunity for both new and existing users to engage and earn. Don't miss out on the chance to boost your earnings with Altbank. Start referring now and unlock the potential of earning NGN with Altbank.