Are you ready to dive into an exclusive opportunity to accumulate free USDT? Binance presents the captivating Crypto Box Red Packet campaign, where you can earn a slice of the crypto pie simply by participating. You have the opportunity to receive free USDT ranging from 0.01 to 3 USDT. These valuable rewards are distributed on a first-come, first-served basis, so act quickly to claim yours.
In this blog post, we'll walk you through the ins and outs of this thrilling campaign and how you can maximize your rewards. Get ready to embark on a journey to financial gains and crypto excitement with Binance's innovative promotion.
How to Participate in Binance Crypto Box Red Packet
Binance is once again setting the stage for crypto enthusiasts to soar with its 'Pay to the Moon' offer. Here's your chance to secure up to 25 USDT.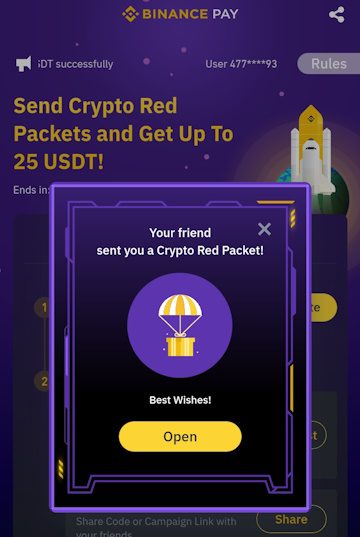 Here's how it works:
Create a Red Packet, Earn 25 USDT: To claim your 25 USDT, craft a Red Packet and share it with your network of friends. Once your friends successfully claim the packet, you'll receive this exciting reward.
Red Packets Valid Until 2023-11-01: The Crypto Red Packets you send out will remain valid until November 1, 2023. Any unclaimed packets will be returned to you once the campaign concludes.
How to Get Started:
New to Binance? Create Your Account Here: If you don't have a Binance account yet, take your first step by creating one through this link.
Log In and Complete KYC Verification: Log in to your Binance account and ensure that you complete the KYC verification process.
Access the Offer Page: Now, you can access the offer page and selecting the 'Scan' option.
Scan the QR Code: Utilize your device's camera to scan the provided QR CODE.
Enter the Code: Paste the following code into the designated box: BPS62AXUOSBPZX0UWMCA.
Red Packet: You will be rewarded with a Red Packet from Shelaf.
Create a Red Packet:
Customize Your Red Packets: For a guaranteed 25 USDT reward, create your Crypto red packets by specifying the amount, such as 0.01 USDT, and adding up to 900 gifts.
Share with Your Friends: Boost your chances of receiving more Crypto Boxes by inviting friends to join the Binance app and participate in the Red Packet campaign. Each friend you invite can potentially bring you more boxes.
Red Packet Code: Encourage your friends to enter your unique "Red Packet Code" to unlock crypto treasures from your box.
Rewards Await: As more users claim your crypto box, you'll unlock additional rewards.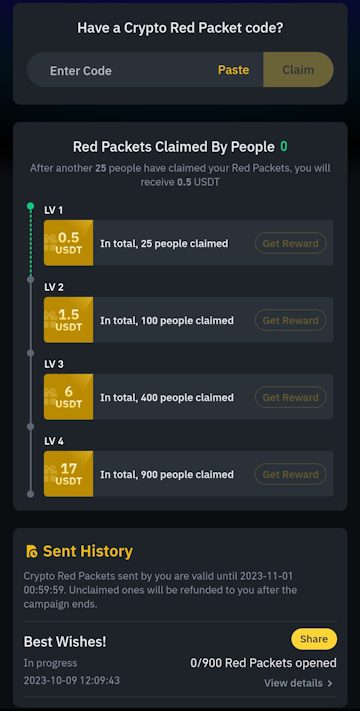 Don't miss out on this incredible opportunity to accumulate crypto rewards. Dive into the 'Pay to the Moon' offer and elevate your crypto journey with Binance.
My Opinion
The Binance Crypto Box Red Packet campaign offers a fantastic opportunity to claim free USDT with ease. Since the rewards are distributed on a first-come, first-served basis, I recommend taking action promptly. Don't miss out on this exciting campaign, as it won't last forever. Join the campaign now!
FAQs
1. What is the Binance Crypto Box Red Packet Campaign?
The Binance Crypto Box Red Packet Campaign is an initiative open to both Binance's existing and new users. Participants can simply click on the claim crypto box to receive a free reward.
2. When will the reward be credited?
The reward will be instantly credited as soon as you claim it.
3. How Many Crypto Boxes Can I Claim?
Participants can claim multiple Crypto Boxes by inviting friends to the Binance app. Each friend joining through your referral can earn you more Crypto Boxes, increasing your chances of receiving rewards.
4. Is There a Limit to the Number of Friends I Can Invite?
There is no specific limit to the number of friends you can invite. You can invite as many friends as you'd like to maximize your rewards in the Red Packet campaign.
5. What Can I Do with the USDT I Receive?
The USDT you receive can be used for various purposes within the Binance ecosystem, such as trading, investing in cryptocurrencies, or even transferring it to other users.
6. Are There Any Fees Associated with Claiming the Crypto Box Rewards?
No, there are no fees associated with claiming the Crypto Box rewards. The rewards are given to participants for free.
7. Can I Participate in the Campaign from Any Country?
Yes, the Binance Crypto Box Red Packet campaign is open to users worldwide, making it accessible to a global audience.
8. What Happens if I Miss the Campaign Deadline?
It's essential to participate in the campaign before the specified deadline. If you miss the deadline, you may not be able to claim rewards or create new Red Packets.
9. Is KYC Verification Mandatory for Participation?
Yes, completing the Know Your Customer (KYC) verification process is a mandatory requirement to participate in the campaign and access the rewards. It helps ensure security and compliance.
10. How Do I Share My QR Code with Friends?
You can easily share your QR code with friends through social media, messaging apps, or any preferred communication method. Please encourage them to use your QR code when joining to receive extra rewards.