Bootloader is code that is executed before any Operating System starts to run. The concept of bootloaders is universal to virtually all Operating systems that inculcates operating systems on your PC, laptop, Smartphones, and other such devices. Bootloaders basically package the instructions to boot operating system kernel and most of them also have their own debugging or modification environment. As the bootloader kicks off before any piece of software on your device, it makes it extremely processor specific and every motherboard has it's own bootloader. This is one reason that all Android phones have different Custom ROMS developed due to the high variance of processing hardware present on the device. The iDevices running iOS somewhat share the same hardware specs and hence you don't see much variance in their bootloaders. Bootloader is usually locked on an Android device because it's an open source OS, still the manufacturers want you to stick to their Android OS version specifically designed for the device. In order to apply this concept, manufacturers lock the bootloader. With a locked bootloader on Android devices, it is virtually impossible to flash a Custom ROM and forced attempts void warranty as well as usually end up in bricks. Therefore, the first step is to always unlock the bootloader. What Does it Mean to Unlock the Bootloader? Unlocking the bootloader is the first step towards gaining root privileges. Some developers and enthusiasts unlock and root in order to experiment with applications or with custom builds of Android. Needless to say, you should not attempt to unlock the bootloader unless you know what you are doing.
Warning: Unlocking your phone's bootloader voids its warranty. It also completely wipes (formats) your Android phone's internal memory including applications, contacts, SMS and MMS messages etc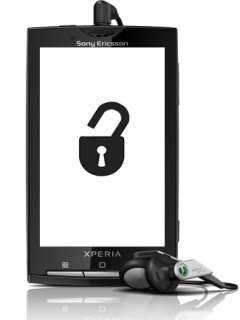 For Xperia X10, X8, Pro and X10 Mini Only
Hope you have Root your Sonny Ericsson Xperia with the tutorial I posted HERE, the next step to install Custom Rom to your phone is to unlock the Bootloader. Before unlocking bootloader you should check whether it is safe to unlock or not. For that:
1. Download s1tool >>Download it HERE<<
2. Run the downloaded software and click "identify" button on top right corner. (Don't connect your device)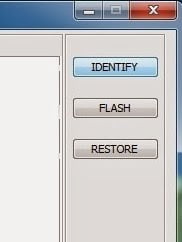 3. Now switch off your device and connect to PC pressing and holding back button on your device.
4. If it says "SEMC SIMLOCK CERTIFICATE", then you can proceed further for unlocking bootloader.
Note: Proceed only if your device passes the above requirement.
Steps to Unlock Bootloader in your Device
1. Download flash-tool V0.9.13.0 >>Download it HERE<< and install it.
2. Turn on your USB debugging on device [setting>applications>development>USB debugging]
3. Connect your device and wait until it recognizes your device
4. Then click "BLU > Bootloader Unlock>"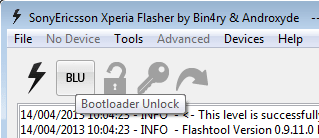 5. Then you will get a message in which says "to switch off your device and connect to PC pressing and holding back button in your device" and do it.
6. The unlocking process will begin. Wait until Flashtool ask you to disconnect the cable off the phone, then turn on the device and connect the USB cable once again
7. Then flash tool says "Successfully applied unlock Rebooting"
8. Then your bootloader is unlocked
To Check Whether Bootloader is Unlocked or Not
1. Run s1tool and click "identify" button on top right corner. (Don't connect your device)
2. Now switch off your device and connect to PC pressing and holding back button in your device.
3. Then under "PLEASE ATTACH TURNED OFF PHONE NOW" this line
we can see: RUNNING S1_EROM VER "r9A021″ , in which "r" should be in small letter now, as indicate in the below screenshot.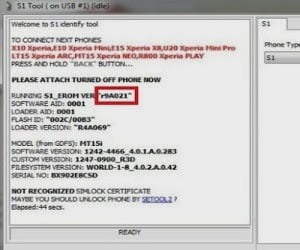 4. This means you have successfully unlocked the bootloader!
Share or Like this Post if you Find it Informative and Cool… Thanks. Never miss any of my future post CLICK HERE TO SUBSCRIBE Once entered, you will have to check your Inbox for a confirmation email containing a confirmation link. Once you VERIFY your email by clicking on the confirmation link in the message, you will never miss any future articles.