The technique AirSProxy uses is very simple; it blocks off all your other applications from accessing the internet directly and serves as a proxy server from which your applications can access the internet through. And it also works as a proxy server that helps your browser surf through the internet with minimum data consumption.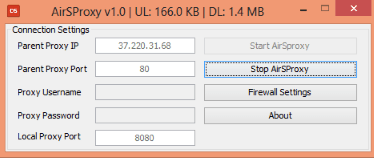 AirSProxyWall
The toggle button allows you to control the state of AirSProxyWall (i.e ON / OFF)
The "Auto ON" button should be checked if you want the AirSProxyWall to be turned ON automatically when the application is launched.
The Firewall white-list is a list containing the application that should be allowed to access the internet when AirSProxyWall is turned ON , but by default no applications are added in the whitelist, but for the AirSProxy itself to work, it must be added as a white-listed application (and probably the only thing you need to add). To do this, click on the "Add Application…" button and select the very same AirSProxy.exe that you launched.
AirSProxy houses a firewall setting called AirSProxyWall , this allows you to control the state of the firewall . ( you must run AirSProxy as administrator for this option to be click able)
Download AirSproxy here To Setup AirSproxy For Free Browsing, You Need The Following:
A Working Proxy Address (IP), which works under port 80.
A Username and Password if required
Finally, a local port which is not in use by any other program of your computer.
When all these are in place you can then start the AirSProxy and set your browser to manual proxy setting, input: 127.0.0.1 as proxy and port: 8080 (or as defined in AirSProxy's local proxy port setting). To Get Working Proxies on Port 80
Current working proxy
Proxy: 37.220.31.68
Port: 80
Then connect and start surfing the internet at low cost. This application lets you use the Airtel MB tweak but with minimal (or zero) data consumption rate. You can use just 4MB data to download over 10GB file with this tweak. Don't forget to share this tweak with your friends on social networks through the share buttons below.