Opera has declared new updates for its products. In partnership with Mdundo, Opera has made it possible for you to stream and download your favorite music with Opera Mini.
This amazing feature was unveiled yesterday and it's now available for all users. You will be able to access a music catalog that includes the best local artists, the most popular songs in your country, and the fastest-growing independent local artist platform.
The feature is available for all the music lovers living in Nigeria, Ghana, Kenya, Tanzania, South Africa, Uganda, Mozambique, Zambia, and Zimbabwe.
To Get Started
Launch your Opera Mini Browser, your home page will present you with the 100 most popular songs in your country. You can stream those songs directly from Opera Mini, offering you the ability to easily switch between listening to your favorite music and reading news articles, all in one place.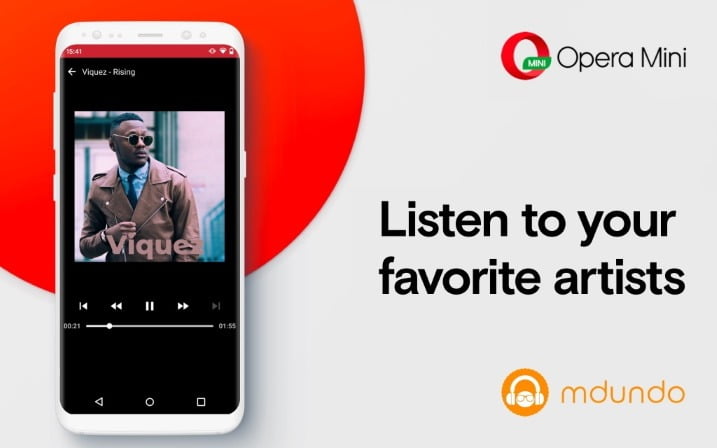 According to Opera, the introduction of Mdundo's music catalog to Opera Mini now makes the browser the perfect companion as you can now take your music everywhere. This is ideal when users are on the go, they don't need to spend their mobile data on other video applications, just to listen to music.
Support the Artists while Enjoying Free Music
Mdundo has shifted online music consumption in Africa to make it accessible for everyone. Through the ad-supported model of Mdudno, you are able to listen to or download your favorite songs for free and ensure that artists receive fair treatment regarding their music's royalties.
There is also a premium account for interested users. With a premium account at Mdundo, you will enjoy a music experience free of ads.
By adding Mdundo's music catalog to Opera Mini we are bringing this experience to our browser. This means that every time you decide to stream or download a song with Opera Mini, you will also be supporting your favorite artists so they can keep producing the music that you love the most.
If you are an artist and you are interested in adding your music to Mdundo, you can create an account, manage your own catalog, and commercialize your music. On top of that, you will become part of the fastest growing online music catalog of independent artists in Africa and your music can be discovered by more than 100 million Opera Mini users across Africa. This is a great opportunity to get new fans and take your music across borders.
Download Opera Mini Latest Version
If you are using the outdated Opera Mini, kindly get the latest version from Google Play Store here and start enjoying this amazing feature.